Apple Inc. (NASDAQ:AAPL) has been consistently topping the list of the most valuable brands since 2010. Despite this, Apple is constantly spending huge amounts on digital advertising to maintain its position. Competing against its arch-rival Samsung, and now also Google, Apple reportedly outspent Samsung. The total spending of Apple on display, mobile and video ads in the U.S. stood at $97 million in the year to November 30, 2016. Contrary to this, Samsung spent $80.4 million for the same. The difference in spending increases further if we compare the digital advertising spends on only the competitive products from both the brands. Apple outspent Samsung by 179% on digital advertising for competitive products. The observation is based on the data exclusively given by Pathmatics to BusinessInsider.
Apple Spending Such A Huge Amount On Digital Ads
Apple has always made huge investments in marketing and advertising. Courtesy the declining sales and market shares; this could be a viable reason for Apple to focus more and more on advertising. All the recent Apple products faced criticism for the lack of innovation. And now, as the competition gets fierce with the advent of Google, and the existing smartphone leader Samsung, Apple will have to do a lot to live up to its brand image.
As per the Pathmatics data, 99% of Apple's expenditure on digital ads was on direct deals with publishers compared to Samsung's 60%. Unlike deals that come through exchanges, ad networks, agencies, which generally be highly optimised for greater ROI from minimum investment, direct deals come at a premium. This could be the reason why Apple has to cough up more money than Samsung on digital ads.
Apple has been investing more on ad costs per sale, in which the company shall pay the publisher against every sale made through the ad. Though the company mysteriously stopped disclosing its ad spends from 2016, the previous records clearly indicate that Apple is spending more on advertising to drive sales.
Despite increasing its overall spending in advertising, Apple's has reduced its spending on digital ads by 16.3% YoY in 2016, while Samsung increased by 49.2%. However, the pattern of digital ad spending differs in both the companies. 76% of Apple's digital ad spend went on digital ads, 22% went on desktop displays, while mobile account little over than 1%. Samsung looks more convinced with Desktop, which accounted 73% of the company's total digital ad budget. The company also invested heavily on mobile (7%) as compared to Apple (1%), and 20% on video.
Ongoing investment in marketing and advertising is critical to the development and sale of innovative products and technologies, said Apple.
The Rise of Apple Spendings On Digital Ads
This is the not the latest trend that Apple has opted to push its products into the market. Apple has been spending an enormous amount for advertising its products. In 2010, the company had invested $691 million, which increased to $933 million in 2011. The advertising budget crossed $1 billion figure in 2012, which went up further to $1.1 billion in 2013 and $1.2 billion in 2014.
Apple's advertising expenses had been growing within the range of $100 million to $300 million YoY between 2010 and 2014. But, in 2015, the expenses had shot up by a whopping $600 million to a record $1.8 billion. With this growth rate, we can only assume that even this year, the advertising expenses of the company might have managed to break its previous records. Apple did not disclose the expenses for this year, though.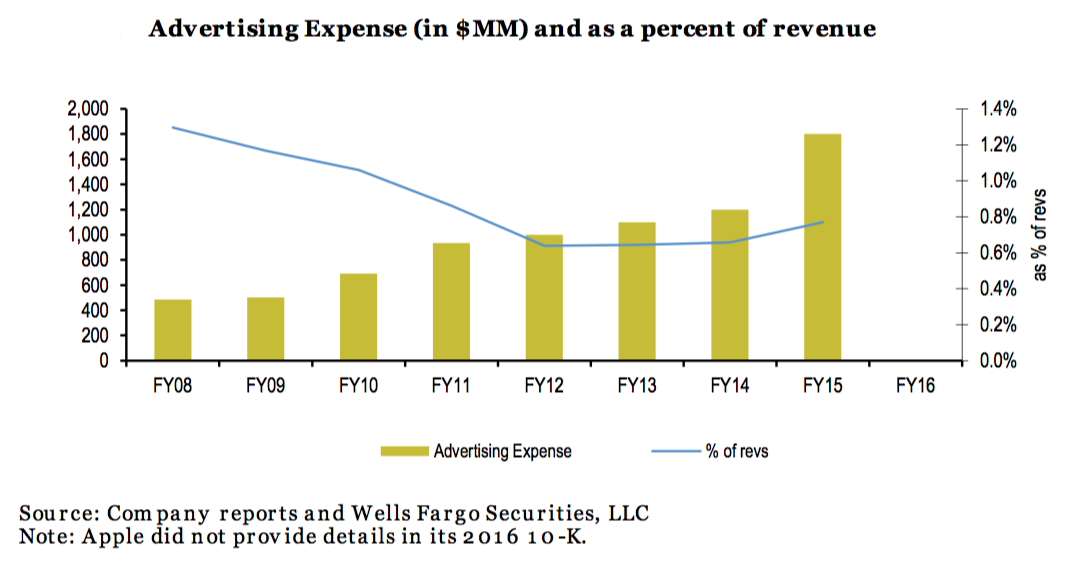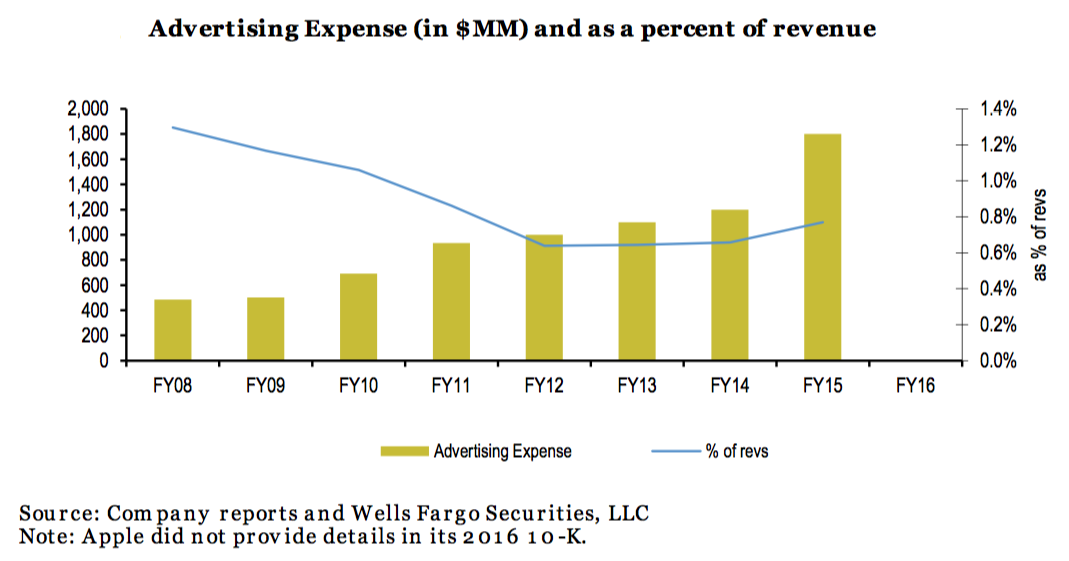 Apple Is Hiding Spending On Ads
The smartphone market has been highly competitive due to constant developments, innovations and the race to become the market leader. No company wants to disclose its strategies to their rivals, be it marketing, advertising, sales or service. Apple's latest annual report made no mention of the advertising expenses. The advertising expenses had been included in selling, general and administrative (SG&A) expenses. Apparently, Apple did not disclose the advertising expenses as the spending would have increased to set a new record.
The Struggle to Keep the iPhone Sales Growth Intact
One of the most qualified reasons for Apple to spend such a copious amount on digital ads could be the struggling sales growth of iPhone. Despite launching bigger screen size iPhone, that too in two sizes, Apple is criticised for the absence of something the company has been known for long – Innovation. Consequently, in 2015, Apple failed to meet the expectations of Wall Street regarding revenue as well as iPhone sales. This year it's apparently going to be worst as the company could be witnessing the worst year in the history of Apple.
iPhone is the largest contributor to Apple's growth and revenue; In Q3 2016, Apple's 60% revenue was generated by iPhone sales. However, for the last few quarters, Apple has been struggling to meet the market expectations. Blame it to exhaustive price or growing competition; Apple has to try every possible method, including digital ads, to retain existing iPhone users and to lure new customers.
The saturated smartphone market condition in developed countries is only adding salt to Apple's wound. The next wave of smartphone growth is coming from developing nations where Apple is yet to grab a sizable chunk of the market. For example, In India, which also happens to be the most attractive and promising smartphone market in current condition, Apple holds just 2% share of smartphone market. The price sensitive nature of most of these developing markets is pushing Apple to invest heavily in digital ads that are designed to highlight the best feature of iPhone and convince customers to buy one. To crack the market the company is also offering every possible method, likes of EMIs, buy back, exchange and cash back offers, etc., to ease out the investment required to buy an iPhone. To make people aware of such offers, Apple has to turn to digital ads, which are more economical than traditional methods of advertising in developing markets.
Final Thoughts
As of now, it would be difficult to say how far and fast such investment will bear the fruits for Apple. However, considering Apple's strategy to fish out agencies and pay to publishers only for sales, it would probably be the best methods to juice out the greatest return on investments made on digital ads. In a nutshell, probably, it's the time when Apple needs to revisit the strategy of its visionary CEO Steve Jobs – don't sell products, sell dreams – in the developing markets where product selling is far easier than selling dreams.