The quarterly report for Apple Inc. (NASDAQ:AAPL) first fiscal quarter for 2016, ended on December 31, 2015, is out, and it brings with it some really worrying news disguised in the garb of Apple's best quarter yet. Amidst all the good news of a record quarterly revenue of $75.9 billion, the one thing that will generate substantial fear in investor's minds is that this is one of the few times that Apple has performed below the expectations of analysts from Wall Street. However, one saving grace remains that Apple, as usual, performed above the lower threshold for its Q1 2016 guidance of $75.5 Billion that it had set in the last fiscal quarter of 2015.
In spite of this, Apple stocks continued to tumble in the aftermath of the financial revelations. It seems Apple's rapid growth has finally plateaued, and the guidance for Q2 2016 has given investors something to worry about. For the first time in the history of the company, Apple has released a predicted revenue that is almost a 10% YoY decrease in comparison to Q2 2015. While analysts have already been vocal about the failure of the iPhone 6s and 6s Plus to capture the imagination of the market, they had predicted slightly better numbers for the next quarter at $55.5 billion, a full 5% more than Apple's estimate of $50-53 Billion. So is Apple the company down in the ruts or is it just over expectation on the part of investors that has started the landslide in Apple's Stock. We find out what the numbers have to say.
Apple's Start to Fiscal 2016: By the Numbers
Before we dive headfirst into a sea of numbers and sales figures of various Apple products, a quick word needs to be put in about the overall revenue, profits and growth statistics for the calendar Q4 2015 and the economic circumstances that these massive profits have been amassed in. For the first time, two-thirds of the profits for the company has been generated outside the United States with China alone accounting for 24% of the revenue. Why is this so relevant? Because the economy in China has been weak lately and the fluctuations in the global market has caused significant damage to Apple's bottom line.
Impressive Numbers, Worrying Growth Rate: iPhone Sales, in a Nutshell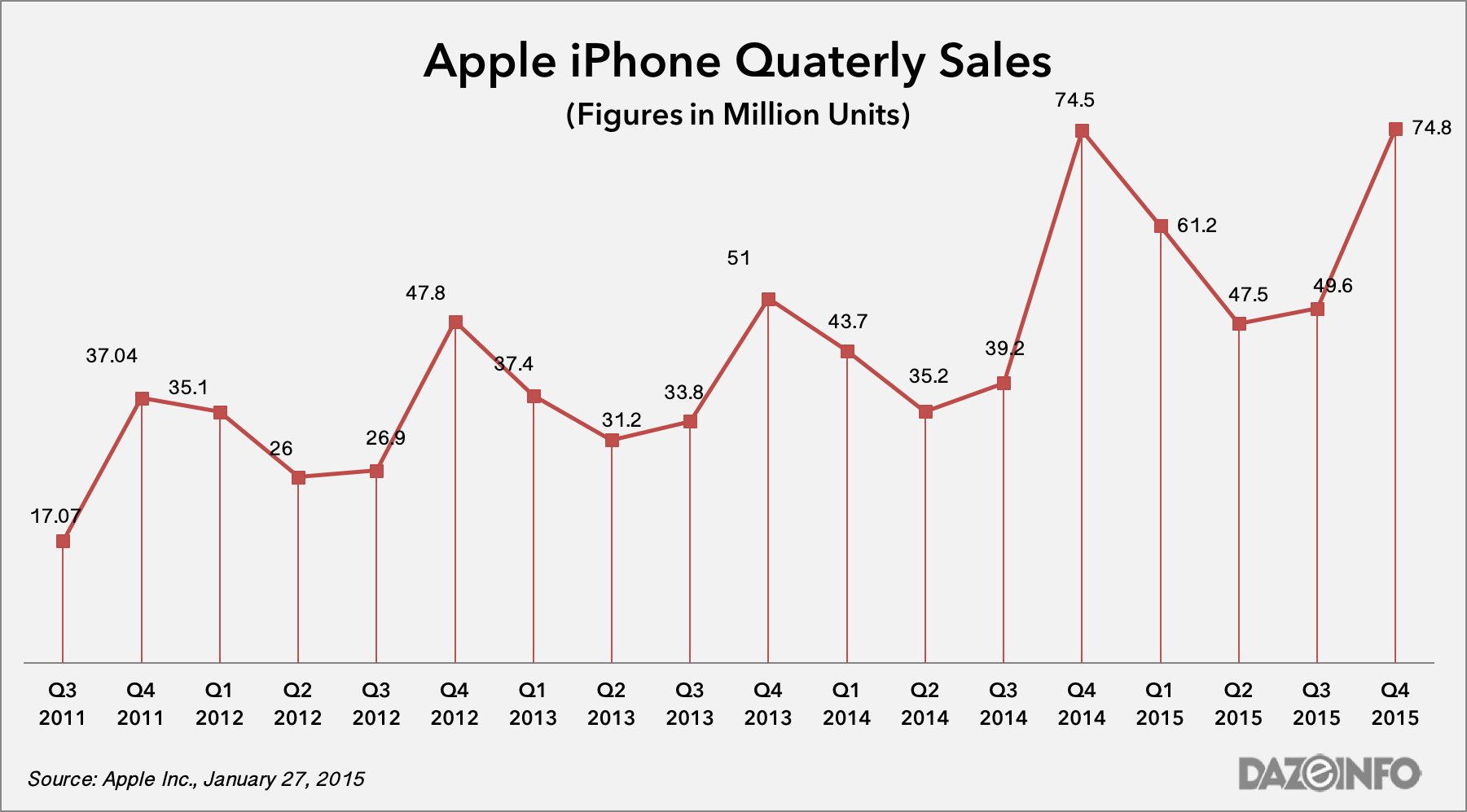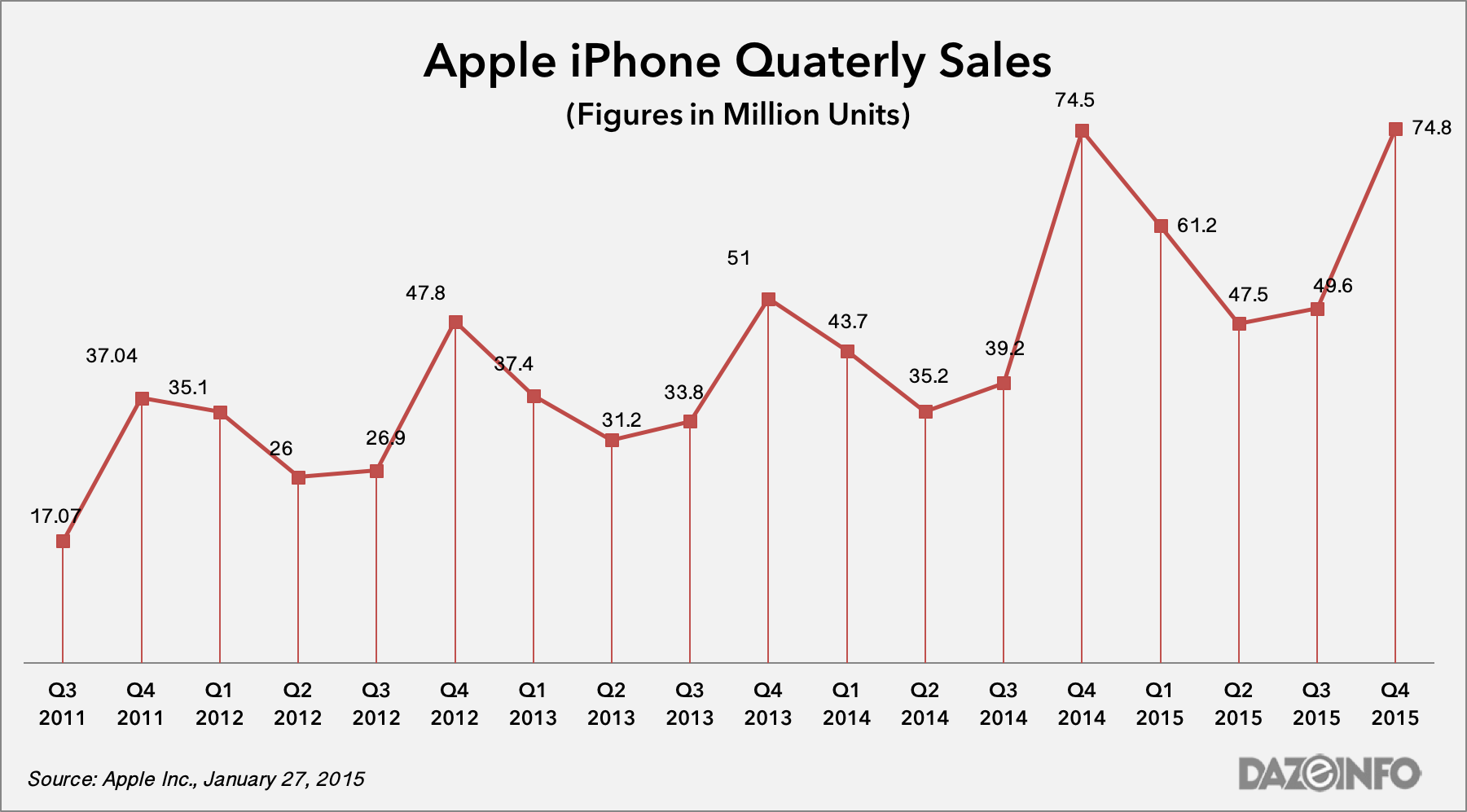 The numbers portray an impressive scenario with 74.8 million iPhones being sold in Q1 2016. However, one thing has to be kept in mind that the December quarter being the holiday season has always been Apple's best quarter, and so a QoQ growth rate comparison is meaningless. To have a better understanding of the performance of iPhones we made a comparison of this quarter (Q1 2016) with Q1 2015, and the results were troubling. An increase of just 0.3 million more devices shipped hinted at the measly 0.4% growth rate YoY.
This was the first quarter that the new generation iPhone 6s and 6s Plus had been available to the public, and despite the initial craze, it seems that sales numbers have not kept up. We have previously dealt with the various reasons that the latest iPhones have failed to impress, and our prior analysis of the situation has lined up with the recent results. It isn't all bad news, though, as the iPhone sales in India are looking up with 76% growth in this quarter alone. Also, the iPhone ASP has seen a gradual rise of 4$ which makes us believe that the maverick pricing of the iPhone may have had a modicum of success.
Tablet And PC Sales: Mac, iPad Sales Disappoints
While 2015 had been a disastrous year for PC's in general with IDC estimating a drop of 11% in the PC market, Macs have had a good year thus far. While the numbers haven't been exceedingly high, they've consistent and even shown signs of growth when we last took a look at them in Q4 2015. However, Apple was unable to maintain the growth rate in the PC market and as a result, we find that Mac sales have declined by 0.4 million units QoQ to 5.3 million in this quarter. This is, however, nothing to lose too much sweat over as the 5.7 million sales of the last quarter had been a record quarter for Mac sales and in the dying PC market, Apple has been doing quite a good job.
Although the holiday season did give a boost to iPad sales, the number of tablets sold fell short of Q1 2015 by 5.3 million coming in at 16.1 million, a YoY decrease of  24.76%. It remains to be seen if the iPad Pro can help bring back the tablet market into relevancy again, but for that, we will have to wait for the next quarter.
Overall, there were some shining lights for iPads and Macs both. iPads have captured 67% of the commercial tablet market and are now the most popular tablet for media consumption, education and government use cases. As for Macs, despite the slowdown in numbers elsewhere in the world, Chinese market penetration increased at a rapid pace and sales numbers were up by as much as 27% in China!
Other Devices and Softwares: Apple Hits 1 Billion Active Users
Apple has had the best quarter so far from their sales of Apple TV, Apple Watch and iPods thus far. Although no clear numbers have been revealed, we know from our earlier investigations that the success of the Apple Watch is to a large degree responsible for the $4.35 Billion revenue earned in this quarter. Tim Cook has also praised the success of the Apple TV that had been launched this quarter which leads us to believe that we can expect the revenue from this sector to soar in the coming months.
While it is easy to think of Apple as just a hardware company since in the last few quarters more than 60% of their revenue has come from iPhones sales, iOS and their app ecosystem makes up a significant part of the experience of using an Apple product. In spite of that, it may not have always reflected that heavily on the balance sheet. However, Apple was excited to announce that for the first time, Apple's active device count has shot through the 1 Billion mark and that has led to the accelerated growth in their service revenues. Apple Music has also gone off to a fine start having garnered over 10 million subscribers. Apple Pay has expanded to over 5 million contactless payment locations and as per CEO Tim Cook, users have made net transactions worth "billions" already though the mobile payment service.
Final Thoughts
Wrapping up an Apple Quarterly Report has always been one of the best jobs for an analyst in the tech field. Till now, one could have banked on Apple to have always made a YoY growth and keep the revenue increasing as quarterly records were broken each and every 3 months. The dream ride, however, has come to an end. The inevitable has happened. As we see the Apple stocks plummet it seems that the investors have not yet come to terms with the fact that the iPhone has peaked.
Apple in recent years has looked very much a one trick pony and their golden goose the iPhone has hit a plateau. While there are a variety of economic factors, smartphone penetration data which had foretold of such a conclusion, the question now remains, "Where does Apple go from here?"
We have the mother of all balance sheets, said Tim Cook.
And while it is true that Apple the company has had their best quarter so far, Apple the stock is quaking at its knees because of the reduced predictions for the next quarter. Hence, we have listed out a few probable ways Apple could diversify their portfolio and inspire more confidence in the hearts of their shareholders.
The Apple Store has increased 27% in revenue and 18% in consumers in the last quarter. That combined with the tremendous success of Apple Pay and Apple Music can help forge a new image for Apple as a service provider as well as a hardware company.
With the iPhone 7 still a good 6 months away, Apple can capitalise on the momentum they have received in the last quarter by swaying, even more, users away from Android smartphones with the launch if the affordable 4 inch iPhone.
There is a lot of growth potential among Apple's iPhone customer base, and a new and improved iPhone 7 can reignite public demand for the iconic phone. Apple has to listen to their consumer base and figure out what they truly want from the next iPhone.
"When maintaining a nice, predictable pattern of growth becomes a top priority, there is progressively less room for bold projects and the kind of people who are ready to undertake them in the company," says Dr Aleksi Aaltonen, of Warwick Business School, is Assistant Professor of Information Systems when speaking of Apple and it's investors.
While maintaining a steady growth rate can be achieved by cutting corners and decreasing prices, Apple has never been one to join the rat race of affordable smartphones. We at Dazeinfo, consider it unlikely that Tim Cook would take such drastic measures to appease the investors. Instead, the focus for Apple should now squarely be on creating an innovative product to reduce their dependency on the iPhone and with products like the iPad Pro, Apple is ready to face this new challenge head on!