Emoticons have become an integral part of our conversations. They are not just 'symbols' but a direct reflection of our emotions. Hence, it is not surprising that the social media giant Facebook launched Reactions, an extension of the Like button on February 24, 2016, worldwide.
For quite some time, Facebook users were looking forward to having a "Dislike" button. The simplest reason was, not all news we see goes down well with us. We like some of them, but few evoke a strong feeling of dislike. Since, till February 24th, we just had the 'Like' button, it was often disturbing to scroll down without letting our opinions known! After a year's research, Facebook finally gave its users the opportunity to express their views or rather exact reactions instantly to a news post.
Mark Zuckerberg, however, clarified that a 'Dislike' button conveys a lot of negativity. Hence, Facebook found a way around and introduced 'happy', 'sad', angry', 'wow', 'haha' along with the original Like, Share, and Comment.
Everyone feels like they can just push the Like button, and that's an important way to sympathize or empathize with someone. We need to figure out the right way to do it so it ends up being a force for good, not a force for bad. – said Mark Zuckerberg, CEO and co-founder, Facebook.
Quintly analyzed 105,000 Facebook pages in May and June 2016 to study the use of Reactions.
According to their first analysis in April, new Facebook Reactions accounted for less than 3% of all interactions (Likes, Comments, Shares, haha, sad, love, angry, wow). The percentage doubled up in May 2016 to reach 5.8% of all interactions.
It is a pointer that people are keen on using newer ways of expressions. Keeping aside the new Reactions, Facebook's original forms of interactions (Likes, comments, and shares) take up 94.2% of all interactions on posts. Out of this, Likes account for 76.5% and continue to remain users' favourite way of expression. Shares, on the other hand, holds 12.7% and comments account for a mere 5%. In June 2016, the share of new Reactions jumped up to 7.1% of all interactions, an increase of 1.3 percent point from the initial 5.8%.
Before drawing any specific inference, it is worth noting that this change in mode of expressions on Facebook is highly significant.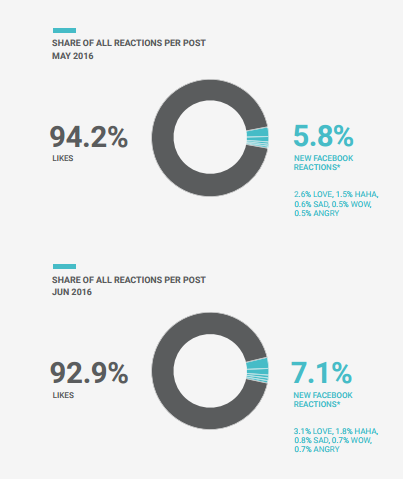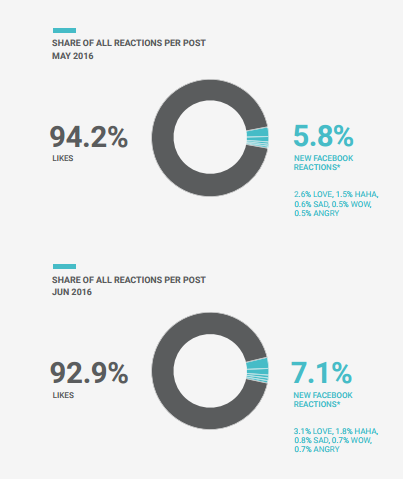 Use of 'Reaction' is Rising!
The share of Likes button decreased by 1 percent, allowing more room for other reactions! Facebook users now have more options to express how they exactly feel about a particular news feed. Since there are more options now, it can be touted as one of the reasons for the decrease in the use of 'Like' button.
Surprisingly, data shows that the use of 'sad' reaction is significantly high. As in the image below, the use of 'sad' button rose up by 48% from May to June 2016. Given the number of tragic incidents happening across the globe, it is not surprising at all. One such instance is the Orlando nightclub shooting incident that was posted on social media. It is also a natural attribute of humans to react to bad news to show their sympathy or empathy.
Use of the Reaction buttons is like a real-time approach to express emotions instantly to any post published on Facebook. Considering the way Reaction Buttons are surpassing other forms of interaction on Facebook, Reactions will continue gaining more prominence among users.
According to the image below, among all new Reactions, 'Love' and 'Haha' are the most used reactions, accounting a whopping 68.9% share. It is interesting to see that Facebook users interacted more with posts that generated positive emotions to them.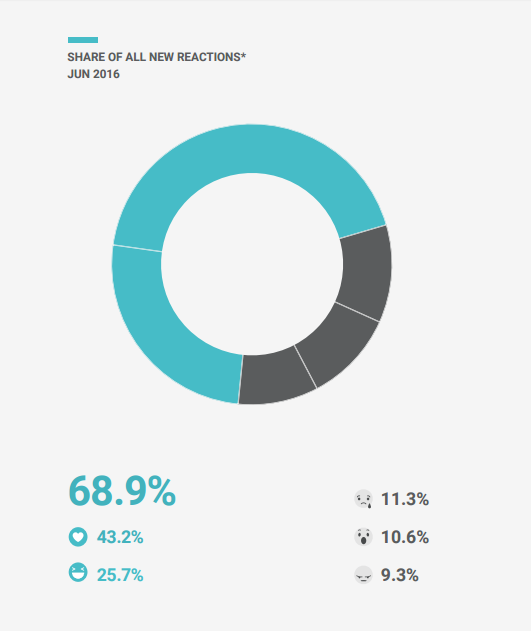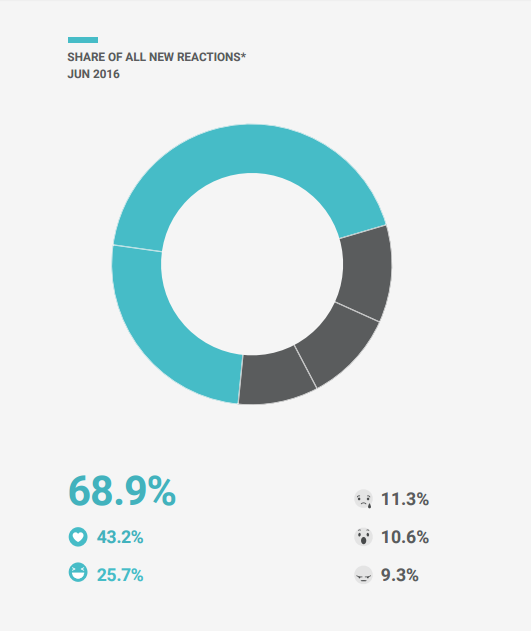 The Facebook pages with 10+ Million Likes have seen the maximum increase in the use of new Reaction buttons (at 47.42% between May and June). In such popular pages, every content is actively pursued by its followers. Contents are made viral by triggering emotions of the followers. This, in turn, urges them to engage more with the new options provided. Also, the total number of page followers or members act as in important factor in catalysing this increase.
Not just number of page likes, but also the type of contents published influences the use of reaction buttons. Visually attractive content garners maximum views. Hence, video posts receive 60% more new Reactions in comparison to image posts. On the contrary, images receive more 'Likes' than videos. This is because, a video gives a sense of involvement that triggers reactions, unlike an image. Hence, Facebook marketers should definitely focus more on video contents for higher user engagement.
In conclusion, Facebook reactions are steadily gaining pace. This introduction is highly appreciated by marketers as well.  Marketers now have real-time information on how the audience is reacting to their posts and whether engagement is happening. The increased use of reactions is an indication that users are now open to trying out new tools for interaction.