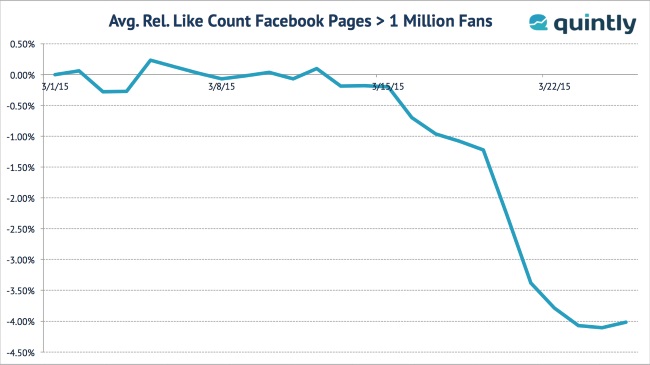 Although average total likes for Facebook Pages went up in many cases in February 2015, very recently Facebook Inc. (NASDAQ:FB) made a new announcement for business pages – it is going to change the way Likes on a business page are being counted; All Likes from pseudo and inactive fans will be deleted. Consequently, most of the fan pages are likely to see a dip of 3% – 4% in its total fan base, according to social media analytics and benchmarking tool Quintly.
Quintly has bucketed the fall into two categories. One, Pages that have less than 1 million fans are likely to see an average of 3% dip, second, an average fall of 4% for pages that have more than 1 million fans.
From 15th March 2015 onwards, fan page admins on Facebook reported to have lost some of its likes without having any clue as to why. Rumours of various kinds were ablaze across social media until Facebook reported of its changed metric for 'Total likes count'.
In Q2 2012 earnings report, Facebook had reported that 4.8% of its accounts are "duplicate" accounts. Facebook had divided these accounts into two categories – Almost 2.4% accounts were "user-misclassified accounts", which means that an account that has been created for a business or organization or may be in name of a non-human entity like pets. The remaining 1.5% were "undesirable accounts" that violated the terms of services on Facebook. It was not until September 2012 that Facebook took the effort to improve the site and get rid of the 'fake likes'. After pseudo accounts, it is time to bid adieu to inactive accounts as well.
How will it benefit businesses?
The social networking giant is doing a lot to improve its site for businesses users. With the changed metrics, it is a fact that pages are losing likes. But are they actually? While the number of likes is falling, Facebook's attempt to delete inactive and fake accounts in a way presents a clear picture to the businesses about the total number of real users following their brand pages.
You might ask WHY Facebook is doing this! In the past, Zuckerberg's online networking platform had faced legal issues due to invalid clicks. However, Facebook had denied all claims and ruled over the multiple complaints from advertisers for being overcharged for clicks. For an immensely popular social networking site like Facebook, with 1.4 billion users across the globe, it does not come as a surprise that it would want to keep everything in check.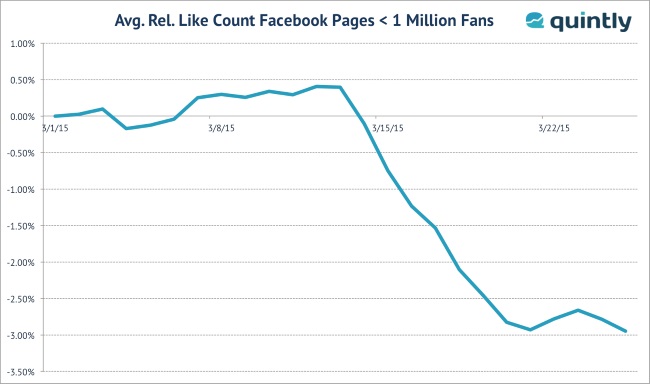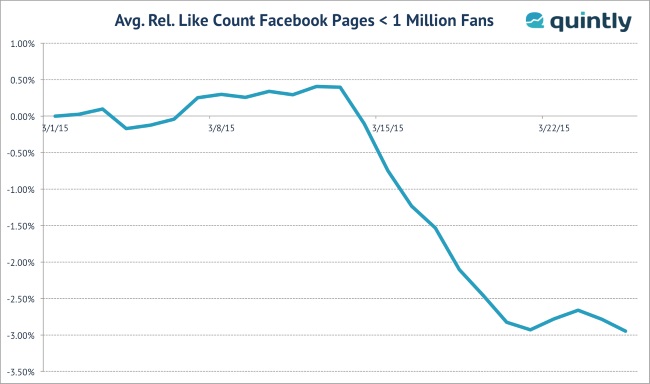 Along with fake and inactive accounts, Facebook will also take into account manually deleted profiles in the 'likes count'. However, if a manually deactivated account is activated again, that account is then added to the count of likes on the page.
Quintly noted in its blog that pages that have less than one million likes seem to have a negative trend as compared to those surpassing a million likes. With a fall in the number of likes, it looks like this effect will continue for some time. However, soon the metrics of "Fan Change Rate" will stabilize.
Although fan pages are losing numerous likes, on a broader perspective this will help brands to make accurate analysis of their customer engagement. The figures that they will see now will be more valuable, enabling a consistency in the data for fan pages to analyse. Previously, in April 2014, Facebook had announced about cleaning up spam news feed to improve engagement for businesses.
Even though Facebook says filtering the audience for businesses will help them leverage their online presence, it is still yet to be understood to what extent this decision of cutting out fake as well as inactive accounts will help businesses on the social networking platform. Now that Facebook's organic search reach has already taken a backseat, reportedly falling from 6.15% in February 2014 to almost nil in January 2015, and advertisers are already under pressure as to how to increase page visits and page likes; in such scenario, will businesses really benefit with declining page likes, even if those deleted are fake and inactive accounts? That is one important question which is yet to be answered.