Amazon following Flipkart? OR Flipkart following Amazon?
This is the most excited talk in Indian E-commerce sector right now. The strife has heated so much, and the competition is so much neck to neck, with none of the top two e-commerce giants in India caving in, that it will be interesting to see what happens in the future. The latest report from Bank of America has heated up the debate further as it doesn't see Amazon topples Flipkart from the numero uno position in India anytime soon. Who gets an edge over the other is the question what analysts are busy with. Seeing the current trends and the prospects, let's see who might emerge as a winner in the race.
While investment bankers at Bank of America have put their weight behind Flipkart – at least for now – Will Amazon ever surpass Flipkart to gain the numero uno position in India? Let's find out.
It's Amazon Vs. Flipkart:
Amazon's Indian venture was as late as mid-2013, but the preparation they entered the Indian market with was unparalleled. This can be justified on the grounds of it surpassing many major Indian E-commerce players, likes of Snapdeal, and running in an abutting race with Flipkart. Even before its 3rd anniversary in India, Amazon leapfrogged Snapdeal to gain the second position from just being a new player in the Indian Market. Given another three years, it would be interesting to see how Amazon fares looking at its overwhelming and glorious history of the last three years.
What Has Worked Out For Amazon In India?
Amazon came to India strategically armed. The ghosts of its failures in China were the primary driving factor behind Amazon's unparallel YoY growth rate of 250% in sellers count. Let's have a look at what has worked out for Amazon in India!
The prime focus of Amazon was gaining the trust of the customers. Since customer satisfaction is their priority, they were able to grab a lot of unique customers, along with stealing Flipkart and Snapdeal's existing customers. Since profit was not the priority and the quality of service was top notch, their growth has been overwhelming, even when the other players reported slower growths. In Jeff Bezos' words to Business Standard,
"I stay heads down, focused. I encourage these guys (the India team) to not pay attention to a bunch of noise, and rather stay focused on the customer experience, figure out how to get products to customers faster with more reliability, earn trust with customers. The rest will take care of itself."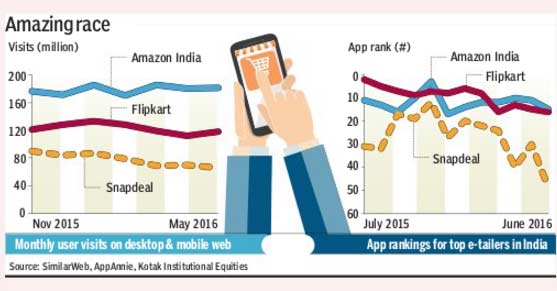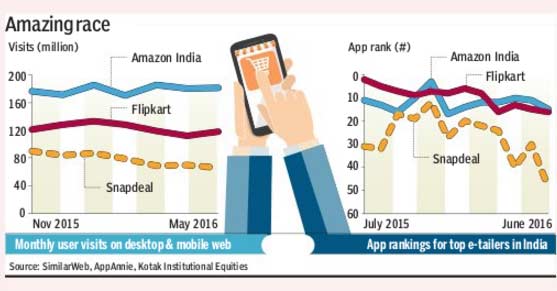 Amazon not only deals with selling physical products but engages itself in various digital goods and services like Cloud Computing and video subscriptions, giving it a top edge. At a time where the e-commerce sector is reeling under the crunch of raising funds, Amazon's deep-pocketed global arm ensures that Amazon India's services aren't hampered, and it continues offering discounts and selling a wider variety of products.
So, at a time where Flipkart and Snapdeal focus on gaining higher margins and making their business profitable, Amazon can focus on expanding itself in India.
Amazon India has a vendor base of over one lakh, tripling it well before the Indian festive season and racing well ahead of Flipkart and Snapdeal.
Not only with innovations in its bag, Amazon always has an answer to any new strategy that its competitors come up with. For example, in response to Flipkart's Big Billion Day, it has its Great Indian Festival. Therefore, it's never a problem for Amazon to innovate or to respond to its competitor's moves.
Thus, not only has Amazon completely adopted itself according to the local Indian markets, but it has also diverged from its global policies to gain India's trust. It has run its advertising campaign with great fervour, connecting with millions of hearts within India, again giving it a formidable presence in the market. Even according to a recent Nielsen's e-commerce seller study, Amazon already leads the list of top E-commerce brands that Indians recall, giving it a huge advantage over Flipkart and Snapdeal
How Is Flipkart Fighting Back?
A weakened Flipkart is leaving no stone unturned to fight back. Even at a time where it's valuations have been severely affected, it has crossed the 100 million user mark in September. There has been a total upheaval in its managerial level, as big as, Sachin Bansal stepping down as CEO and Binny Bansal taking charge. There has been an appraisal evaluation within its office, resulting in laying off of around 700-1000 employees. All this can be seen as a side effect of Flipkart missing its target and also of its failure to raise fresh funds. They have been cutting down on expenses and also exploring options of making higher profit margins- validated by the recent acquisition of Jabong.
To keep its customers base intact and rope in more customers during the time when competition is becoming fierce, Flipkart is not shying away from adopting the strategies that complement Indian business scenario. It is ready to offer flexible financing options such as loan payment or mobile pay in a bid to gain the attention of finance-sensitive Indian Community.
Also, after the acquisition of Myntra and Jabong, Flipkart is gung-ho about its flagship Big Billion Day sales, focusing mostly on its fashion arm. The company controls 70% of total online fashion market in India now and looking to increase its market share further through the next big billion day sales scheduled for October 2nd, 2016.
Even though investment bankers at BOA believe that by 2019, Amazon will capitalise on a GMV market share of 37%, close to Flipkart's 44% share, it might be easier for the Seattle-based behemoth to race past its Indian rival before that, seeing its advantages and the areas in which it has already started out doing Flipkart. While revenues of Amazon from its Indian operations seem comparatively small as compared to the company's global arm, it might just be a matter of time that it launches all its operations in full power, outdoing the poster boy of Indian e-commerce industry, Flipkart, and leaving it awestruck.
Not to forget, Amazon is a $100 billion conglomerate with an open chequebook for India. With Jeff Bezos ready to do whatever it takes to capture the market here, it shouldn't be long before the Amazon problem for the other E-commerce players become so colossal that eventually, they will lose grounds to it. Also, acquisitions are never a problem with Amazon- they can take over any company in the Indian market right now which can give them an edge.
Thus Amazon sticking to the second position till 2019 seems unlikely looking at Bezos' aggressive strategy and war-chest.