Retail eCommerce sales in India are looking up like never before – presenting a shining and rosy picture.
Well, almost!
The retail sale over eCommerce portals in the country touched an unprecedented high of $5.30 billion during CY 2014, tells eMarketer. One of the most trusted names when it comes to providing insights about digital marketing, media and commerce, eMarketer also expect it to grow by 45.2% over 2015 and touch a figure of $7.60 billion. Now while that is heartening news and augurs well for the future of online retail in India which is still in the embryonic stage, the fine print beyond this is somewhat disturbing. In spite of the industry having grown by leaps and bounds, online retails in India accounts for less than 1% of the total retail sales. And the trend is expected to continue in the future as well as the eCommerce is expected to contribute only 1.4% of the total retail sales even by 2018.
Global leaders like Amazon see the country as one of the biggest opportunity windows and continue to sell from here in spite of all odds, while also promising to step up their investment and pump up their operations. Leading Indian players like Flipkart and Snapdeal have been on a funding spree too, what with some of the biggest venture capitalists on the global front continuing to show faith in their startups.
What then is holding back the Indian online retailers and not putting them at par with their counterparts in other parts of the world? What is holding back a larger percentage of people from buying online when they want to?
Ecommerce Sales In India: A Tiny Share of Total Retail Sales
The total retail sale in India has increased from $635.25 billion in 2013 to $717.83 billion during the year which just ended, growing at a rate of 13%. It is expected to touch $818.33 billion in 2015 registering a Y-O-Y growth of 14.0%. By 2018, total retail volume will grow to $1,244.58 billion, growing steadily at 14-15% annually.
Retail eCommerce sales in India, on the other hand, which were a meager $3.59 billion in 2013 grew to a somewhat better $5.30 billion in 2014, a Y-O-Y growth of 47.6% as compared to 55.6% over the previous year. In the year 2015, total online retail in India all set to touch $7.69 billion, growing at a rate of 45.2%. By the year 2018, eCommerce retail in the country is expected to grow to $17.52 billion.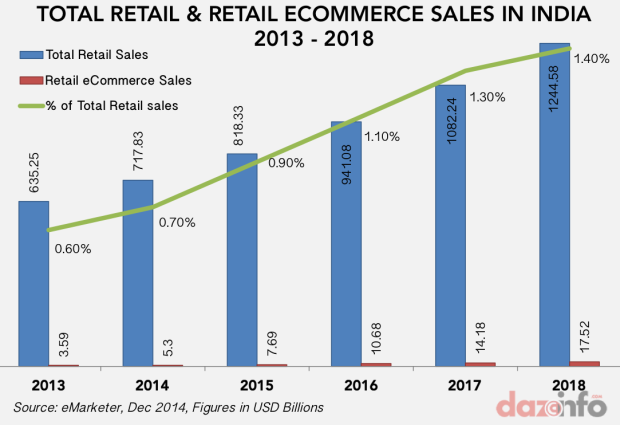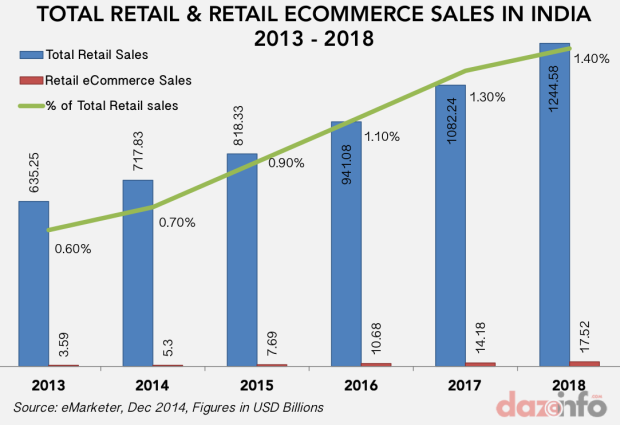 Now while the online retail is consistently expected to grow (and grow at a handsome rate too!) over the coming four years as well, the rate of growth of eCommerce is seen to be slowing down. From an impressive 55% over 2012-13, it is expected to drop to a decent looking 45.2% over 2014-15 before dipping to 23.5% in 2017-18.
Talking in percentage terms, online retail sales which formed only 0.6% of the total sales volume in 2013 is expected to 'improve' and account for a 0.9% share of it in 2015 and account for 1.4% of the total sales volume in the country by 2018.
What Ails The Indian Online Retail?
Though the trend of purchasing online is catching up in India, only 12% of our population has ever made an online purchase till date. This figure looks pathetic when compared to the neighboring China where more than half their population has had some sort of online buying experience. Sadly enough, even by 2018, only 29.0% of our population is estimated to begin to make online purchases while the figure will have leaped to 81% in Japan and 55.2% in China.
The opportunity window for online retailers in the country is huge. The main reasons behind that being the rapid urbanization, rising literacy levels, a large percentage of young population, increased smartphone penetration, increasing adoption of computers, rapidly growing access to the internet and the falling rates at which the internet can be accessed.
"E-commerce is probably the best thing that has happened to the Indian middle-class and emerging small businesses. As a business model, it appeals to the 'value-minded' Indian mindset, which is about getting the best value for money spent," said Nelson D'Souza, general manager, Fundsupermart.com, one of Asia's largest distributor of mutual funds online. "Around the world, e-commerce has brought in 'bargain hunting', which is common to middle- classes around the world."
The increased revenues of some of the leading online retailers in the country are witness indeed to the fact that e-commerce is here to stay. But at the same time, we cannot evade the question staring us in the face: Why are the online sales not keeping in pace with the total retail sales? What has held us back so far and what are the major obstacles that will hinder the growth of this sector, putting us behind our Asian siblings?
The e-commerce sales could have grown exponentially instead of adding up gradually to the sales figure.
Government policy: One of the main factors holding back an otherwise robust growth is the government restriction on FDI. As per the existing policy, FDI is not allowed in B2C segment though B2B segment can invite foreign investors too. As a result of this crippling policy, overseas players in India have to operate along the marketplace model which not only reduces their profit margins but also gives them little control of products or services being offered and their delivery. This sector, which requires huge amount of liquid capital and experimentation before online sellers can adopt a model which works best for them, is hugely restricted by this handicap.
CoD and High Rate Of Return: The most popular mode of payment for online purchases in India is Cash on Delivery (CoD). This affects the profits of the online retailers in two ways- the courier service charges extra for making a CoD delivery. In addition to that, the rate of return which is higher in this mode of payment ultimately translates into higher costs and longer credit cycles.
Touch and Feel Factor: The mindset of the people in the country has not changed with the times. A majority of buyers prefer to touch and feel the goods before they buy them. That also explains why travel is one of the best converting segments- the customers do not need to see the tangible good before them before affecting the purchase.
Cybercrime: A larger part of our population dreads the prospect of having to pay online. While they are comfortable with NEFT and RTGS transfers, they are reluctant using their debit or credit cards for purchasing online, the reason being cyber crime. That includes criminal activities like phishing, DDoS attacks, viruses, malware, etc. Fear of cyber criminals deters credit card holders (though their percentage is extremely low) from using their cards to purchase online. While most of their fears are unfounded, they cannot be entirely blamed because such cases are not completely unheard of.
Logistics: No matter how much we hate to admit it, we have third world logistics. The huge success of online retail in developed countries is largely because of their rock-solid logistics.
"In the US, Fedex, ups and USPS were already around nationwide and goods could be moved within 24 hours between 5000 miles. In India, trying to find an address or a location is a nightmare.  We don't even have a properly standardized "physical postal address system," as pointed out by a disgruntled user on Quora.
As someone who frequently makes online purchases, we personally relate to this person's woes. The courier delivery guy MUST call up every time before the packet is finally delivered, though the address is easily locatable. The courier companies do not have even bar code readers to scan the items during transit. Compare this with the U.S. where the companies give minute by minute details of the delivery of their package. Though Flipkart has worked hard on that front and we now get regular SMS messages informing us about the progress of our package, we sincerely feel that the major eCommerce players have a long distance to cover before they can give their buyers a WOW level of experience.
Apart from that, the tax rates in India vary from sector to sector which is not the case in countries like UK and USA- they have uniform tax rates. This adds to the woes of online sellers. Add to it the fact that the average order value is very low, bringing down their overall profitability.
From the consumer's point of view, the quality of goods and services delivered to the consumers has been a cause of concern. There have been cases of fraud, late delivery and damaged goods which only erode away buyers' faith.
Overall, the online retail in India is still in a very early stage. Because of the various hurdles that come in the way of the development of this sector, its growth continues to be slower than in other parts of the world and forms only a tiny percentage of the total retail sales. The government can help by stepping in and easing some of the FDI restrictions, though they seem to be in no mood to do so. At least, not for now!