The growth of social media sites has been a phenomenon in the last few years though, it's yet to reach a level where internet users start considering it as a valuable piece of sources to leverage for their jobs. Only 4% of Internet users have found social media important to perform their job unlike email and the Internet. These findings are derived from the latest study by Phew Research, in September last year.
Out of the 1,066 adult internet users based in USA who were surveyed by the GfK group using the KnowledgePanel for Phew Research, 535 were employed full-time or part-time by various organizations. Pew Research Center analyzed the data collected from these users and came up with a report specifically based on the answers provided by these 535 employees. Out of the 535 full-time working respondents, 29% report to be working in professional roles like lawyers, doctors and teachers. 14% people are working in executive or managerial posts, 13% in service jobs and 14% in clerical jobs. 7% come under the skilled worker category and 5% in semi-skilled occupations while 15% are categorized as "other".
According to the report, most of these employed users give great importance to email (61%) and internet (54%) but do not pay much attention to social networking sites like Facebook Inc. (NASDAQ:FB), Twitter Inc. (NYSE:TWTR)  and LinkedIn Corp. (NYSE:LNKD) (4%). Only 4% of working internet users found social networking sites are an important tool for their job.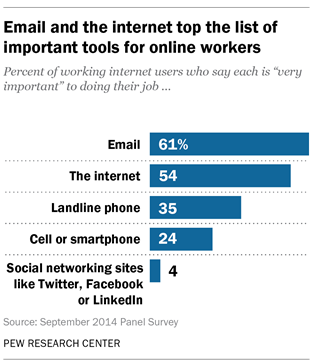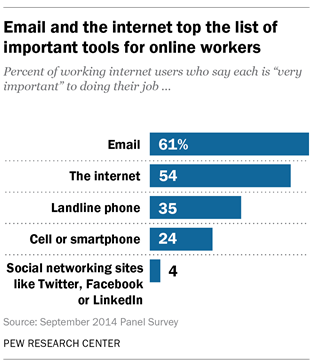 59% of the employed online adults take their job outside their workplace by staying connected through email and the internet. But these people are the ones who usually hold very high designations like professionals, executives, managers and some clerical workers. But the finding also relates to of our earlier analysis that attends the growing threats of spam, phishing and hacking; the social media spamming grew by 658% between 2013 and 2014. Despite in such an alarming situation email still holds its value in the American workplace.
Importance of the Internet among the American employees
46% of American employers surveyed admit that the emergence and existence of email, internet and cell phones have made them more productive. Apart from all this, while 51% of the employees say that internet helps them in expanding their network outside the workplace, 39% of online workers claim that internet and cell phones allow them more flexibility in terms of their work hours. However, there are employees who point out the side effects of being connected all the time; 35% claim that internet, email and cell phones increase their work hours. These accounts are mostly taken from the office-based employees.
59% of the office-based employees and 42% of the non-office based employees think that internet, email and cell phones help them in expanding the number of people they can communicate with outside their companies. 51% of the office-based employees and 19% of the non-office based employees admit that internet allows more flexibility in the hours of work. At the same time, 47% of office-based workers and 18% of non-office based workers also claim that internet also increases the amount of time one spends working.
The Employers exercising control
In order to enhance the engagement of the employees and increase the productivity of the companies, 46% of the employers have blocked access to certain websites on their company computers. 46% of the employers also claim to have set rules for their employees about what they can say or post on the internet. Such measures are usually taken for office-based professions. Among the non-office based jobs, 29% of the employees say that they are not sure whether their employers try to control their website accesses or not and 35% of the employees are uncertain about their company rules regarding controlling the employees' posts online.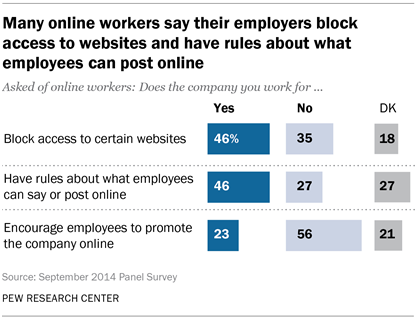 Office-based working internet users vs. Non-office based working internet users
47% of working internet users are female and 53% are male, while this ratio changes to 42%:58% when it comes to the non-working internet users. Maximum working internet users belong to 45-59 age groups in America (35%). Again when we look at the graph, maximum working internet users are from the high-income group (50%), that is, those who earn $75,000 or more.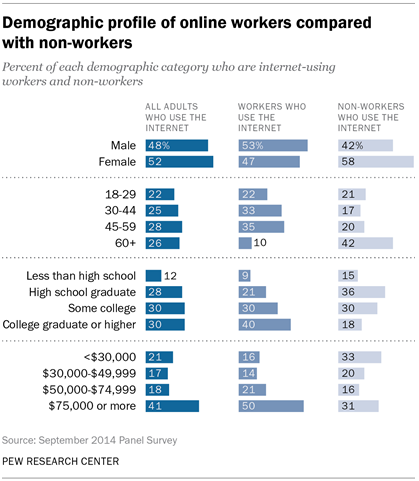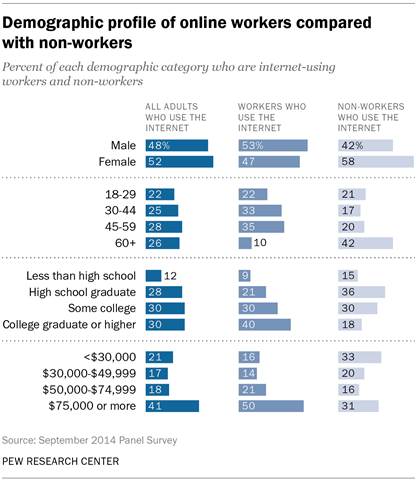 Landlines are "very important"
37% of the office-based employees lay more importance to landline phones while 22% give more importance to the usage of cell phones. On the other hand, 31% of the non-office based employees say that landlines are "very important" and 28% of the non-office based workers say the same about cell phones. Social networking sites still lay at the bottom of the graph where only 7% of the office-based workers and 2% of non-office based workers give importance to these sites.
Takeaways
Nearly half of the people surveyed found access to the Internet, email and phones enhance their productivity. Aat the same time, the access must be restricted and communication must be done in a controlled manner.
In an era of offline and online networking, employees feel more confident and comfortable when allowed to stay connected with the outside world through the Internet, email or phone. This creates new avenues of opportunities for employees and employers both.
Majority of companies, who have allowed the internet, email and phone access to their employees have also outlined the usage and communication policy carefully to protect the brand value in the market. Every employee must educate himself about such policies before they start using these provided facilities to avoid any embarrassment at the later stages.