The phenomenal growth of smartphone industry across the globe has helped many other connected industries to gain momentum, and this is clearly visible when it comes to the oldest, yet the most effective medium of communication – Email. In a report titled "Consumer Device Preferences Report" Movable Ink has stated that almost half the total email messages are now opened on smartphones and a further 17% of them are read on tablet devices. Meaning thereby that only a third (34%) of the total emails are now read across desktops or laptops. Interestingly, a further breakup of the emails opened on smartphones shows that 59% of them are opened on iOS powered devices (iPhones and iPads), clearly indicating that Apple mobile users are more aligned to effective business communication and are a big time consumer of email data.
The report has been prepared on the basis of information shared with them by their customers, which includes more than 150 B2C top marketers from various segments of the industry in the US.
Email Opens by Device: iPhone Users Lead The Pack
Before we start doing the analysis and talking about the takeaways, first let's pay attention to few major findings of the report:
17.47% of the total emails are opened on tablet devices.
48.51% of them are opened on smartphones.
Only 34.03% (or, one-third) of the emails are opened on desktop computers or laptops.
A further split-up of the 65.98% (17.47% emails opened on tablets + 48.51% emails opened on smartphones) emails opened on devices other than computers revealed:
43.1% of the emails are opened on iPhones.
16.33% emails are opened on iPads.
5% emails are opened on android based phones
1.06% of them are opened on Android tablets.
0.19% of the total emails are opened on Windows based phones.
0.08% of the emails are opened on Kindle Fire.
Smartphone email opens are up by 5% during Q3, 2014 as compared to the previous quarter. They had earlier accounted for only 43% of the total email opens during Q2 2014, but their share has gone up to 48% during this quarter.
Out of total email opens, iOS device opens increased by 2% over Q2, 2014 and got close to a 60% share of all opens.
Smartphone Users Are Most Active On Email Throughout the Day
The picture below shows device-wise breakup of emails opened during the course of the day. The findings are helpful for email marketers and daily eNewsletter service providers to optimise their daily shoot for the optimum open rate.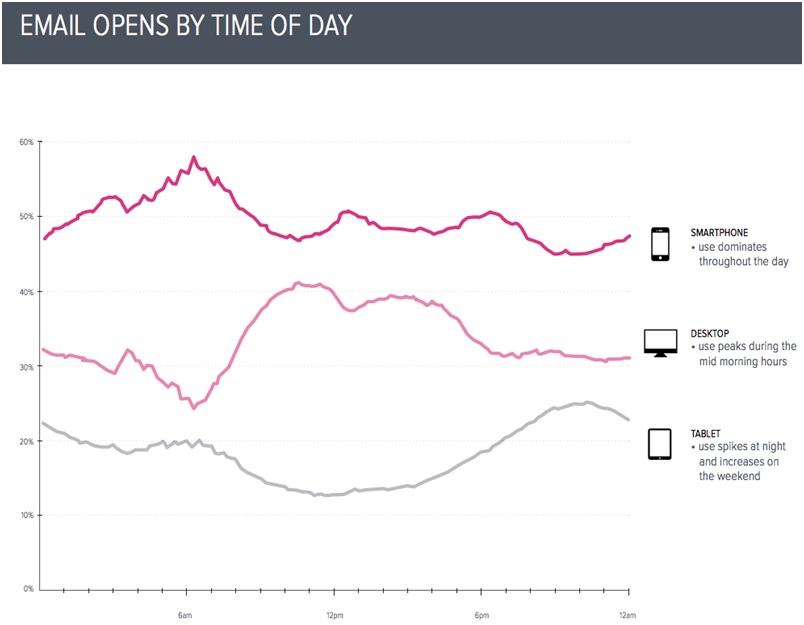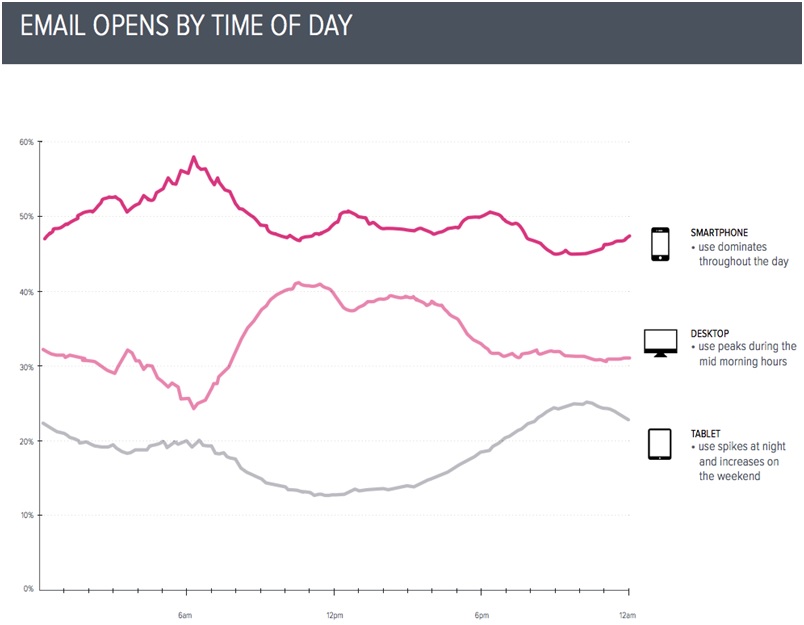 The smartphone users check their email messages almost throughout the day, though they were seen to be most active at 6am in the morning and most inactive around 10-11 at night.
Desktop users were seen to be most active during the morning hours. Mid morning, rather.
Tablet users were seen to be most active during evenings and over weekends.
Email Opens By Vertical: Different Devices Preferred Over Different Verticals
Besides the device preference and the time of the day, the vertical or category of any email also had a significant impact on the device over which it was opened.
Mails from Automotive and Financial services:: were opened mainly over desktop devices, with 46.6% and 44.4% of email opens respectively.
Mails from Retail, Media, Entertainment and Publishing: were primarily accessed over smartphones. 48.5% emails from media, entertainment & publishing category, 53.8% from retail (apparel) and 45.6% from retail (non-apparel) were opened across smartphone devices.
Mails from Travel and Hospitality sector: were opened almost equally over desktops and smartphones.
Email Read Length by Vertical: Desktops Drove the Maximum Read Length While Tablets had the Least
Email read length differed by both vertical and the choice of device.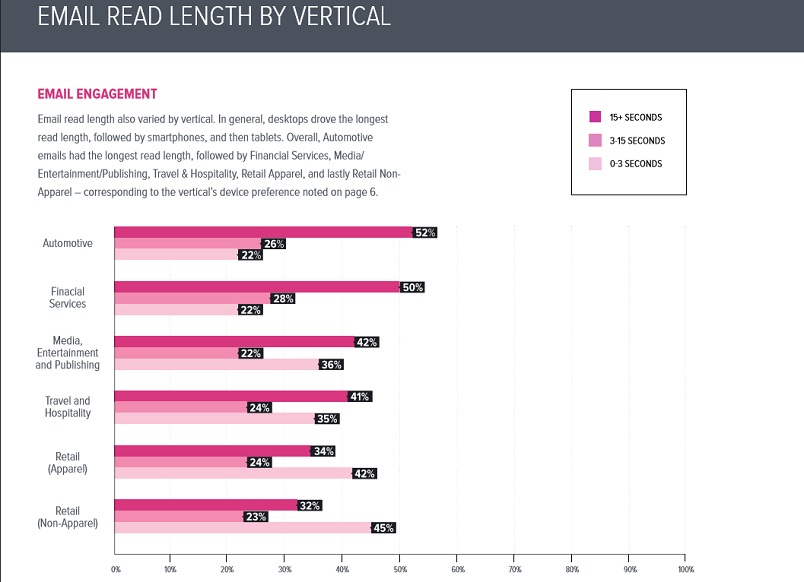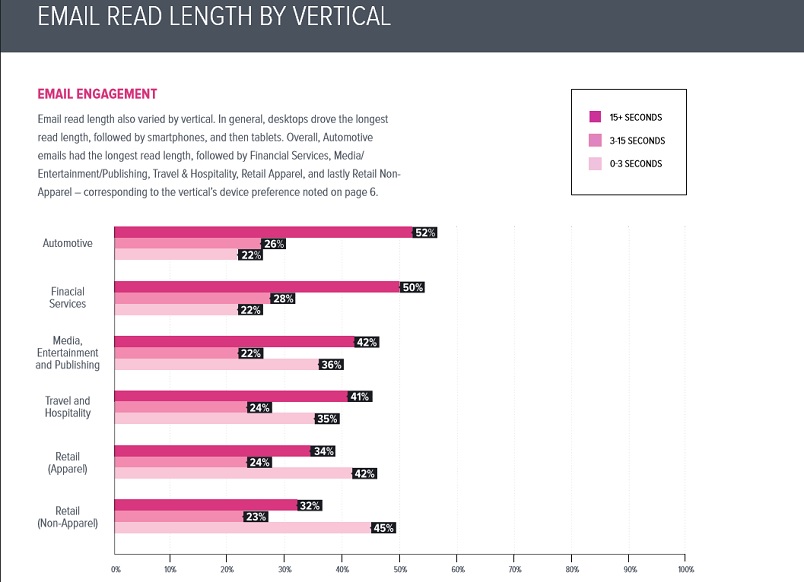 Email opens across all vertical except retail (apparel and non-apparel both) were seen to get the maximum engagement over desktop devices, while the engagement was lowest over tablets.
In terms of vertical, automotive emails had the longest read length, followed by financial services while the shortest read length was seen over apparel retail and non-apparel retail.
What This Device Preference Means for Business Owners?
Almost 43% of the total emails are opened over iPhones while only 5% are opened over Android-powered smartphones which is surprising considering that only 42% of the total smartphone users in America use iPhones.
While smartphone users were consistent with checking their email messages at all times of the day, desktop users and tablet users had their peaks and troughs- which clearly indicates that desktop devices had an edge for emails opened during the 9am- 6pm time (office hours) while tablets were the preferred devices for checking emails during late evenings when they view multiple screens viewing their laptops, tablets, TV screens and smartphones one after the other or several of them together.
Though the popularity of conventional computers is on the decline, they continue to get the maximum engagement, though tablets have the best click through rate.
The overall email opens across various devices and verticals clearly point to one thing- that the email messages and the associated websites/ landing pages are not mobile and tablet friendly are huge drain on the resources of the sender.
If you intend to reach out to your existing or potential business prospects using an email, you have to keep in mind the fact that it has a greater chance of being read over a mobile phone or tablet than over a desktop.
Not only will an email which is not mobile friendly fail to deliver the intended message, it can even have a negative impact on the reputation of the sender.
As the smartphones gain in popularity and the mobile only users goes up, these findings it will become all the more necessary for business owners to make their emails mobile friendly.
Takeaways:
Email Marketers must ensure that eNewsletter if optimised for the small screens – smartphone – especially for iPhone.
Must deliver their daily eNewsletter to users inbox before 6 Am in the morning or 12 AM or 6 PM and before 10 PM.
Email containing content related to Apparel must be optimised for smartphone.
As a majority of emails are being read on Smartphone, sender must pay attention to the fact that it must not be stuffed with unnecessary explanation or words.
Readers belong to Retail category, are the most impatient as they spend minimum time in reading emails. Therefore, senders must ensure to keep their email content short and keep the message on the point.
Despite the growing market share of Smartphone, Desktop is still the king when it comes to engagement. Email marketers pay attention to the browser compatibility on Desktop to make sure they achieve the greatest open rate.