People around the world have definitely shifted to "Multi-screen" usage. Consumers tend to shift from one screen to the other, in order to accomplish the task. How many of us saw Sachin Tendulkar retirement on a television??  And then quickly switched to Laptops, PC's, Tablets or Smartphone to Tweet, search, write a blog etc. We are definitely composing, consuming and curating content over multiple screens. Consumers turn into "Multi-screeners" either in sequential or simultaneous ways, but 90 % of users do shift to different devices, to accomplish their task.
90% of all media interactions by user are screen based; on an average consumer spend 4.4 hours of their leisure time in front of  the screen — Tablet, TV, Laptop, or a Smartphone. Consumers use to spend 43 minutes on TV, 39 minutes on PC/laptop, 30 minutes on Tablet and 17 minutes on a Smartphone on the basis of average time spent per interaction. These all figures definitely reveal one thing; users are shifting between multiple screens and data are free-flowing between different screens.
WAYS TO MULTISCREEN:
Simultaneous usage:
Consumers use different devices collectively for either related or unrelated activities. Users around the world are definitely operating like nomads, Google found three different screen combinations most prevalent amongst the users:
81 % users use Smartphone and TV simultaneously
66 % use Smartphone and Laptop/PC simultaneously
66 % of users use Laptop/PC and TV simultaneously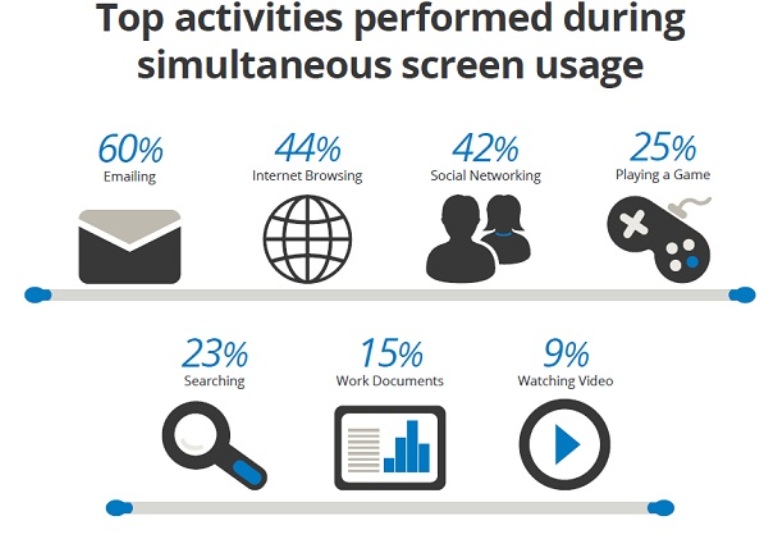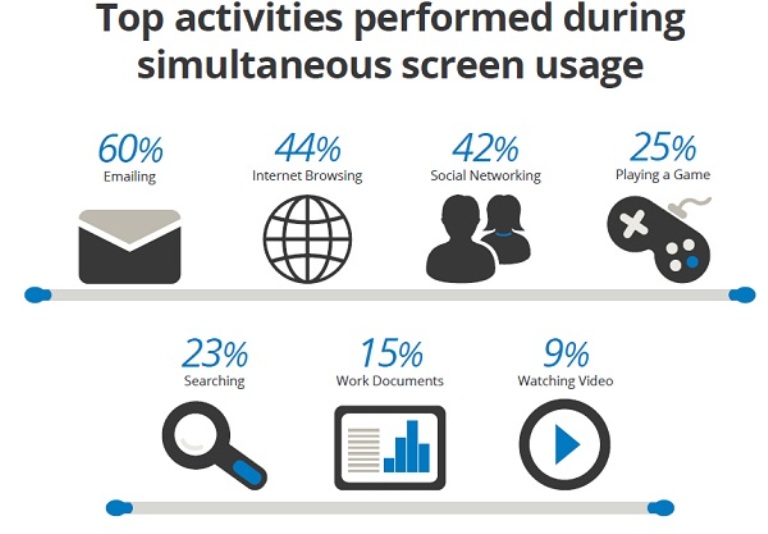 Interestingly, emailing and browsing Internet were the most habitual activities, simultaneously performed.
Sequential usage: 
Sequential usage is, starting from one device and ending up on another, for accomplishing the same task. It is found that 90% users shift to different devices to continue their exploration, search is the activity which user often pickup from where they have left. The favorite activities of sequential users:
Browsing internet 81%
Social networking 72%
Online shopping 67%
Research/search 63 %
Managing finance 46%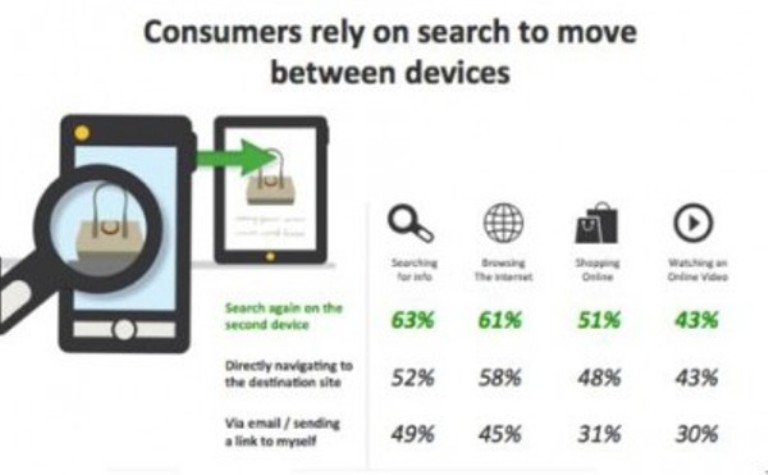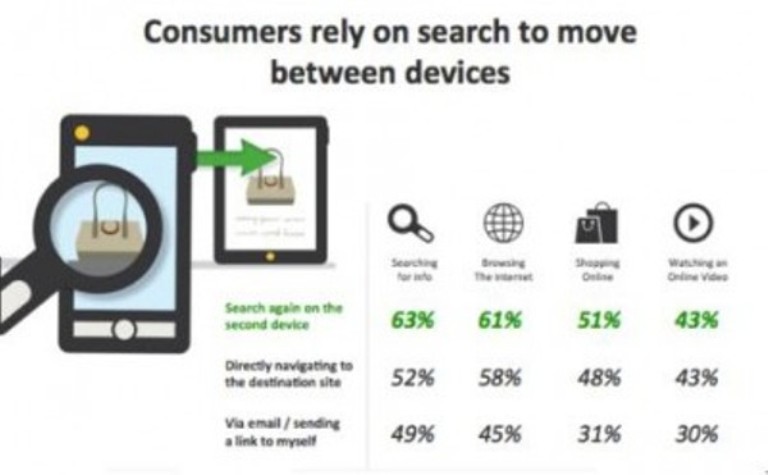 Users might use any number of devices in any fashion, but the fact remains intact; users are "Multi-screeners". Increased mobile devices have also made users to explore information seamlessly. 80 % of searches that happen on Smartphone are instantaneous searches, which happen in spur of the moment; 44% of these are goal-oriented.  This combination of device accessibility and spur-of-the-moment usage means there are now more opportunities to connect with consumers, so businesses have to make sure they're present and optimized across multiple screens.