The number of internet users in the world is all set to cross the 3 billion mark in early 2015, and almost half of the world's population will have access to an internet connection in four years from now, says eMarketer, a leading and much respected research firm.
The report also predicts a double-digit growth rate for India and Indonesia, while China will be the only country, out of the 41 countries studied, which will show an increasing rate of growth year after year.
Slow and Steady Increase in the Number of Internet Subscribers but at a Decreasing Rate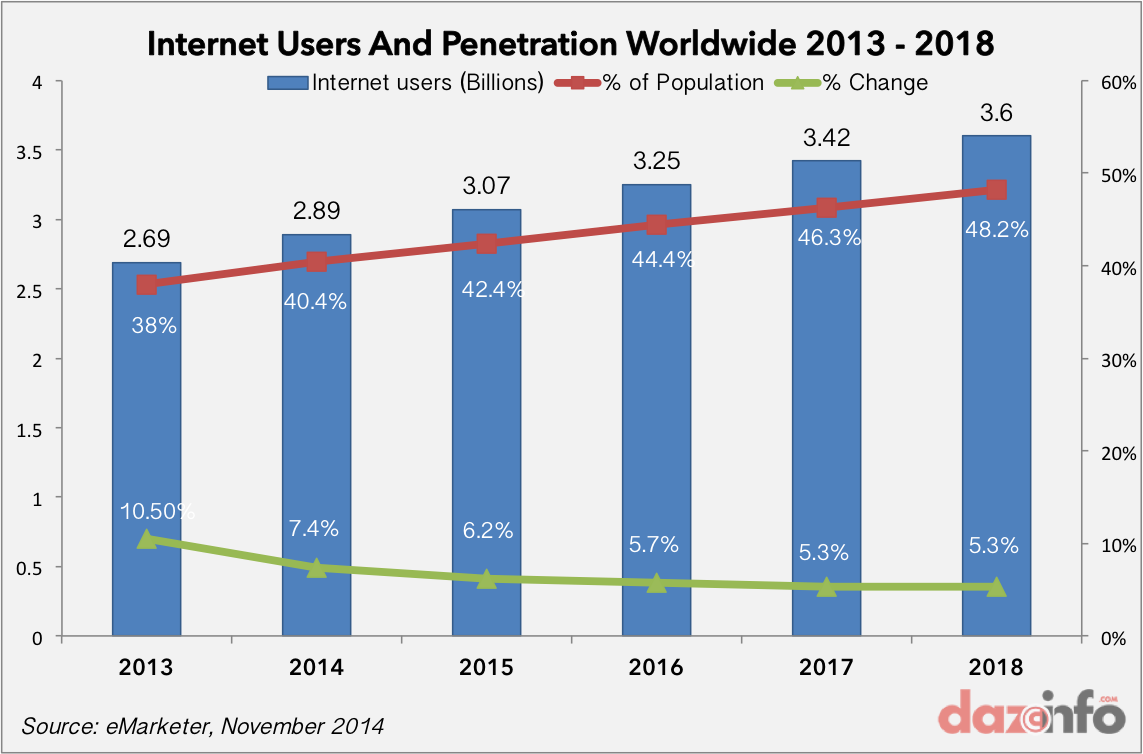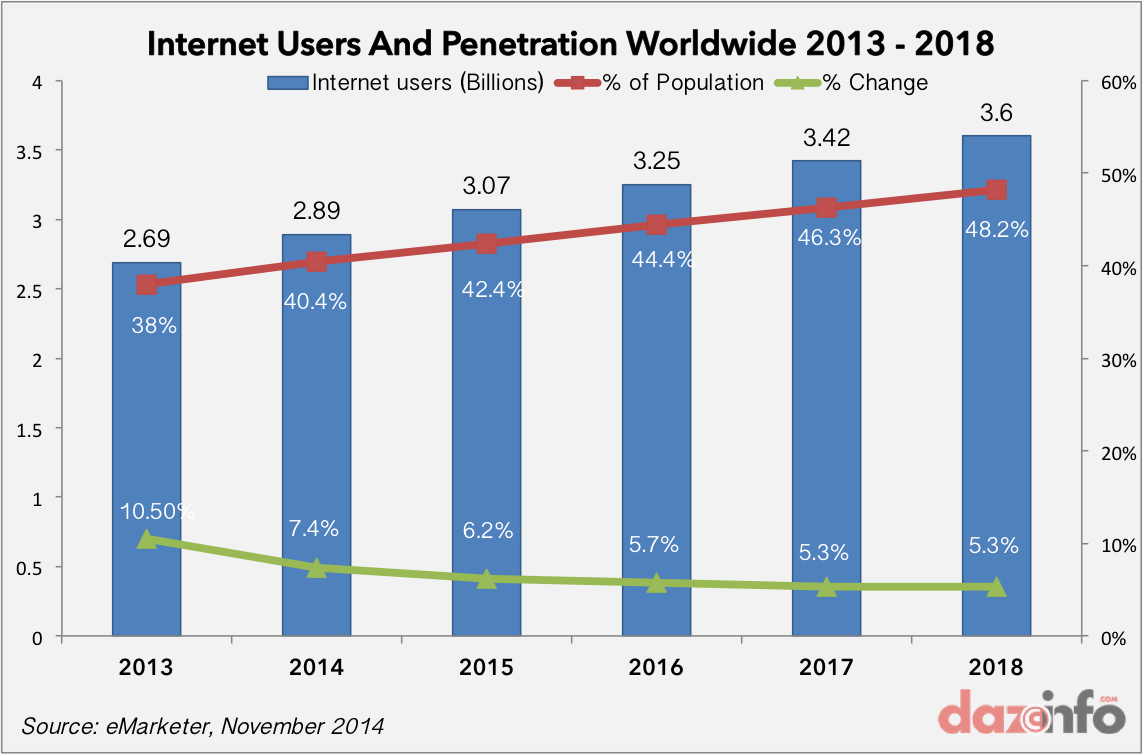 2014: It is estimated that there are 2.89 bn internet users in the world at present. By the end of this year, more than 40% of the world's population will have internet access. That means, two out of every five people on this planet will be connected via the internet before the year comes to an end. The rate of Y-O-Y growth, however, will fall from a much healthier 10.5% over 2012-13 to a single digit figure of 7.4%.
Number of people with internet access will cross 3 billion next year. The penetration of this facility is expected to register a 6.2% annual growth rate.
The number of internet users will continue to increase slowly but steadily.
By 2018, almost 3.6 billion people walking this planet will be connected to the internet- whether through their computers, smartphones or tablet devices. So to say, one out of every two (or, half of the total population on our planet) will be connected to the internet.
The rate of yearly growth in the number of internet subscribers will continue to fall at a steady rate and touch an all-time low of 5.3% over 2016-17. After that, it is expected to touch the plateau.
However, the eMarketer's prediction differs from the figures released by InternetLiveStats- According to them, the world already has 3 billion internet users. Slight differences can be attributed to the difference in methodology used by researchers and to the fact that eMarketer fonts only those who have logs in at least once in every 30 days. In a way, we can consider these numbers as active internet users.
Country By Country Growth Analysis
Data from 41 countries from all over the world – South East Asia, Central and Eastern Europe, Latin America – was taken into account for extrapolating these figures.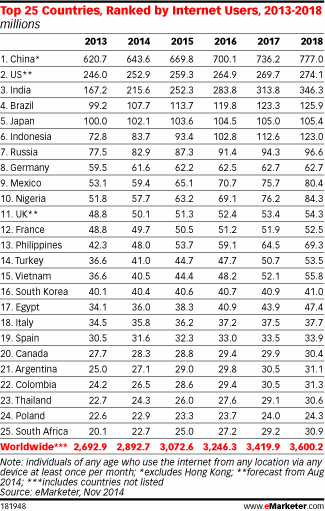 In the year 2014, Brazil will topple Japan off its fourth place in the list of the number of internet subscribers.
In the year 2015, Mexico will supplant Germany as the eighth largest internet user base in the country.
In the year 2016, India will become the second largest internet user population in the world, leaving United States behind.
In the year 2017, Japan will be knocked off its fifth place as well- this time by Asian compatriot Indonesia which will make it to the list of top five internet user populations for the first time.
In the year 2018, China will cross the 750 million user base mark- the only country in this forecast showing accelerated growth every year.
The Reasons Behind the Rapidly Increasing User Base
By 2018, there will be at least 3.6 billion internet users in the world, by which they mean people who will access internet over any of their devices at least once a month. A greater percentage of that increase will come from the rise in the number of mobile internet users, says eMarketer.
"Inexpensive mobile phones and mobile broadband connections are driving Internet access and usage in countries where fixed Internet has been out of reach for consumers, whether that's due to lack of infrastructure or affordability," says Monica Peart, senior forecasting analyst, eMarketer.
Further, the rate of Y-O-Y growth will be higher in emerging markets and developing economies as compared to the developed countries and matured economies- because the latter have already reached a saturation point and there is little room for further growth.
"While highly developed nations are nearly saturated in terms of Internet users, there's significant room for growth in emerging markets; for example, India and Indonesia will each see double-digit growth in each year between now and 2018," observed Monica Peart.
Although there is no denying the fact that availability of internet over the phone and cheaper entry level smartphones will contribute largely to the rapidly growing internet user base in the world, the role of tech companies which are going all out to extend internet access to maximum number of people cannot be denied.
The most laudable effort in that direction has come from Internet.org, a Facebook initiative. The online social networking site is building drones, satellites and lasers to deliver the internet to everyone. With their efforts, the number of internet users in Philippines and Paraguay had doubled by March 2014. A substantial leap in a twelve-month period! Not only South East Asia, Zuckerberg's led charity has also made headway in connecting the population of Zambia in Southern Africa to the internet. Assisting him in this philanthropic effort are other tech giants like Qualcomm, Ericcson, Nokia and Samsung.
Only recently, Satya Nadella- the Microsoft CEO, has also proposed using 'white space' technology and provide internet access to rural and remote areas of one of its hugest user bases, India. The term 'white space' is used to refer to the unused spectrum between two channels. These unused frequencies, it is believed, could be vital to widen the reach of the internet. Experts have already used the white space to increase internet usage in countries like Ghana, South Africa and UK earlier, though they will be taking the biggest steps in this direction in India. If successful, it could mean the facility to use the internet at the speed of up to 4Mbps at a cost of only $2 per month. Well, Mr Nadella is an astute business man- he already sees cloud computing services alone in India as a $2 trillion market. Bringing out the maximum number of people within internet coverage could only work to Microsoft's benefit eventually.
The search engine giant, Google, is also working on Project Loon which involves floating huge balloons in high altitudes in the stratosphere to fill the gaps in coverage areas. These balloons also propose to provide internet coverage during times of disaster. The project which was started as a small scale experiment in New Zealand in June 2013 and has been tested subsequently in the Central Valley in California and also North Eastern parts of Brazil envisages 'balloon powered internet for everyone'.
Gainers and Losers
The tech giants, service providers, software makers taking interest in developing the infrastructure for internet services can be easily explained. That would translate into bigger markets and thus more business opportunities for them.
Other than that, industry in any region gets a big boost when it is well connected with the rest of the world through the internet.
The biggest gainers in this whole process, however, will be online retailers or e-commerce companies. They are dependent completely over the internet usage. As the internet user population in the world gets larger, they will have more people logging on to their sites for making online purchases. E-commerce is already burgeoning all over the world. eMarketer had already projected the volume of B2C sales in online retail to touch $1.5 trillion this year- and that is only a part of the picture!!
The biggest losers perhaps will be offline retailers and those running brick and mortar stores. Since online buying gives the buyers to option to buy anytime of the day they want to without having to move out and getting stuck in traffic jams and perhaps lower prices as well, retailers and sellers in the offline world are beginning to feel the heat already.