Apple Inc. (NASDAQ:AAPL) has proved once again that competitors will have to sweat a lot to leapfrog iPhone/iPad maker to become the best global brand. In 2014 Interbrand list of Best Global Brands, technology companies Google Inc. (NASDAQ:GOOGL), International Business Machine Corp (NYSE:IBM) and Microsoft Corporation (NASDAQ:MSFT) failed to dethrone Apple from its top position despite of registering a sizable surge in their brand valuation. Apple's brand valuation surged by 21% to 118.86 billion, followed by Google and Coca-Cola with brand valuation $107.43 billion and $81.5 billion respectively. Compared to the last year, the list of top 5 best global brands remained unchanged this year. Facebook emerged as the top riser with the greatest percentage of growth, resulted in brand valuation of $14.34 billion. The online social media giant makes a big leap from 52nd position to 29th position this year. Overall Amazon, Volkswagen, Audi and Nissan were the other top risers by recording more than 20% rise in their brand valuation.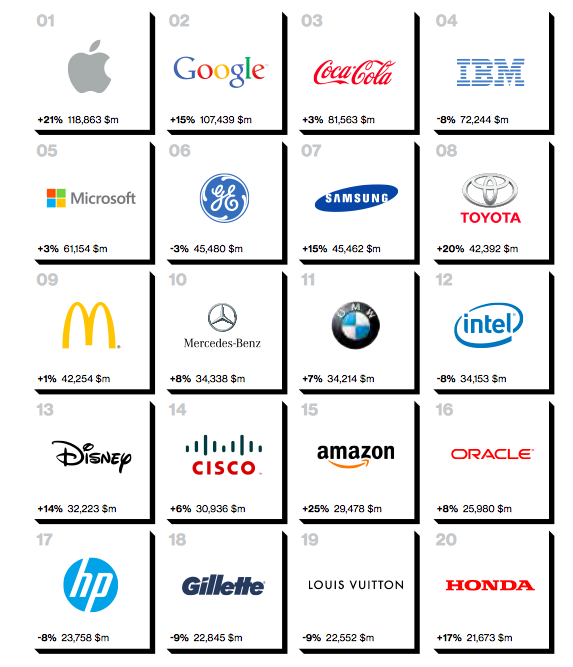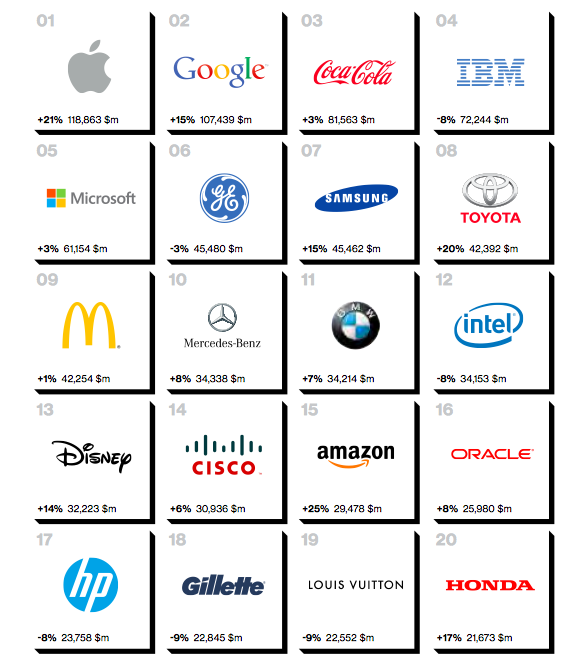 American companies primarily dominate the list of Best Global Brands 2014. 59 companies in the list belong to America, out of which 54 belong to the US. Companies belong to Automotive and Technology sector made the most in the list. While 14 companies belong to the Automotive industry, 13 companies from Technology sector challenged its dominance. It's important to note that the Interbrand didn't consider Amazon and eBay as Technology company and put them in the category of Retail along with IKEA.
Interbrand is the world's leading brand consultancy with a net-work of 31offices in 27 countries. The company's list of Best Global Brands 2014 is based upon three key valuation of each company: Financial Analysis, Role of brand and Brand strength. There could be some subjectivity at play in deciding the valuation of each brand, but Interbrand claims its methodology is the first of its kind to be certified by the International Organization for Standardization.