When Apple Inc. (NASDAQ:AAPL) launched its 1st generation iPhone back in the year 2007, never did it imagine that it would reinvent the smartphone industry. From 6.1 million sales of first generation iPhone units over first five quarters to 10 million iPhone 6/iPhone 6 Plus sales in first three days, Apple's success speaks for itself. It is not as if the original iPhone, as it was called, was perfect in every sense but it indeed received a resounding yes from one and all. From 8GB iPhone (1G) to 16 GB iPhone 6 Plus, success has been phenomenal.
As history speaks, in a month before every new iPhone launch Apple sees a drop in its sales as the current users hold out any new purchase in the wake of new product. However, as per the new data released by Kantar Worldpanel ComTech for the US, steady sales were observed for three months ending August. Apple's smartphone share dropped to 30.5% in the US, a dip of 0.9 percentage points with respect to the same time period in  2013. This has not come out as a big surprise seeing the market drift towards low cost smartphones. The pattern can be observed even among the existing phones of Apple with iPhone 5 being the most in demand. It's worth questioning: Why will one spends $999 bucks to be an iPhone user if it can be managed in $ 499 with just slightly different technicalities?
iPhone

5s topping sales, price rose post launch of iPhone 6
iPhone 5c and 5s have been the most in demand post new launch. This is a bit shocking since with the weekend sales record of iPhone 6/6 Plus out, it was expected otherwise. This has led to the overall steadiness of Apple's share in the market. Kantara analyzed company's smartphone share in the UK and came out with the following graph:
What even more interesting to note is the fluctuation in the price of iPhone 5 versions. Price of iPhone 5 actually rose, following the announcement of iPhone 6/6 Plus! Though we do not expect current versions of any existing smartphone to go obsolete overnight, however, increase in their price is obviously not the trend. Moreover, with problems like bending, loss of cellular service being revealed in new iPhones, iPhone 5s'c will continue to retain their markets. Data provided by Terapeak after having a look at EBay sales for iPhone 5s shows some fascinating ups and downs.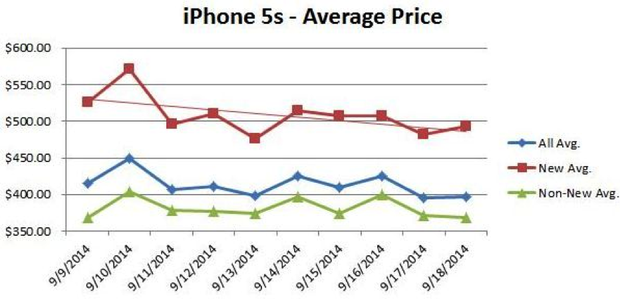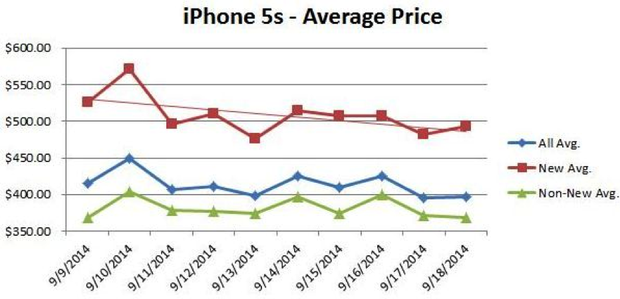 The sales of iPhone 5s though definitely went down since the announcement of iPhone 6 and iPhone 6 Plus with consumers with-holding new purchases. Even here noteworthy is the fact that after a few weeks, a rise in its sale was observed and the growth has been steady since.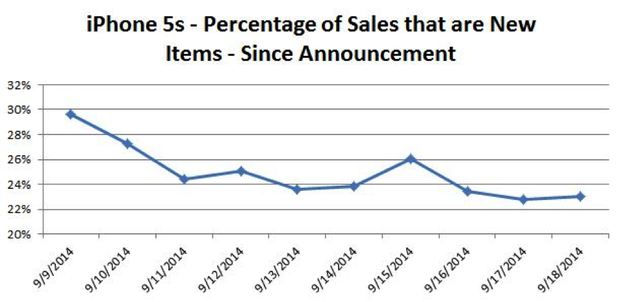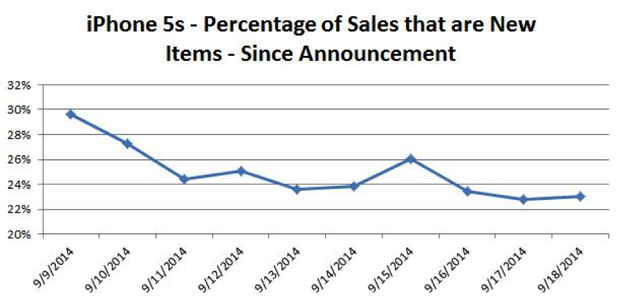 It won't be wrong to conclude that among all iPhone versions, iPhone 5s has definitely been the reason for Apple's steady success. Though the sales of iPhone 6/6 plus did plunge, they can't do much to account for Apple's declining smartphone market share.
Apple's market share fell across all smartphone markets worldwide
iPhone OS market saw a dip in its market share across all major smartphone markets worldwide. This includes its strongholds which brackets economies like U.S.A., Japan and U.K. In China, once seen as a hot target in the beginning of 2014 by Apple, its share drop to 13.2% in July 20013, a dip of 5.6 percentage point from July 2013. Records from Japan and European countries too showed that the company did not fare well in comparison to previous year sales.
No different situation was observed in Britain.
As ComTech puts it "Apple has managed to limit the drop this year with its share of sales dipping just 1.6 percentage points versus July this year – almost half the equivalent drop seen in 2013 ahead of the iPhone 5 launch."
This stillness in the sale is being attributed to the success of iPhone 5c, which was reportedly best-selling phone in Britain in August with 8.9% share surpassing iPhone 5s with 7.6% and Samsung Galaxy with 6.0%. This will also affect the upgrade cycle as prior to launch, 85% of British iPhone users intended to upgrade given the possibility. However, with iPhone 6 and 6 Plus out, some one-third people of 13.3 million iPhone population are ready to upgrade. The figure could have been on a higher end had iPhone 5s lost its popularity at a go.
In the US too, iPhone 5s (12.9%) can anytime outnumber the current leader Samsung Galaxy S5 (13.8%). iPhone 5c is not far behind with share of 8.8%. This again backs iPhone 5s/ iPhone 5c popularity in the market.
Android continues to be a headache for Apple
How much we continue to predict the future of iPhone 6 and 6 Plus, they being newly launched, there is a bigger problem lurking behind. The popularity of Android is continuously increasing. With names like Xiaomi's Mi3/ Mi4, Redmi 1s churning out dirt-cheap smartphones, Android smartphones are available at cost as low as $50. Android low-cost phones are already a rage in economies like India where price and design have long been prime factors. Android One is another project, which threatens Apple's market hold. In the US the sales of smartphones with screen size between 5″ and 5.4″(majority of such phones are Android) sailed around 24.45% of overall sales. This is in contrast to 3.9% for screens with size 5.5″ and above.
The future of Apple is definitely not that can be predicted. Fiksu shows that 14 days since its launch adoption rate of iPhone 6 and 6 Plus is 4.62% as compared to 3.69% of iPhone 5 versions. This marginal lag, despite of the bigger display of iPhone 6 series, is of high significance since it shows the current popularity of previous versions. Apple has to work upon its existing strategies if it targets to retain its loyal user base!