Every once in a while, there comes a revolutionary product that changes everything. The Xiaomi Mi3 has been all the rage in recent times and has been touted as the revolutionary high performing low-priced Smartphone by enthusiasts and purists alike.
But performance cannot be measured by opinions and hollow talks about inbuilt features and components. So as soon as we got our hands on a Xiaomi Mi 3, we decided to put it through several benchmarking tests that would determine this product's standing against its competition. Our approach to ditch standard device reviews, the likes of which are available on hundreds of websites, is an attempt to stay focused on the real review process which can help our readers understand and be able to gauge real value for their money.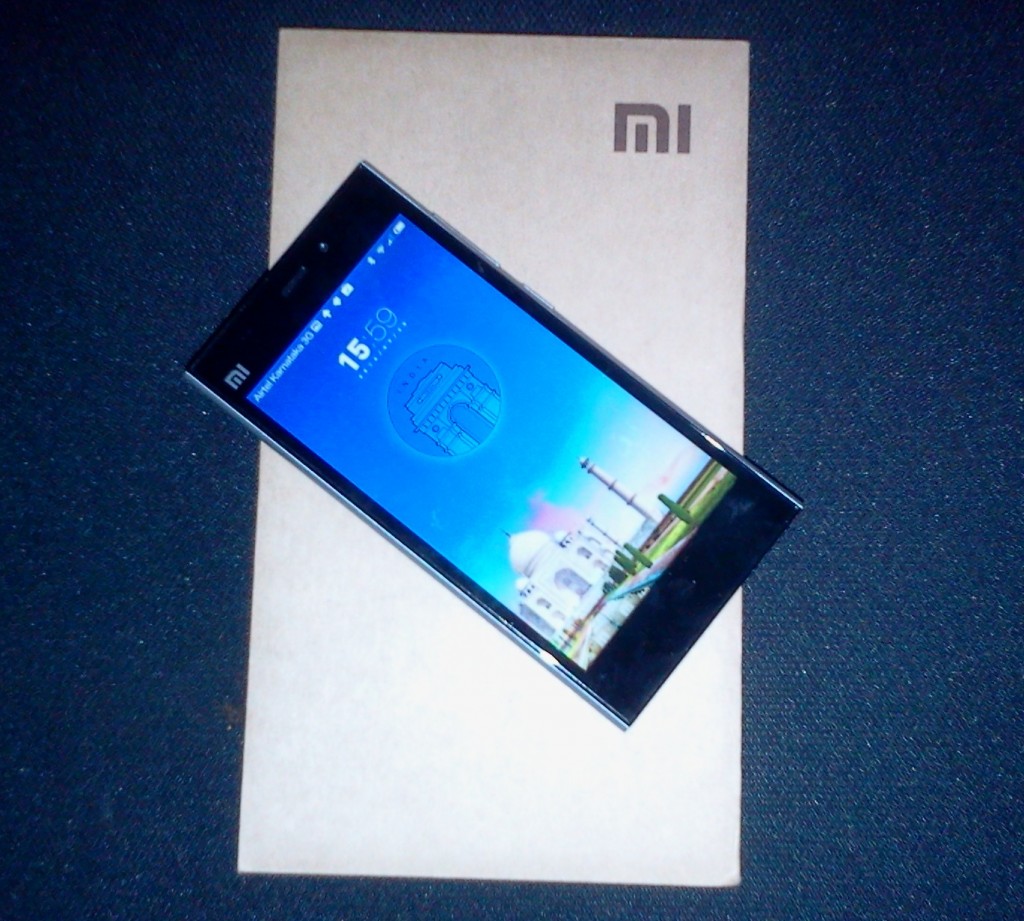 "The Xiaomi Mi 3 is fantastic; it's near perfect. For its price, it's without parallel, and any talk about competition is hollow." – Firstpost.
Much has been written about Xiaomi Inc. and the Mi 3 in the last week or so, but accepting the status quo in journalism and tech reporting is not what we do at Dazeinfo so until we have numbers to back such claims we don't accept the verdict. Here are some specs to get you started on the Xiaomi Mi 3.
SPECIFICATIONS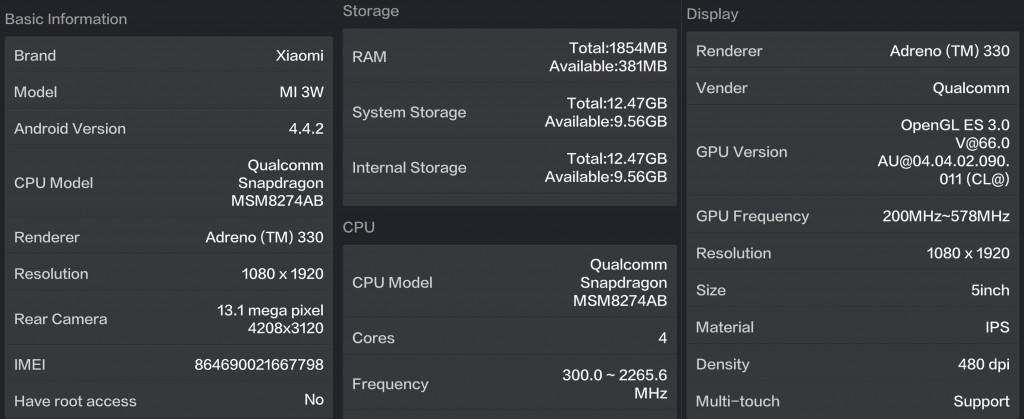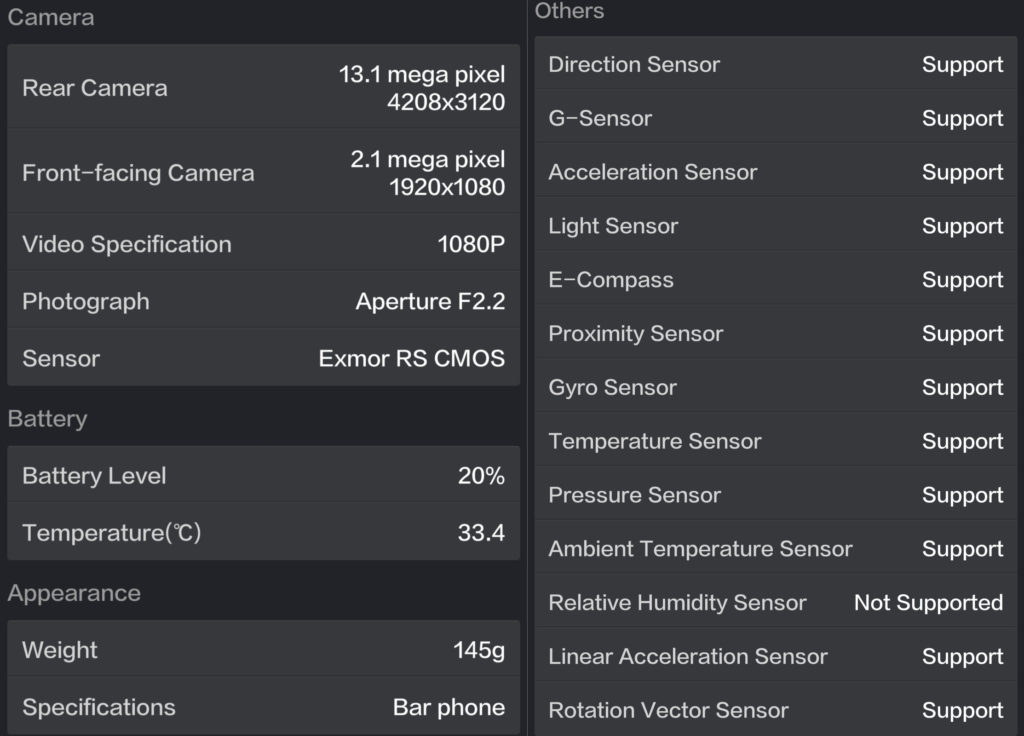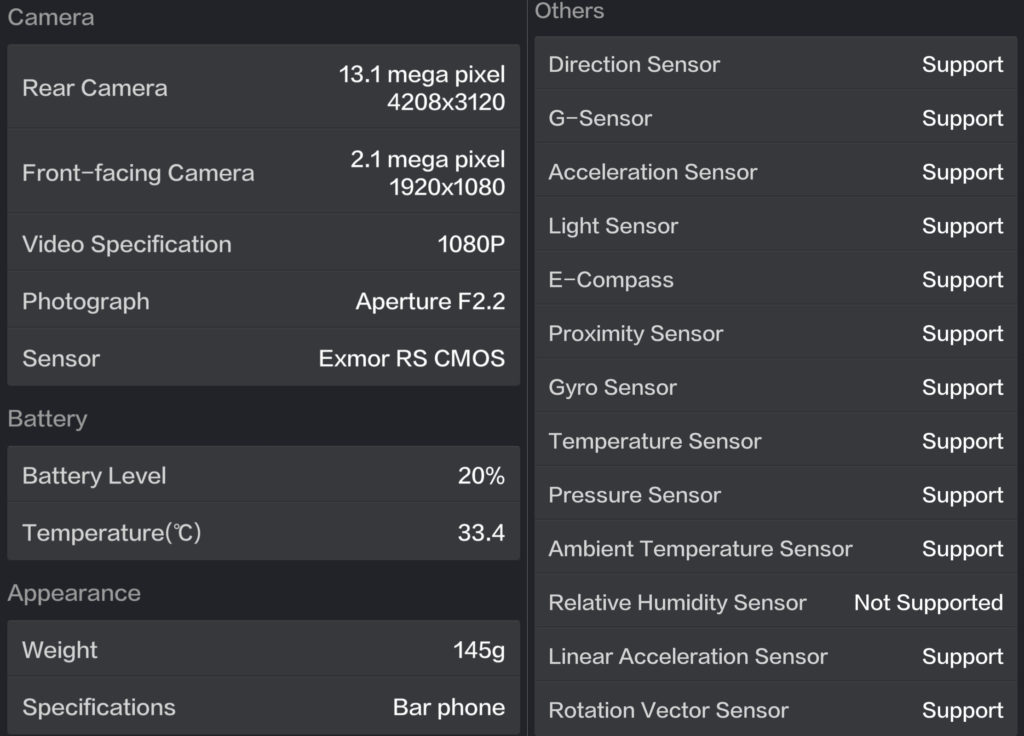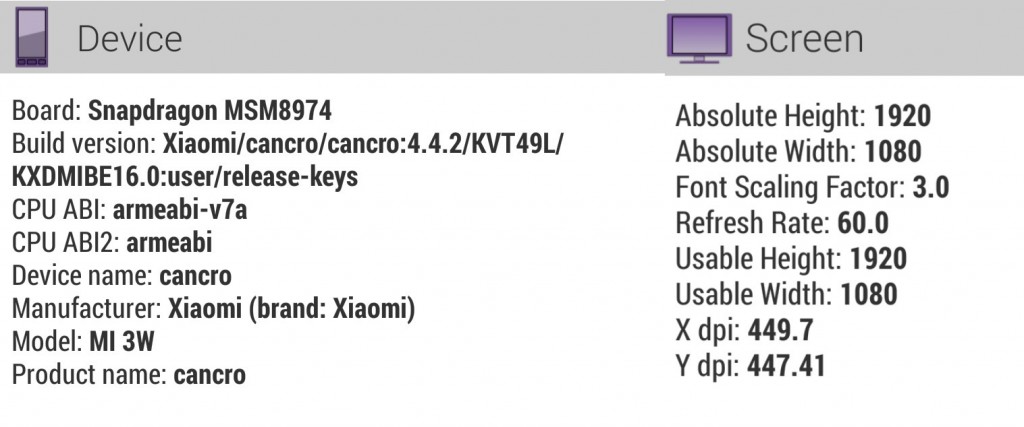 The benchmarking tools used in this performance review are – AnTuTu Benchmark 4.5.2 by AnTuTu and Vellamo 3.0 by Qualcomm Innovation Center, Inc.
Xiaomi

Mi 3 BENCHMARKING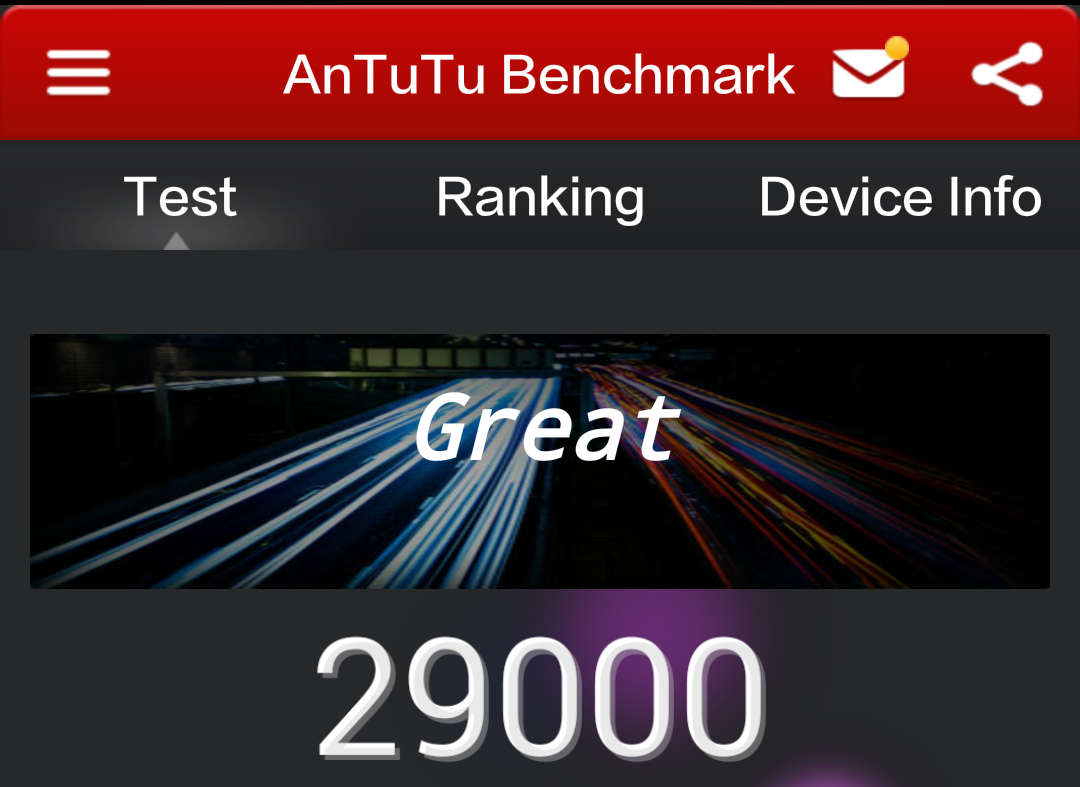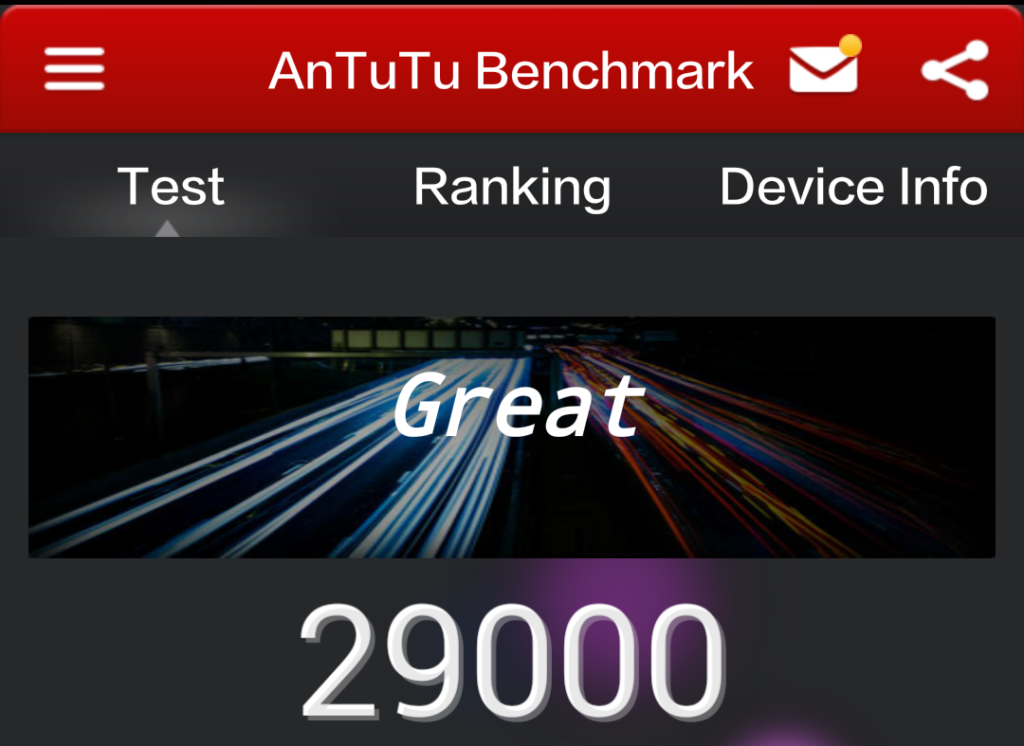 The Xiaomi Mi 3 scored in the 28,000 – 29,000 range on various runs on the AnTuTu benchmark. That is quite a staggering number for a smartphone priced Rs. 13,999. For this article we have used the test results for a benchmark run, which yielded a perfect score of 29,000.
Here is what the benchmarking tool had to say about this phone after the tests finished –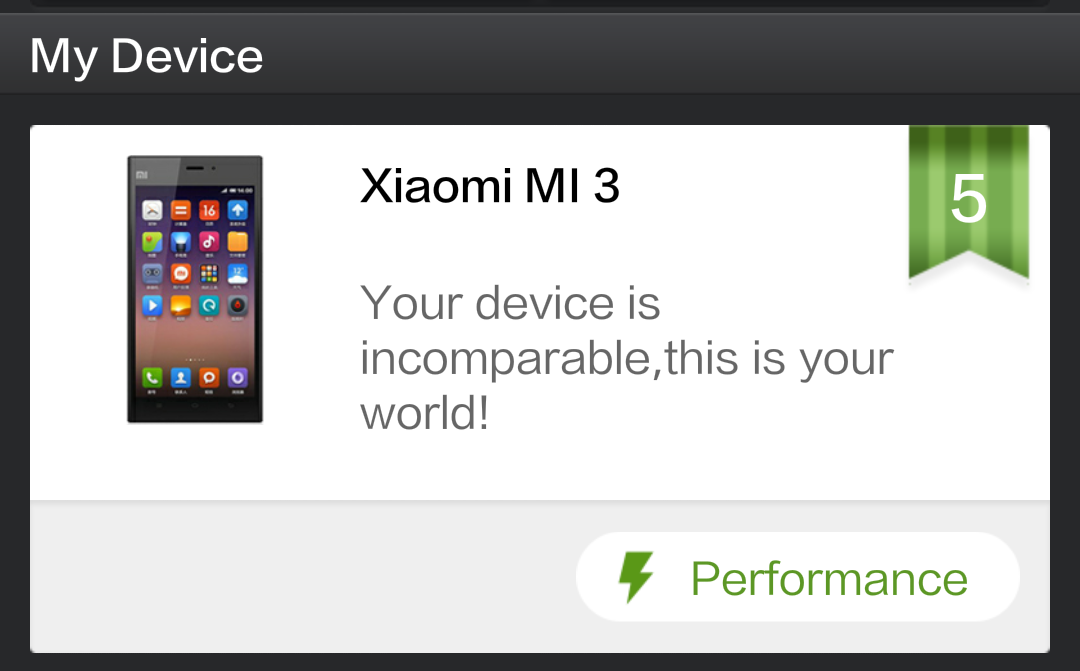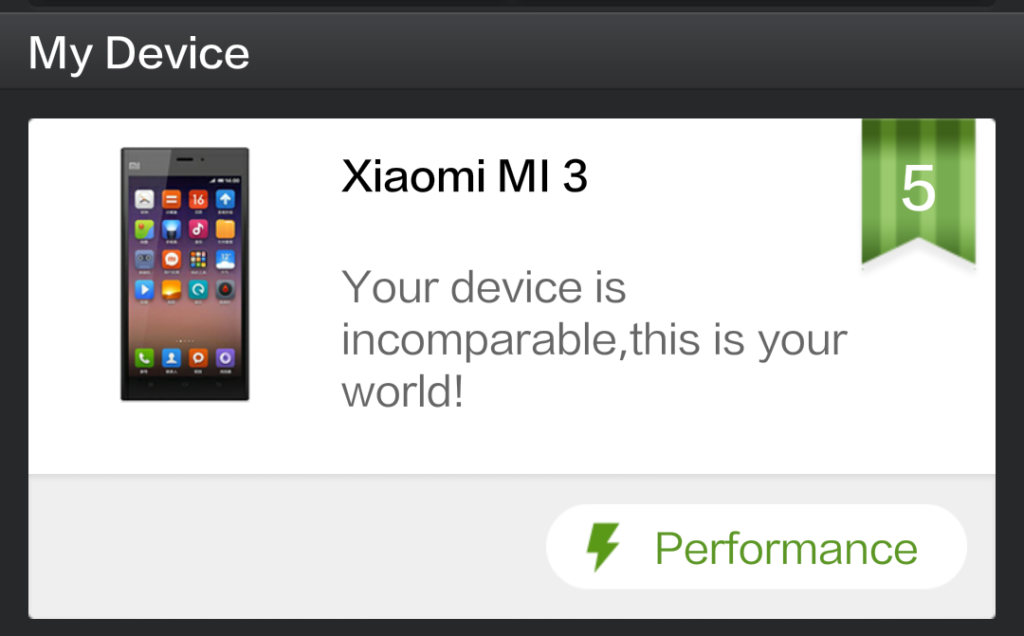 We must point out that such high results have only been generated by the industry leaders in terms of performance, the likes of HTC One (M8) and the Samsung Galaxy S5. Here is a detailed breakdown of the test results.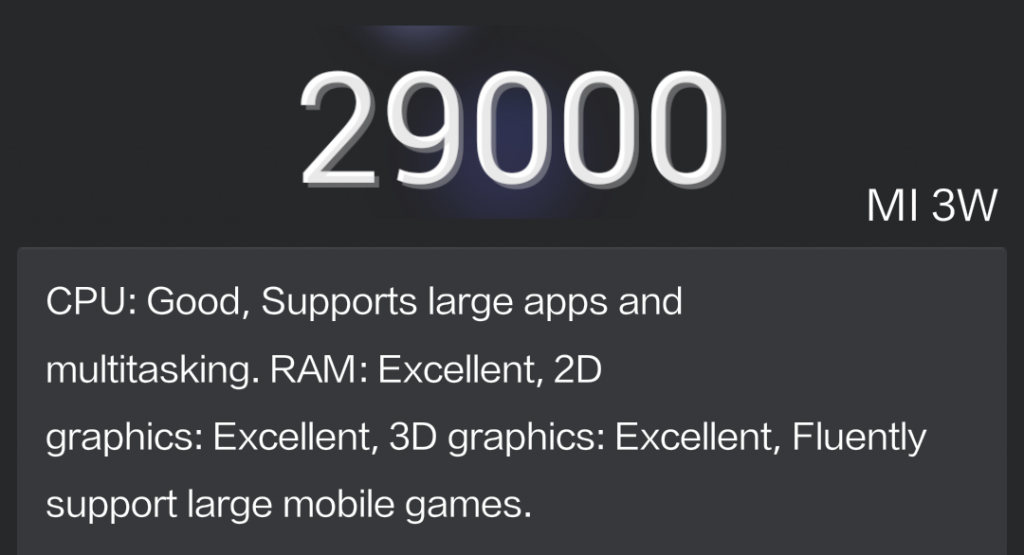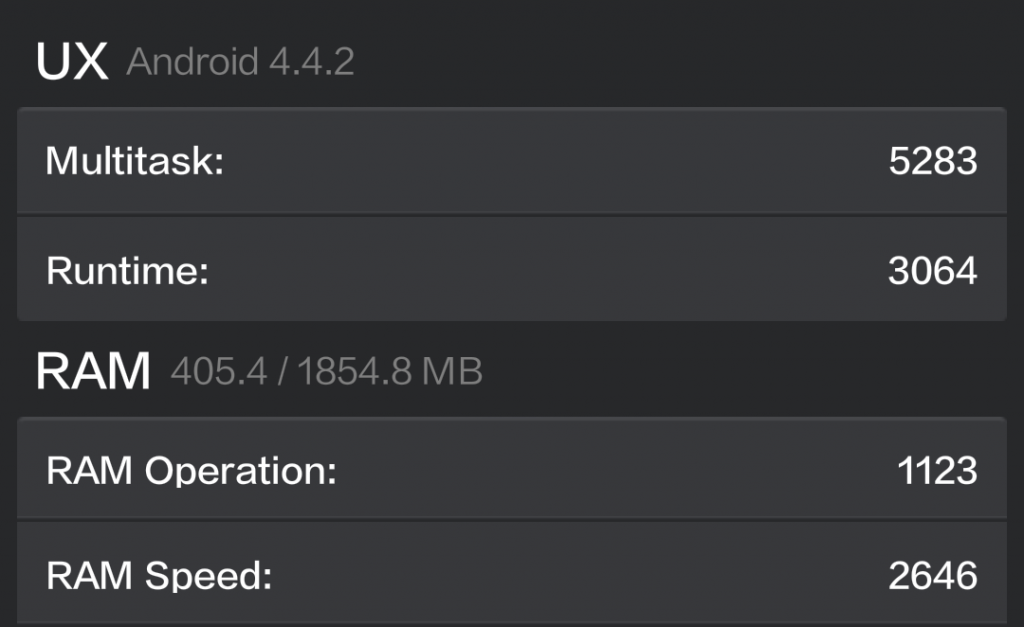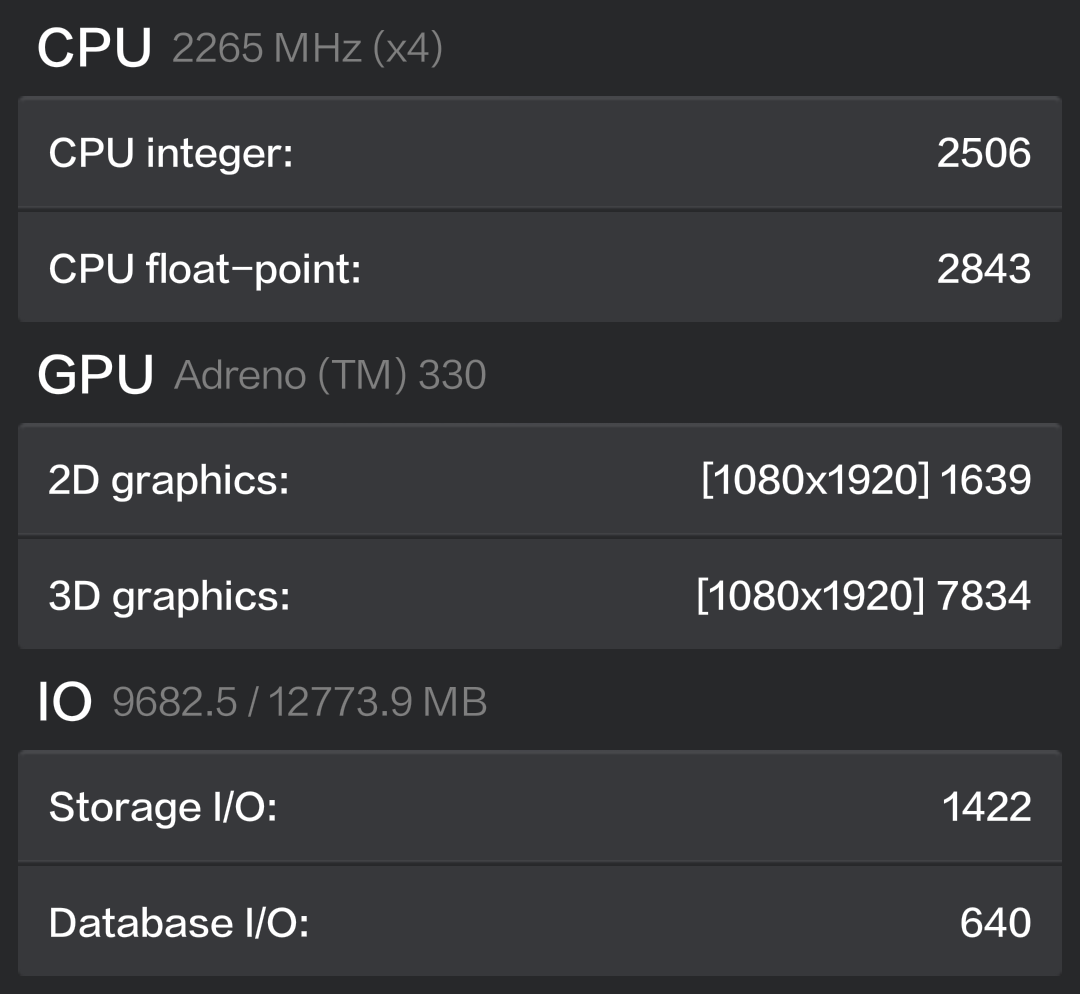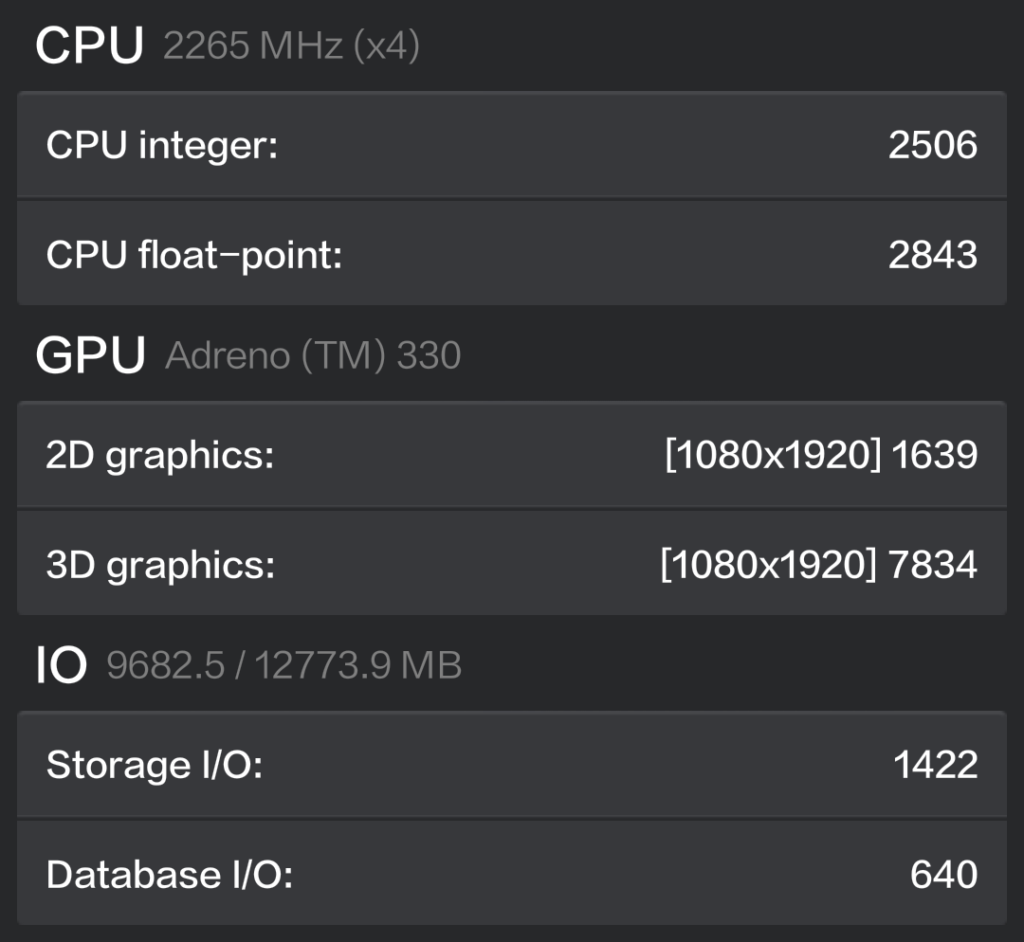 Powered by a 2.3 Ghz Snapdragon 800 processor from Qualcomm and a 2 GB RAM, the Xiaomi Mi 3 is a beast when it comes to multitasking ability and graphics based functionality. While it packs a punch in RAM speeds the GPU scores are nothing short of spectacular. To get a fair idea of the Mi 3's graphical capabilities and GPU prowess let's compare its results with some of the top performers in the market today. It may surprise you to the core!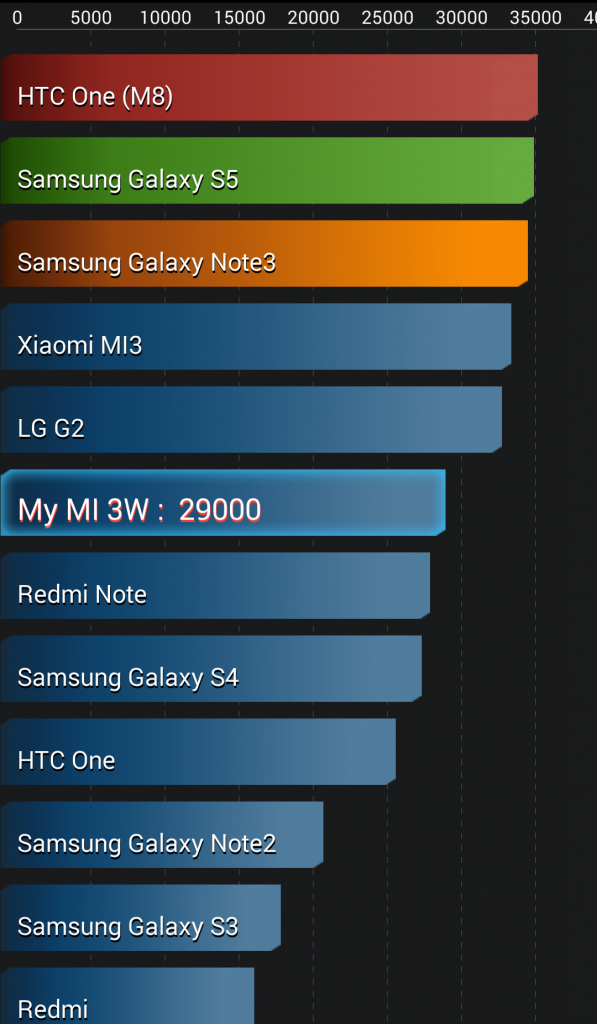 As the bar chart indicates the AnTuTu benchmark has previously seen test results even higher than the one our device generated at 29,000. Since that benchmark result is being used by AnTuTu publicly, it is a clear indication that the Mi 3 is very capable of giving the top performers a run for their money. Interestingly, in the above comparison chart, you can clearly see that the Xiaomi Mi 3 is challenging the premium smartphones available in the market for not less than Rs. 35,000, which is around thrice the price of the Xiaomi Mi 3.
Let us now compare the Mi 3 with some of the top performers to see where this particular test result puts it at.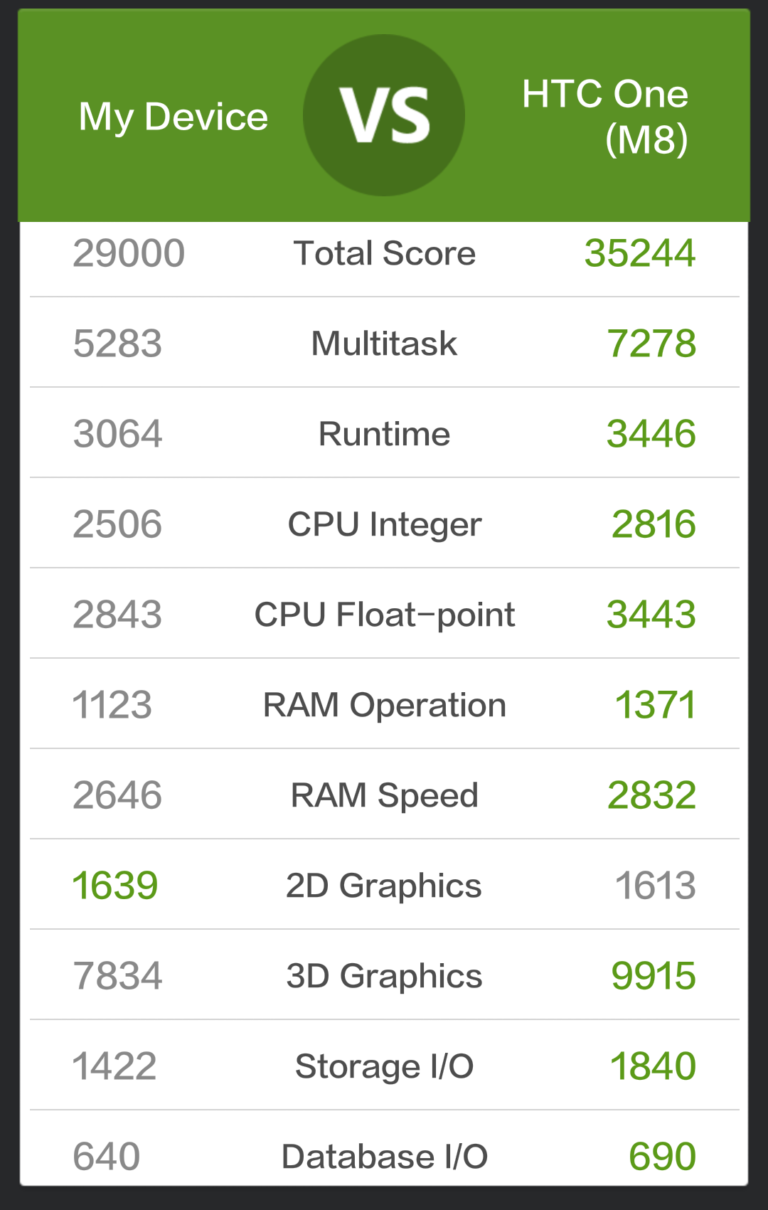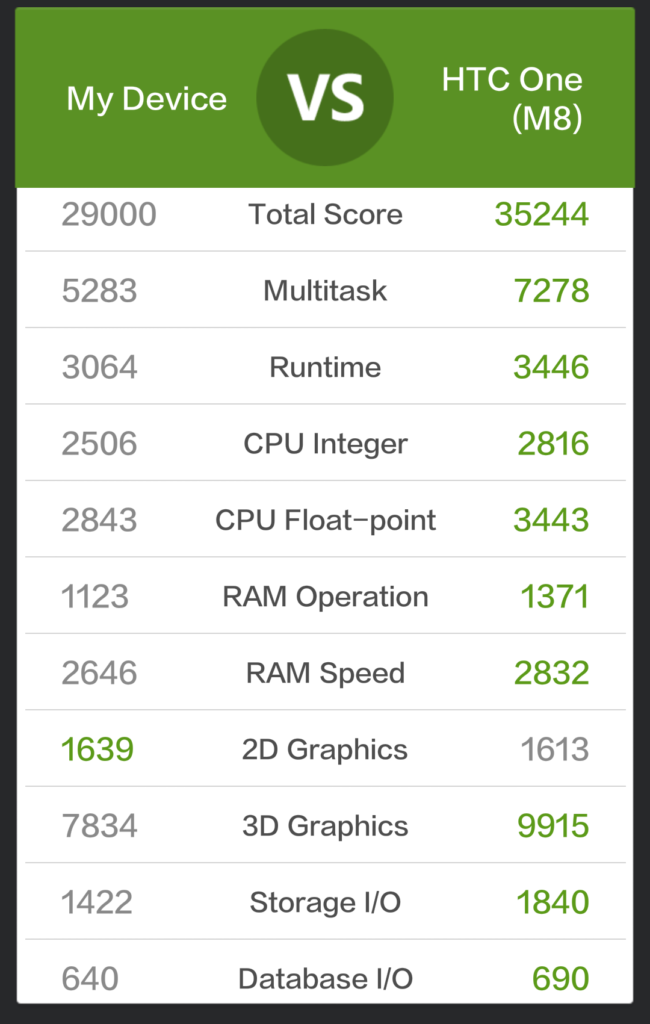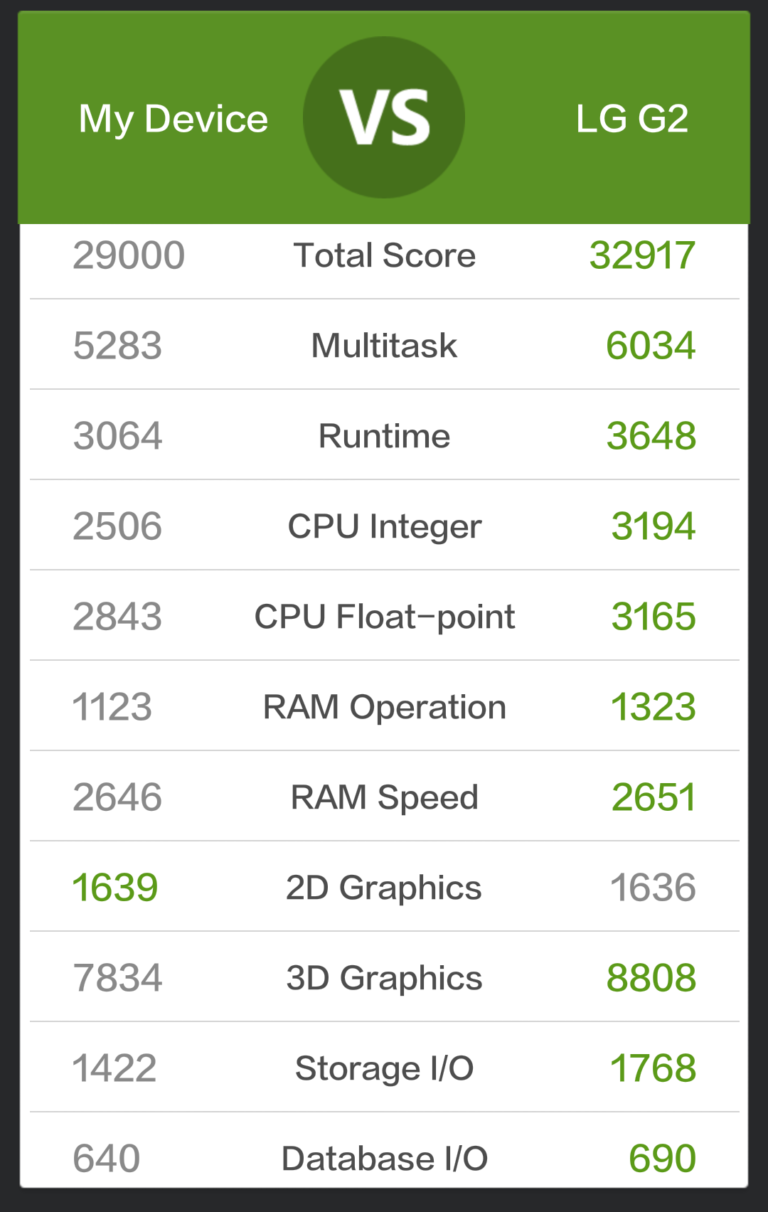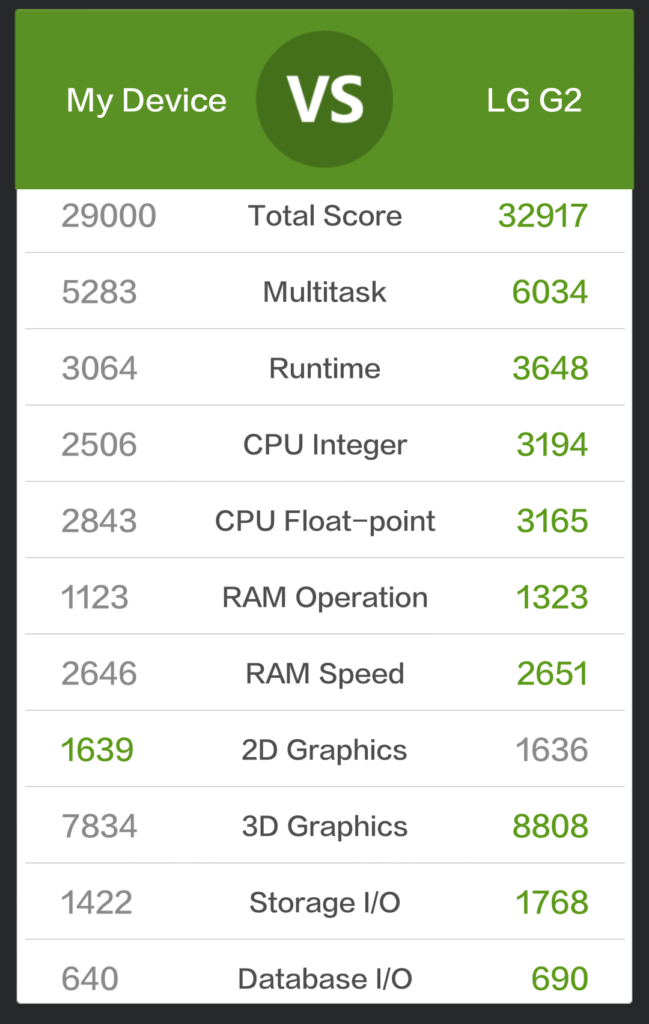 AnTuTu's score library reveals that the HTC One (M8), Samsung Galaxy S5 and LG G2 are the only ones who score better than the Xiaomi Mi 3 in performance. While that was expected given their specs what was not expected are the following results –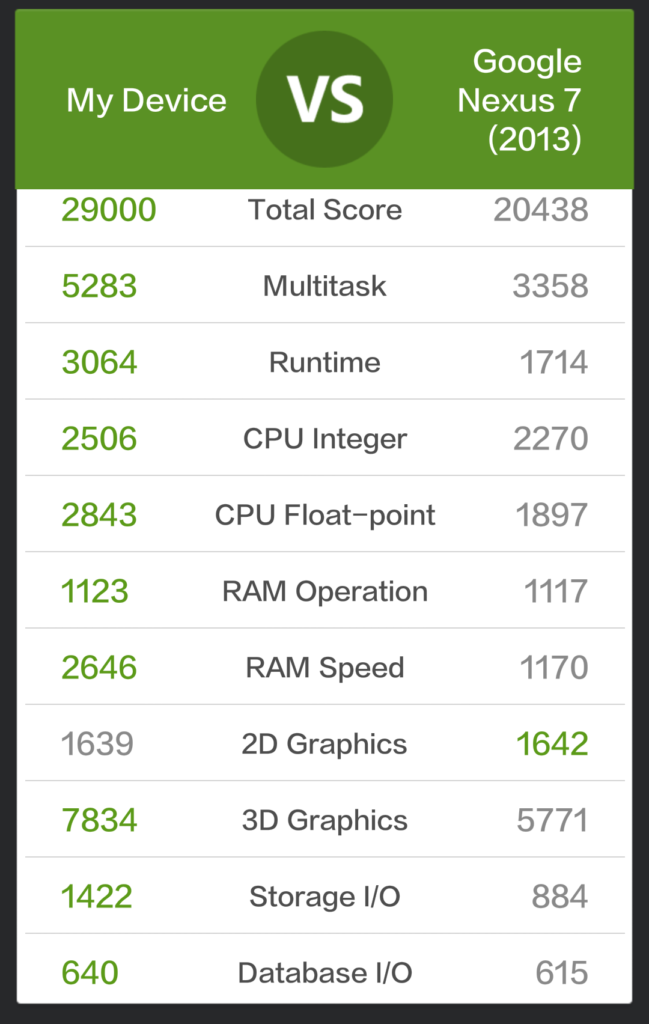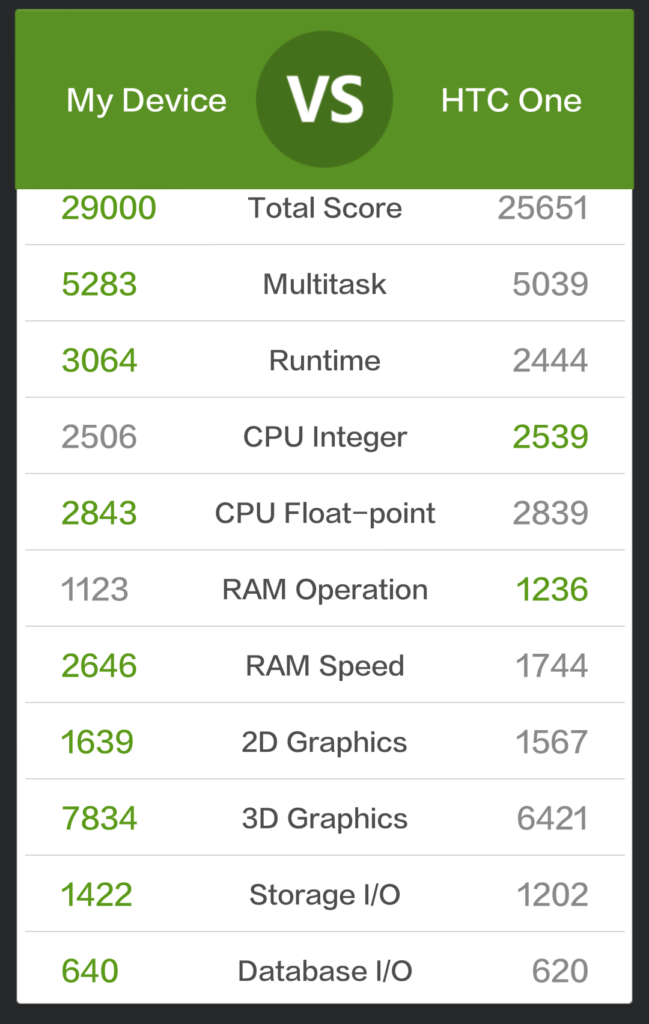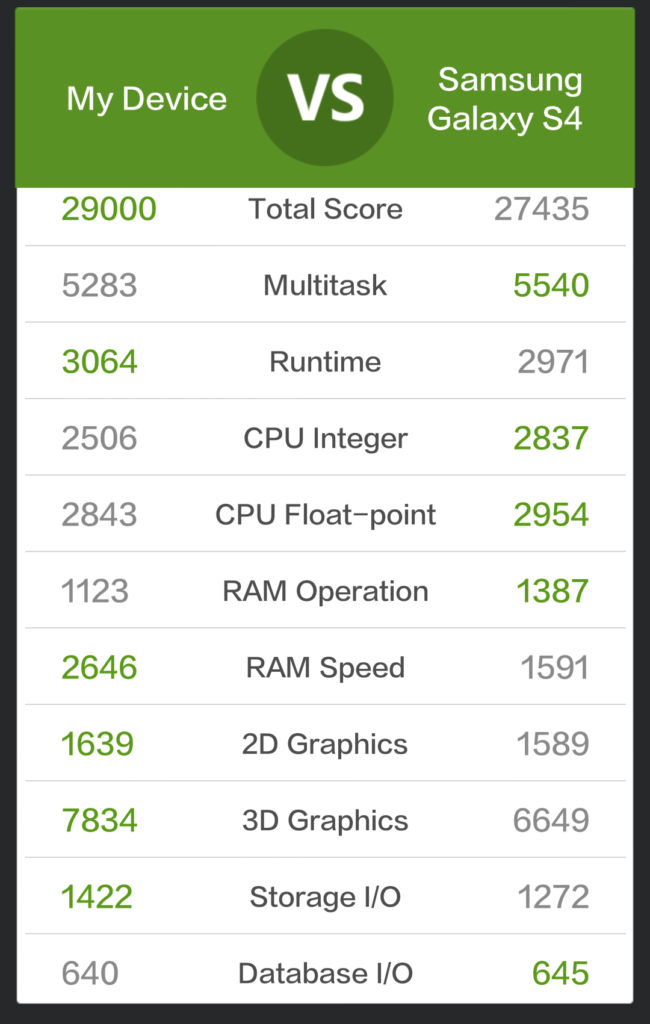 The Samsung Galaxy S4, HTC One and Google Nexus 7 (2013) are left gasping for breath when faced with the Xiaomi Mi 3. As stated before, the graphics and RAM speeds of the Mi 3 are simply sensational. Now we know why they called it the fastest Mi phone ever. It truly is all that and more.
While the results are brilliant we wanted to put the Mi 3's GPU under a bit of stress to determine how well it responds to a game app with high quality graphics and high rendering demands. While we used several games to reach a definitive conclusion, the game that had our attention the most was – Transformers : Age of Extinction by publishers DeNa. This is a 3D combat runner game that boasts of a fast-paced action gameplay experience. The Autobot that player controls can transform into its auto avatar and back to the Autobot avatar in a matter of nanoseconds requiring extremely fast rendering capabilities from both – the game's engine and the hardware on which it runs.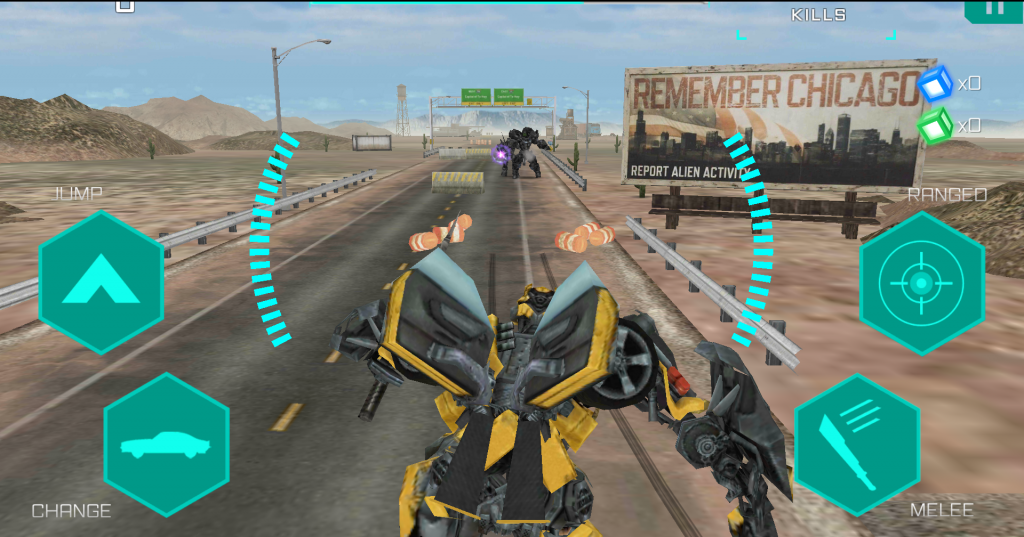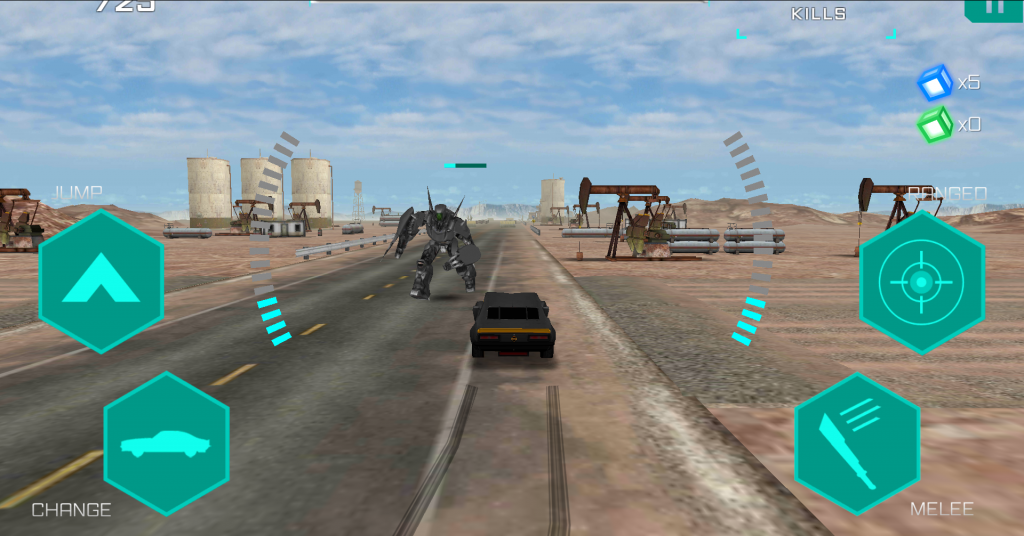 When the graphical rendering of a game that has such a dynamic gameplay felt near flawless, we decided to check the stability levels of the phone as the GPU heated up. The stability of the phone is put to test when the temperature rises. The shorter the number of curves the better is the stability. Here are the results of the stability test.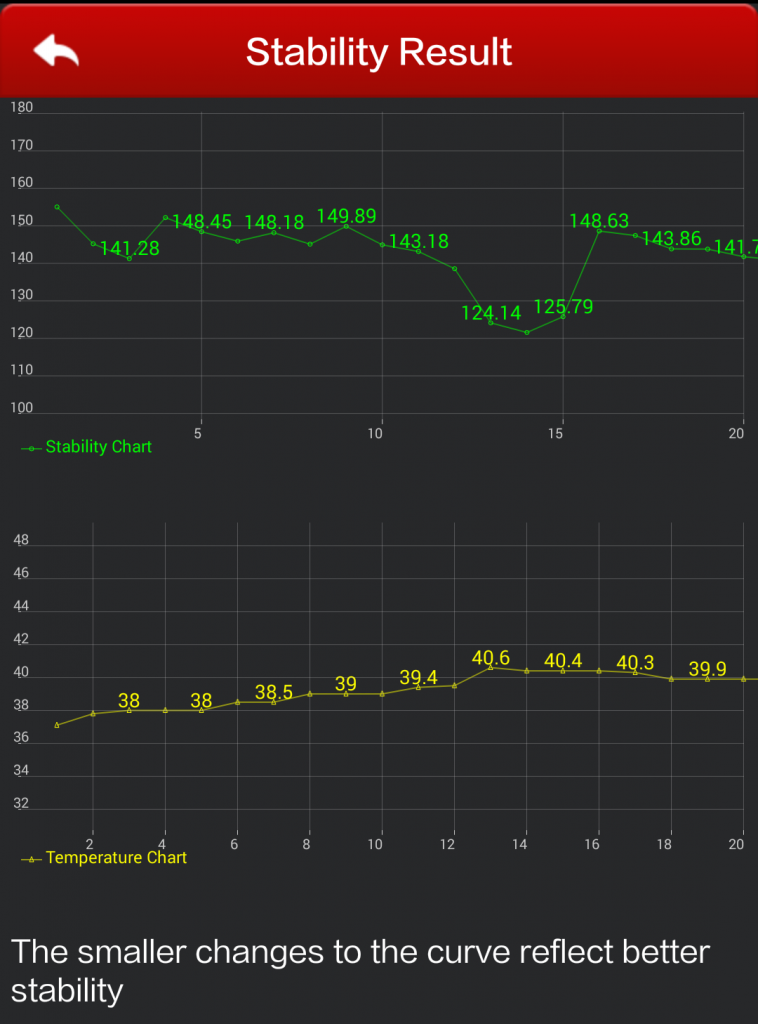 The results indicate that when the temperature soared above 40, the stability parameter dropped by as much as 25 points (from 149 to 124) but then it quickly recovers to stabilize again and was consistent thereafter. The Mi 3 is, therefore, a reasonably stable phone when things heat up.
The Mi 3 has a Quad Core processor, but there are multiple Smartphones that boast of similar specs. It is the processor design that determines how efficiently all Cores work together to give the phone its brute speed. We benchmarked the Mi 3 for multicore performance and when compared to some other top performers the Mi 3 does remarkably well.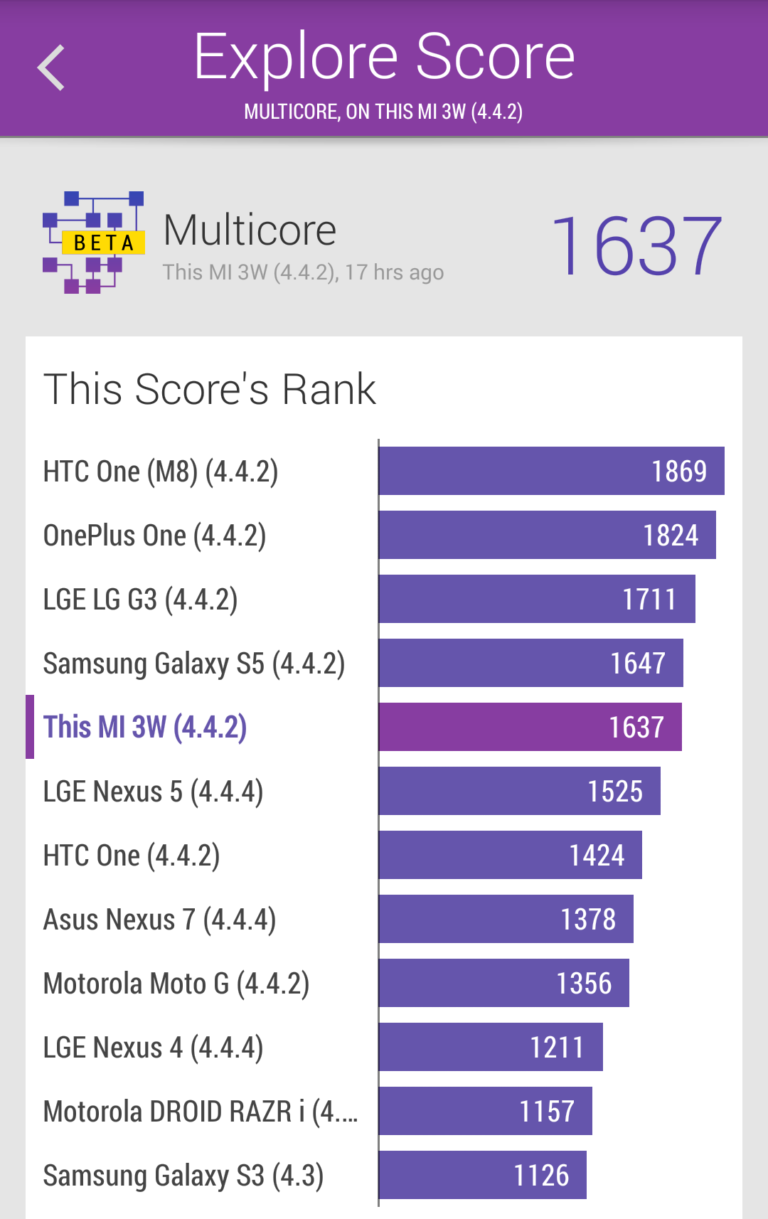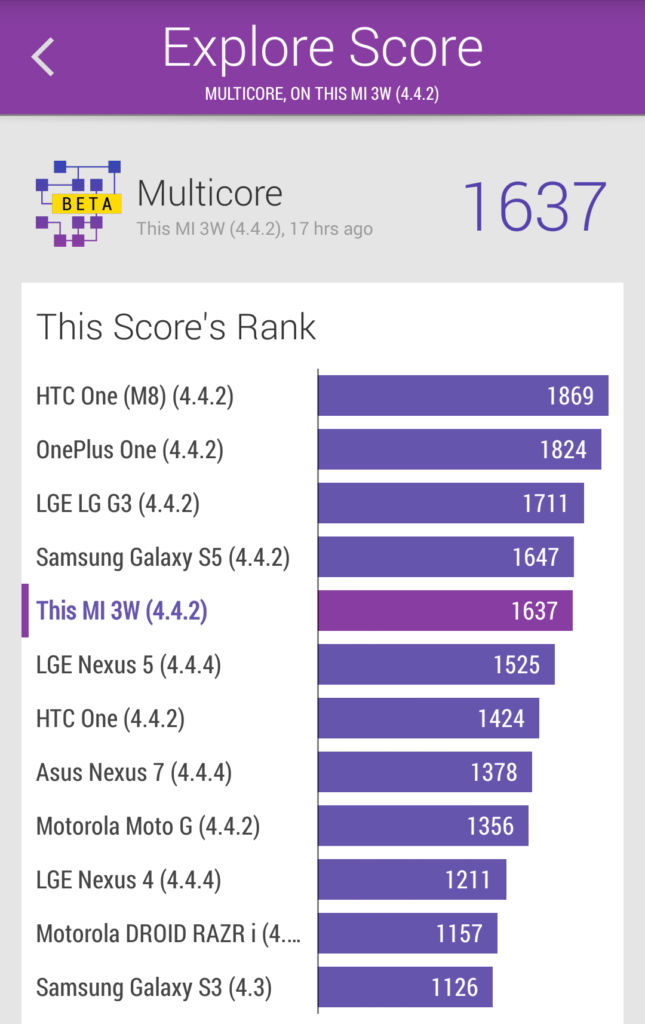 Here are the Multicore performance results: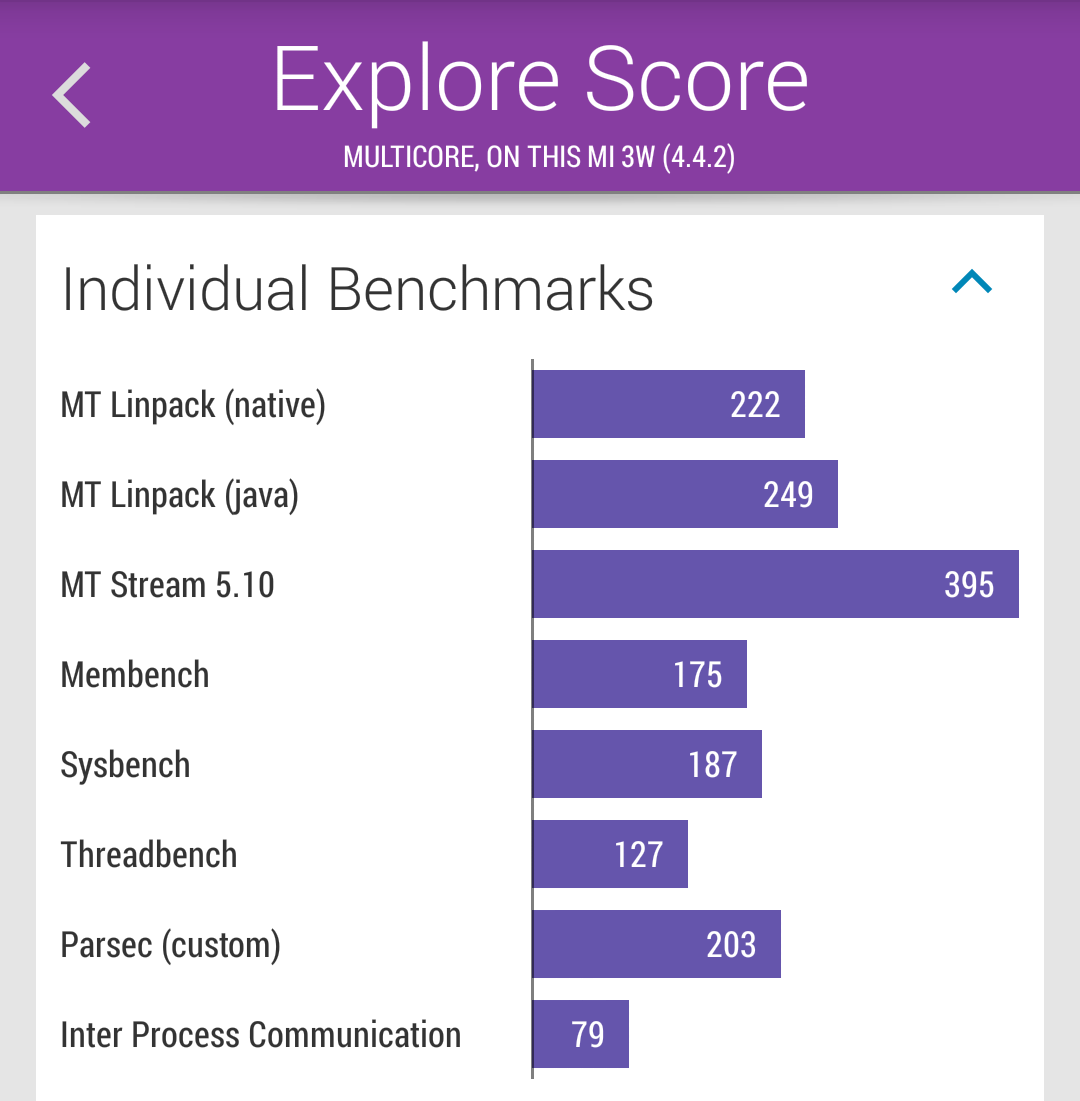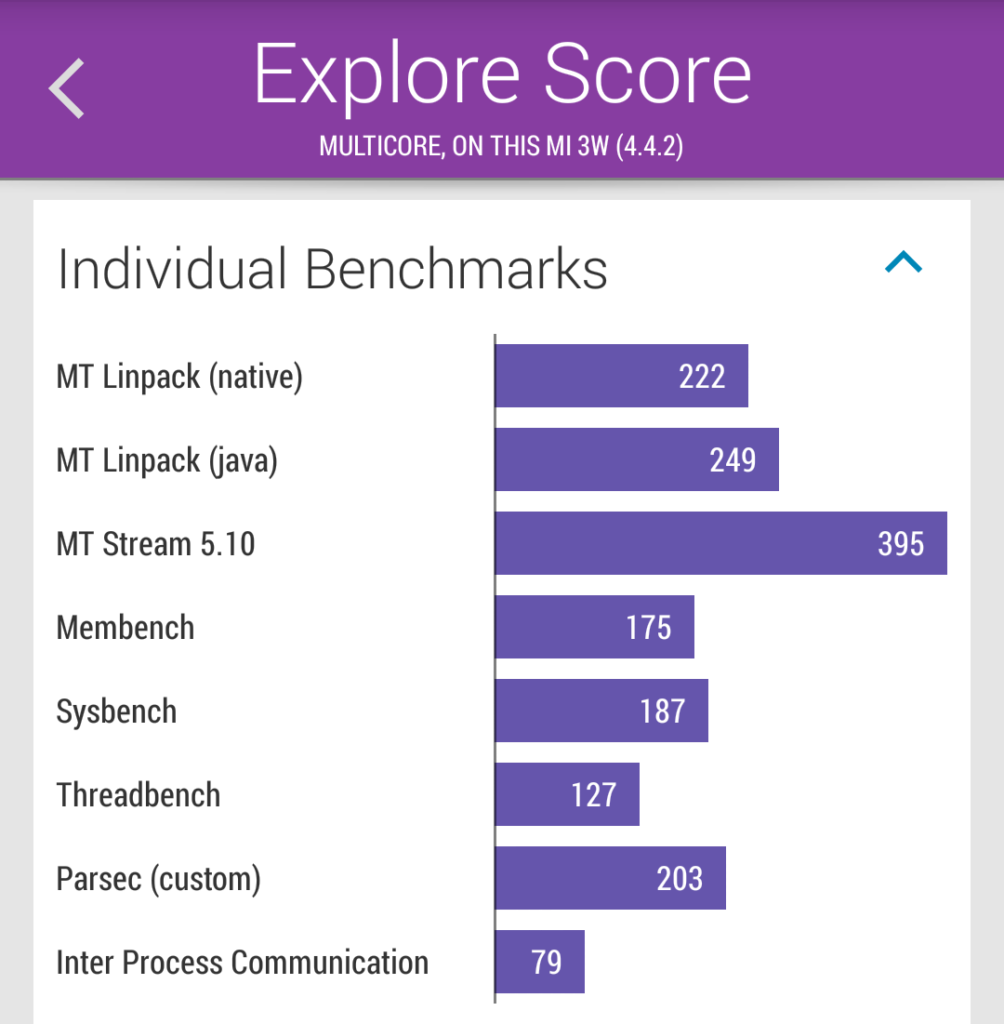 While the multicore performance determines the collective efficiency of the processor the single core performance measures the maximum horse power for a single operation. The results for the single core tests were equally impressive.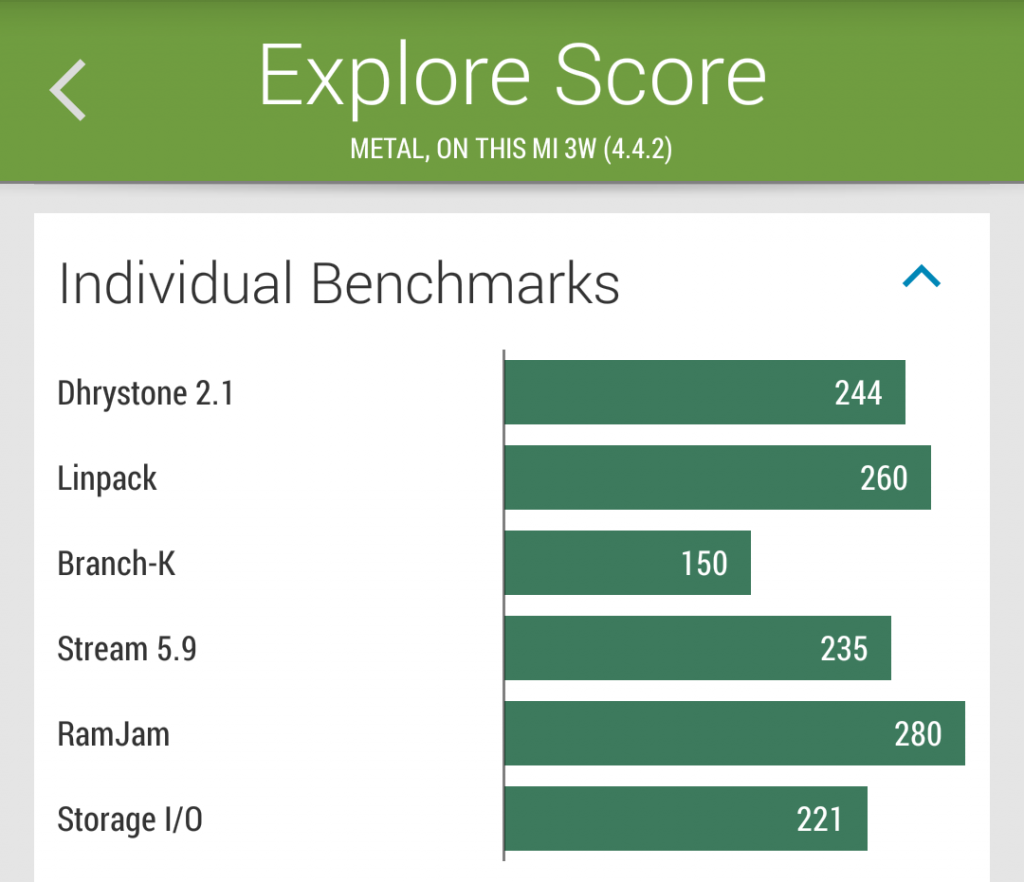 And when compared to the single core performance of other Smartphones, the Mi 3 wasn't too far behind its famous competitors.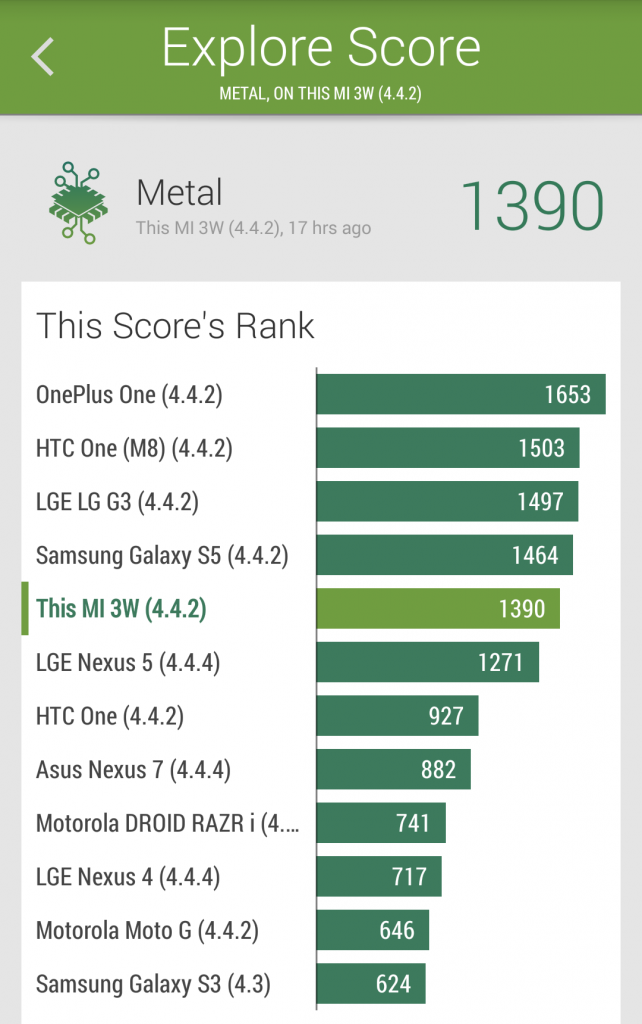 The Xiaomi Mi 3 has truly lived up to its billing as the fastest Mi phone yet. It has also outperformed every single competitor in its class. The reason for Mi 3's brilliance could be that it does not consider itself as primarily a hardware company. In fact Xiaomi Inc.'s CEO Lei Jun insists that his company should not be compared with the likes of Apple because Xiaomi follows a business model similar to that of Amazon.
"If people really want to compare Xiaomi to a foreign company, you can say it looks a bit like Apple. But it's really more like Amazon with some elements of Google. So take these three companies together and it's easier to clearly understand what kind of company Xiaomi is. Xiaomi selling mobile phones is like Amazon selling Kindles. So you can understand why we sell them for so cheap." – Lei Jun, CEO, Xiaomi Inc.
If ever there was an opportunity for a young company to compete against industry giants, this is it. With products like the Xiaomi Mi 3, the company infamously dubbed as China's Apple might just sneak in and grab a large chunk of the smartphone market share in emerging markets like India. In fact, Business Insider's Henry Blodget and several others claim, this company could spell serious trouble for the likes of Apple and Samsung the world over.
"Even in rich countries, there's no reason to pay $600 for a phone when you can get an excellent one for $100." – Henry Blodget, Business Insider.
On a scale of 5, here are our ratings for the Xiaomi Mi 3 :
CPU performance

:

5 / 5
GPU performance

:

 5 / 5
RAM performance

:

5 / 5
Multitasking

:

5 / 5
I/O performance

:

 4 / 5
Battery performance

:

4 / 5
Stability

:

4 / 5
Design

:

4 / 5
Features

:

4 / 5
Value for money

:

5 / 5
Average Score : 4.5 / 5
Final Verdict: It's a steal deal !
Here is a quick video of the Xiaomi Mi 3: