HTC Corp (TPE:2498) unveiled the HTC One M8 smartphone in the last week of March, and has kicked off sales of the flagship device through retail stores worldwide on April 11. The premium product is in fierce competition with Samsung's Galaxy S5 and Sony's Xperia Z2, and already boasts of some impressive features including a 1080p display, a metal curved casing, 2.3 GHz quad-core Snapdragon 801 processor and 2 GB of RAM. However the phone has another major factor going in its favour that might just give it an edge over all its rivals, its display response time has broken the record with an amazing 46 milliseconds, better than the Apple Inc. (NASDAQ:AAPL) iPhone 5s, which held the title previously. This makes the One M8 the world's fastest smartphone currently, and is undoubtedly the selling point that HTC needs to leverage on.
Which Device Has The Best Touch Response Time?
Smartphone makers and fans have always declared that better specifications are what makes their devices stand out from others. Many smartphones claim they are the best simply because they have better camera, processor or longest battery life. While all these factors play a key role, there are a few that truly affect the device experience, and display latency is one such overlooked factor. Older devices have latency between 80ms-250ms, meaning it takes almost a quarter of a second to respond to every touch. This is most common on apps which require dragging fingers across the screen. Delayed touch response time increases the possibility of inaccurate touches and the device will feel less responsive.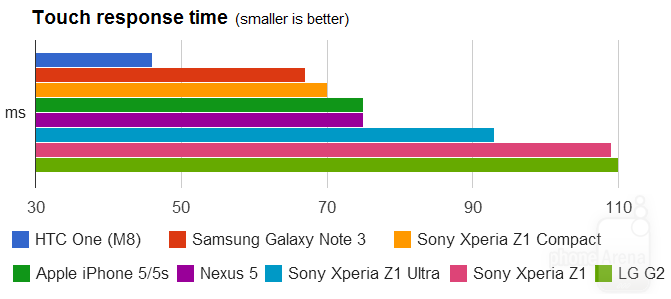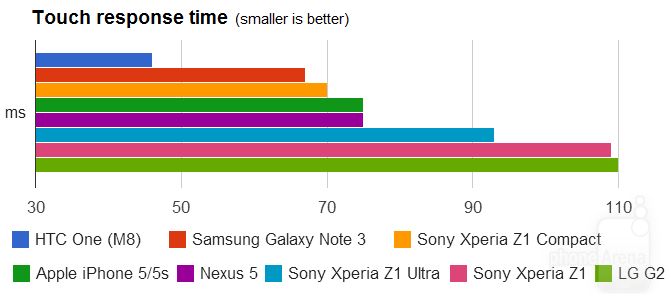 Microsoft Corporation (NASDAQ:MSFT) research recommends a latency time of 1 ms to 20 ms, but it is still an impressive achievement for HTC, given most devices barely go below 70 ms. The latest iPhone 5S had a latency of 72 ms, tying with Google Inc (NASDAQ:GOOGL) Nexus 5. Samsung Electronics Co.Ltd.(KRX:005935) Galaxy note 3 leapfrogged ahead with 67 ms delay. Among the recent flagship devices, the tests were performed only on HTC One M8 and LG Electronics Inc.(KRX:066570) G2. The results revealed the M8 had broken the 50 ms barrier with a record 46 ms.
Interestingly, among last year's devices, the iPhone 5 had a speed almost 1.5 times as responsive as any Android or WP8 phone tested. In stark contrast, the HTC One M7 had a touch response time of 121 milliseconds, almost triple that of the One M8. If HTC has indeed created the fastest smartphone, then Apple will be looking to beat the  record through its next premium device, the iPhone 6.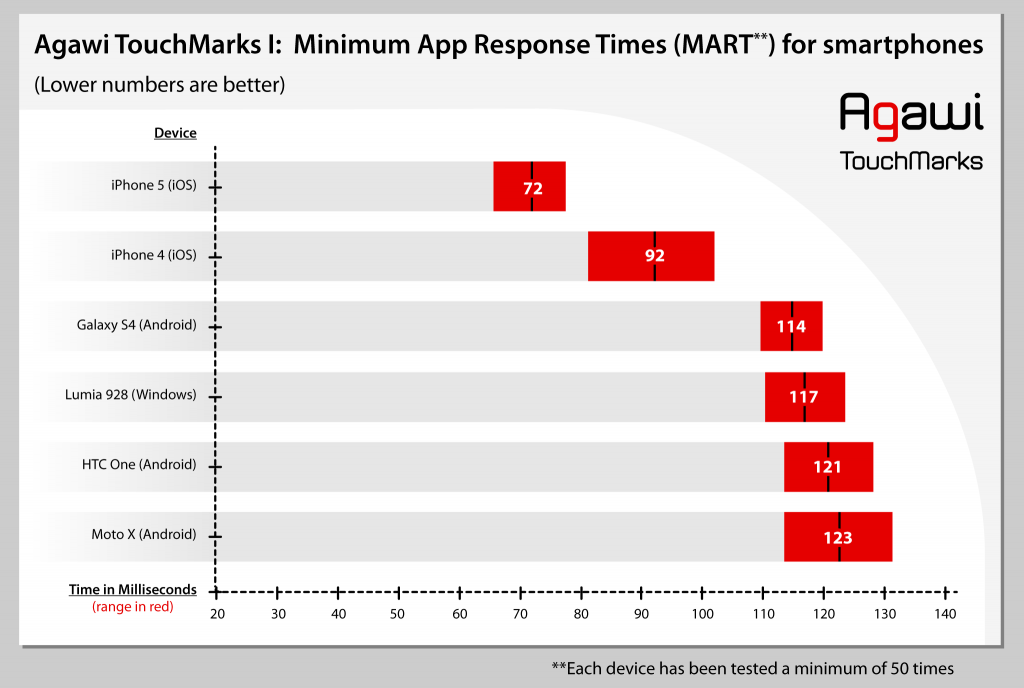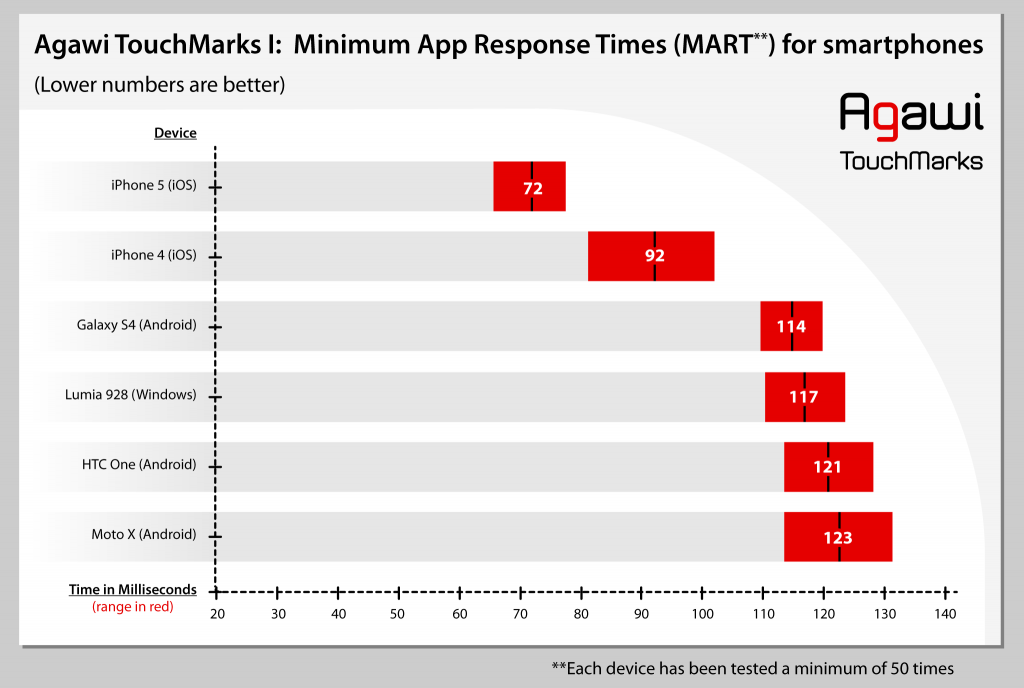 In the tablet segment, Apple reined supreme with its iPad mini, clocking 75 ms and its 4th generation iPad registering 81 ms. NVIDIA Shield was the fastest Android tablet device with 92 ms response time.
Can HTC return to profit through HTC One M8?
The above finding will come as a major relief for HTC, which is currently facing an uphill battle against Samsung and Apple. The Taiwanese smartphone vendor posted a first quarterly loss, ended March 31, 2014, accounting to US$62.06 million,which was larger than what analysts had estimated. A Reuters report stated that these losses were due to ineffective marketing by the firm, causing unimpressive sales of HTC One M7. It hopes to regain profit in the second quarter ,with the release of M8 in global retail markets. There are also expectations that the M8 will boost the market share of HTC devices to 3%. Despite receiving rave reviews for the HTC One M7 device, it was undermined by confusing advertising and supply chain issues. The new flagship device could face new turbulence in coming months, as worldwide smartphone growth is expected to decline to 19.2% in 2014 from 39.2% in 2013, according to an IDC report.
The new marketing strategy of HTC to promote the M8 has been to let customers follow the advice of reviewers. Since it can't compete with Samsung's advertising strength, the company has been forced to be at par with creative strategy to market its flagship devices. Several reports and reviews are already declaring the M8 the best smartphone ever made, setting a benchmark for all premium smartphones. HTC has a made a winning move, and only time will tell if the company can translate that into a much-needed sales boost.