San Francisco based firm Twitter Inc. (NYSE:TWTR) with its 140 char based micro-blogging service reached several milestones in 2013. Twitter's future growth prospective was predicted as one of the potential threats to the social media giant Facebook Inc. (NASDAQ:FB). Twitter, born as a mobile network, has revolutionized the way people communicate to the masses from the past 7 years and it has gone hand in hand with the latest trend – fast-adoption of smartphones and tablets.
Twitter's Dream IPO Debut
San Francisco based Twitter recorded a historic debut with skyrocketing share prices on the closing day. The initially set share price of $26 went booming up to $50 on the course of the opening day and finally rested at $44.10, an increment of 73% on day-1. Currently, the price is trading double the initial price, above $60. Twitter's IPO performance turned thousands of investors into instant millionaires.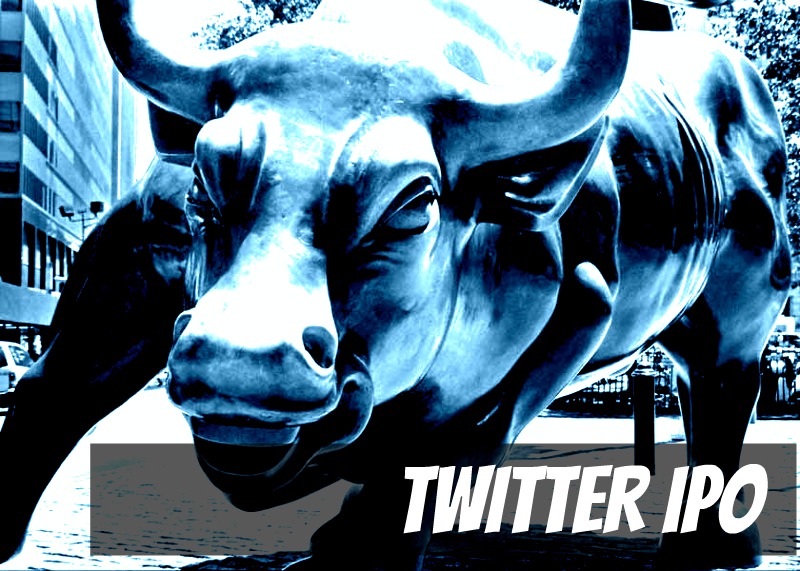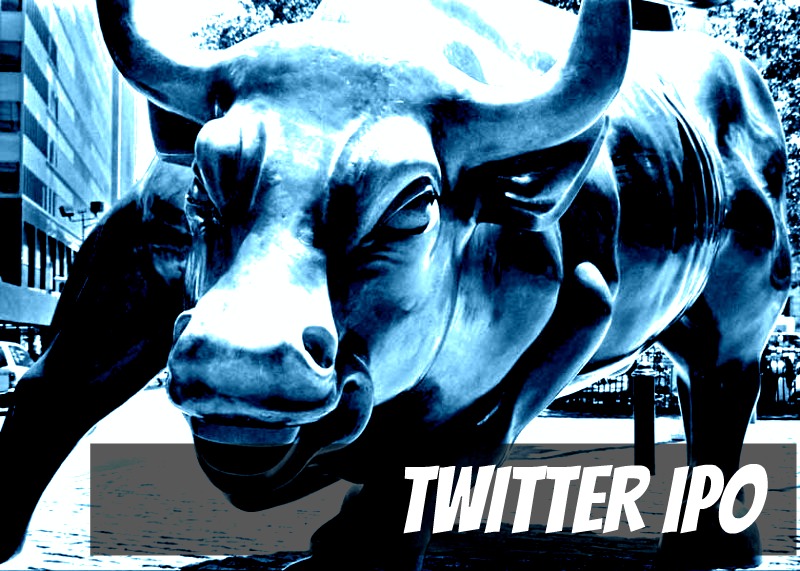 Twitter's User Base Increased At A Slow Pace!
Twitter's user-base surpassed the 200 million mark just before the beginning of the year 2013. At the end of Q1 (March 2013) the user-base rose by 10.27% and rested at 204 million.
In the next 3-4 months (June), the figure surged up by another 14 million, an increment by 6.8%.
When Twitter released its Q3 earnings report prior to the IPO launch, it announced that its overall monthly active user-base count rests at approximately 232 million users worldwide. Although, the rise in Twitter's user-base is not negligible, but when compared to other social media sites, the increment rate is less. Twitter needs to work hard as many investors' destiny or heartbeat is controlled by Twitter's growth rate.
Of the total user-base, nearly 75% of the total MAUs or approximately 174 million users remain active on Twitter through the mobile devices (Smartphones and tablets).
Twitter's Revenue Growth Went Hand-In-Hand With A Spike In Losses
Twitter registered revenue figures of $114 million in Q1 of 2013 with loss of around $27 million.
In Q2 of 2013, the revenue figure rose up to $139 million and the net loss rate zoomed to $42 million.
In Q3, which was just before the IPO launch, Twitter registered revenue growth of 120.8% and the overall tally rested at $168 million. But the exuberant growth was compensated by a net loss which soared up by 153.8% to $64.6 million.
Advertising Initiatives By Twitter.
Twitter, earlier in the year had introduced Lead generation cards by which users could securely share their email id with a business (within the tweet) without leaving Twitter or having to fill out lengthy forms.
Twitter introduced visual tweets to attract more engagement for brand related posts, visual tweets enabled display of images and videos within the tweet and increased the probability of a re-tweet by over 150%.
Twitter introduced Keyword targeting for promoted tweets by which advertisers can specify keywords they wish to initiate the promoted tweet, this was aided by specific targeting options like a desired location, gender and client being used to reach their target audience.
Twitter improved their keyword targeting feature by including new features like sentiment filtering and negative keyword matching to support the increasingly sophisticated demands or relevancy expected by advertisers.
Twitter acquired MoPub, a mobile focused advertising exchange. Direct ads, house ads, ad network and real-time bidding through market places is now possible and likely to strengthen the advertising arena for Twitter.
 Twitter introduced Vine, a mobile service that lets users capture and share short looping videos of 6 seconds or less. Marketers can design creative and witty videos of under 6 seconds and use them effectively to market their brands.
Twitter Users' Browsing Experience
In reply to Facebook's acquisition of Instagram, a photo sharing app, Twitter launched its video sharing service, Twitter Vine, which allowed users to share moments of their lives in video format within a 6 second video.
 Twitter alerts: Any organization can push an alert to users' phones during an emergency, natural disaster or whenever other communication services aren't accessible. Twitter Alerts now have participating organizations in the U.S., Japan, Korea, UK, Ireland, Australia and Brazil.
Twitter introduced new search filters to find exactly what users are looking for. New photo and video search filters to see tweets with photo and videos in a grid or list layout and to see only the tweets from the ones you follow are a few extra features added.
Twitter for Mac users was revamped to provide a better browsing experience and keep them on the site for longer periods. Twitter to improve browsing experience of users showed only those ads which users engaged the most. Quality of ads showcased on the users' timeline was preferred over quantity of ads shown.
 Twitter also enabled search of older tweets within the search results for Android, iOS and mobile web apps.
Login verification and approval of login requests was availed for users directly from their iOS and Android apps. Twitter introduced optimised apps for Android tablets.
Twitter users can send and receive photos via direct messages and swipe back and forth between timelines.
Twitter introduced visual tweets – images and videos were included within the tweet itself. A user need not navigate to a different browser page to view the image or video, he can view them within the tweet itself. This has enriched the experience and increased engagement rate by users.
Twitter in October announced that @comcast and @NBCUniversal in partnership with Twitter allowed users to tune into a TV show directly from a tweet.
Golden Tweets Of 2013. (Most Re-Tweeted Ones)
In 2013, Lea Michele's first public acknowledgement of the death of her Glee co-star and partner Cory Monteith is that Tweet, which was re-tweeted more than 408,266 times from 133 countries.
Fast and Furious movie star Paul Walker's death: Paul Walker's staff tweeted a statement announcing news of the actor's passing. It was re-tweeted 400,367 times as the world came together in mourning.
It's with a heavy heart that we must confirm Paul Walker passed away today in a tragic car accident…MORE: http://t.co/9hDuJMH99M – #TeamPW

— Paul Walker (@RealPaulWalker) December 1, 2013
The third Golden Tweet celebrates a major life milestone of One Direction band member Niall Horan which was re-tweeted 366,692 re-tweets.
Yesss ! I'm 20 ! Wohooo ! No more teens!

— Niall Horan (@NiallOfficial) September 12, 2013
Famous World-Wide Events Discussed on Twitter in 2013 were –
(In January) – Australia Open, London chopper down, #aufschrei and #Inauguration.
(In February) – #SB47, 85th Academy awards, vine resume, Kobe vs. Cuban, Italy election, Fashion Week.
(In March) – The new @Pontifex, #StandWithRand, Senator helps proposal, March Madness and #Makankosappo.
(In April) – Boston Marathon bombings, Thatcher death, #Troon/New King inaugurated, NBA center @jasoncollins34 announces he is gay, #MarriagePourTous.
(In May) – #UCLFinal, IPL tournament, Eurovision, #ThankYouSirAlex, A surgeon's perspective.
(In June) – #NBAFinals, #StandWithWendy, DOMA and Prop 8 rulings, Red panda lost and found, Northern India flooding, Brazilian protests, #hocwasser, #stanleycup were top trends and most talked about events in first half of the year.
(In July) – Wimbeldon, #RoyalBaby, Tour de France, #Sharknado on @Syfy, MalalaDay.
(In August) – Castle in the Sky, 50th anniversary of the march on Washington, Pretty Little Liars finale, MTV + VMAs.
(In September) – Australian election, German election, #congratulations Tokyo, #RockInRio, From Dilma to Dilma, Primetime Emmys.
(In October) – Government Shutdown, Please claim your #NobelPeacePrize, World series: #GetBeard vs #PostCards.
(In November) –  Super typhoon hits the Philippines, #SFBatkid, #ThankYouSachin, #IranTalks, France to world Cup 2014, #LostPhone, #DoctorWho, Virginia AG recount, #2013MAMA.
 (In December) – World Cup Draw, Road to Sochi Ashes, #RIPMandela, Japan Secrecy Bill Law were most noted trends and events on Twitter.