Yesterday, we talked about the most searched people, actors, places, celebrities and more on Google Inc. (NASDAQ:GOOG) in 2013 and today we are back with a similar list but one which is specific to internet users in India.  So, which were the places, politicians, Indian celebrities and actors, Indian internet users searched for the most, making best use of Google Search in 2013?
It's a mixed list of top grossing Google search queries during 2013. According to the latest Year-End Zeitgeist list specific to India, Chennai Express, IPL 2013, and Ashiqui 2 movie remained the top trending search topics of the year 2013. However, in terms of search queries volume IRCTC, Cricinfo, Flipkart, PNR Status and HDFC Netbanking were the top search queries that were looked for maximum number of times during the year.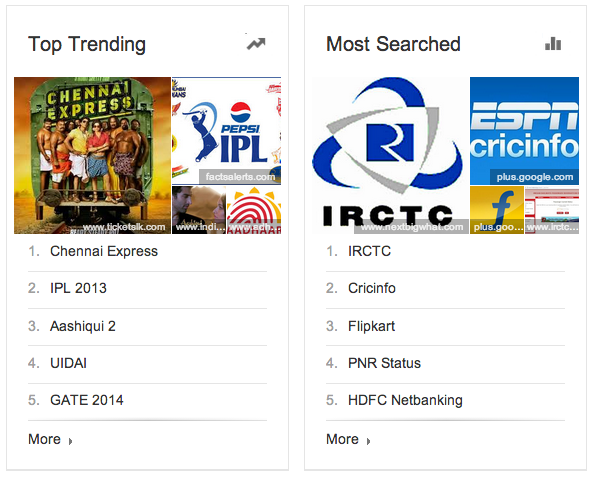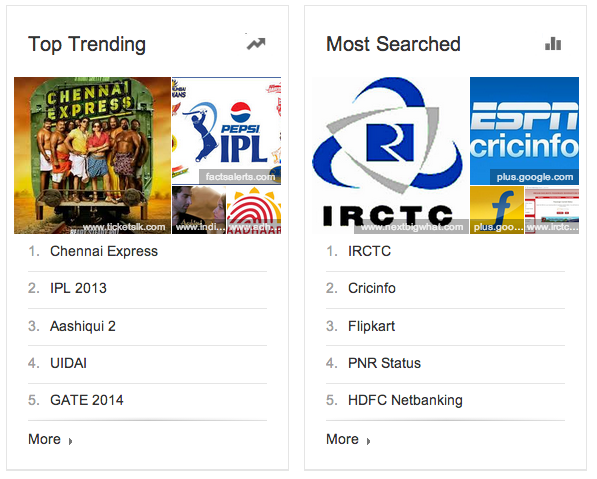 Sachin Tendulkar and Milkha Singh remained the maximum searched sport-stars in 2013, while Narendra Modi emerged as the top politician as he was searched for, more number of times on Google than Rahul Gandhi, Sonia Gandhi and Prime Minister of India Dr. Manmohan Singh.
Among the gadgets, Samsung Galaxy S4 emerged as the top searched consumer devices in India, beating iPhone 5S that topped the list at the global level. But what is more surprising that iPhone 5S couldn't even make to the list in India and Nokia Lumia 520 and homegron Micromax Canvas 2 were the other searched devices in India.
Sunny Leone is the only person people searched for maximum number of times two years in a row under People category. However, Katrina Kaif and Deepika Padukone emerged as the most famous Bollywood Actor (Female) people looked for on Google.
Under Bollywood Actor (Male) Its Salaman Khan and Shah Rukh Khan that stole the show on Google, beating young heart-throb Ranbir Kapoor and Hrthik Roshan.
Though Chennai Express remained the top trending Topic in India, it was Aashiqui 2 that stole the show and remained the top movie people search for on Google under Bollywood Movie category. Chennai Express, Krrish 3 and the upcoming Dhoom 3 were the other movies that grabbed the attention of Indian movie lovers on Google.
So, if you are wondering about who grabbed the maximum attention on the global level, don't forget to check this list.