Who got the maximum eyeballs from internet users in 2013? Which product remained the most favorite among internet users in 2013? And which places attracted the majority of internet users in 2013? Who else but Google Inc. (NASDAQ:GOOG) could answer all these questions, so here is the world's largest search engine with all answers after mining billions of search queries, collected during an entire year.
Google has released its Year-End Zeitgeist for 2013, highlighting people, places, activities, celebrities and hashtags that enjoyed maximum attention from internet users across the world throughout the year.
The global list that ranked the top 10 global trending searches of 2013 is dominated by the late Nelson Mandela – former President of South Africa but largely known as a person fought against Apartheid in South Africa. On Google, Hollywood celebrity Paul Walker, whose sudden death in a crash accident shocked the world followed Mr. Mandela. Apple iPhone 5S, introduced in September, emerged as the most popular consumer electronics item and secured third position on the list of top 10 global searches of 2013.
Few other top trending searches of 2013 are Cory Monteith, Harlem Shake, Boston Marathon, Royal Baby, Samsung Galaxy S4, Play Station 4 and North Korea in that order.
Segregating the top searches based upon categories, Pakistan's teenage activist Malala, who survived a near death attack by the Taliban was the third maximum searched term under the People category after Nelson Mandela and Paul Walker.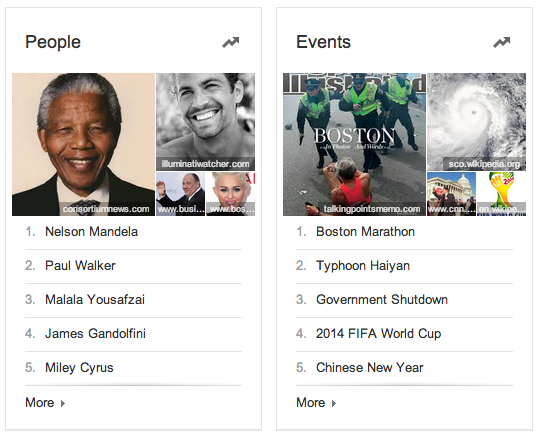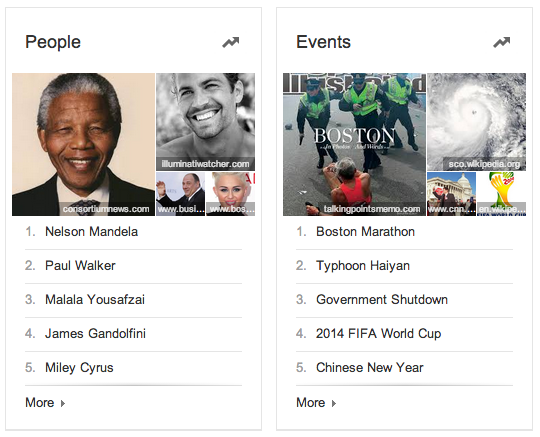 Man of Steel, Iron Man 3 and World War Z remained the top searches for the Movies category. However, Under The Dome, Defiance and Big Brother 15 secured the maximum attention by internet users on Google under TV Shows.
Among athletes – Oscar Pistorius, Aaron Hernadez and Adrian Peterson were searched maximum on Google during the year.
Boston Marathon, which took place earlier this year was rocked by two pressure cooker bombs. This, apparently made the event the most searched term under the Event category, followed by Typhoon Haiyan and the Government Shutdown that lasted for a few weeks in the U.S. in late 2013.
Google has released a video that narrates the complete story of top Google Searches for 2013 in a quick rundown.