Customer Satisfaction has emerged as one of the prime business objectives for any firm. Majority of companies across various sectors are striving hard to improve customer satisfaction rate. If we look at Q3, 2013, most of the firms have remained steady or improved their Customer satisfaction rate compared to previous quarters. Emerging markets have marked significant gains – companies in developing economies seem to be putting an increased emphasis on delivering better customer service to grab hold of the top-notch position in the market.
 I.T. Services And Consultancy Firms Outplay The Rest With 95% Customer Satisfaction Rate!
If we compare by industry, IT services and consultancy firms  marginally overtook government and non-profit organisations for the highest customer satisfaction rate. These were closely followed by real estate, education and health care organisations.
Customer satisfaction is like a lifeline for the IT services and consultancy companies. Their business unit is mainly driven by satisfaction level amongst customers. Clients keep revising their demands and often modify projects handled by I.T service firms. Hence it is important for such companies to provide quality customer service and meet their demands to ensure long-term association. Non-Profit organisations are laying emphasis on the customer service experiences of their constituents, communities and students as these organisations function mainly by public support and funds. Customer service in the healthcare industry deserves serious attention with increased competition and consumerism.
Lawsuits are likely to be triggered by simple unkindness or sterling medical mistakes. Healthcare organisations have a hard time growing when they are unable to deliver quality customer service. People are extra cautious about health related issues and they prefer healthcare firms where customer satisfaction rate is highest, regardless of the payment part.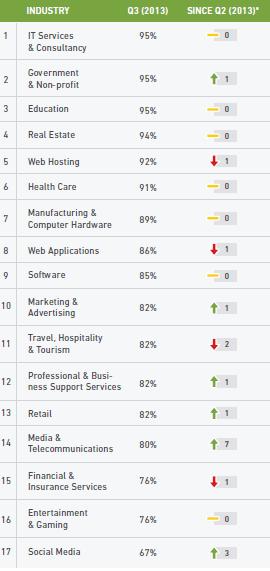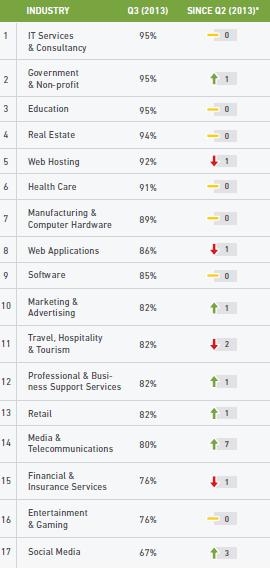 Recently, due to increasing usage of social media amongst world-wide internet users,  top firms in the sector like Facebook Inc. (NASDAQ:FB), Twitter Inc. (NYSE:TWTR) and LinkedIn Corp. (NYSE:LNKD) have prioritized customer servicing to provide better user-experience. Customer satisfaction rate in the social media industry increased by 3%, although the overall figure stood at 67%, signalling further need for improvement. Media and Telecommunication firms improved their customer service with a 7% increment in customer satisfaction rate, edging past the 80% mark.
Emerging Markets Show Consistent Improvement In Customer Satisfaction Rate!
Canada emerged as the topmost country with 91% customer satisfaction rate, closely followed by Australia, Russia and Norway. Canada and Australia are consistently leading in customer satisfaction rate and are showing steady improvement in consecutive quarters. Surprisingly, New Zealand which was leading with 92% customer satisfaction rate earlier, failed to make a mark in the Q3, 2013.
The most notable change was in case of emerging markets of Russia and India, who responded strongly to make a mark in this race. India made its first appearance in the qualifying list with 67% customer satisfaction rate. Brazil marked an increment of 10% over its Q2,2013 performance, whereas in case of India and Russia the observed increment in customer satisfaction rate was around 4%. Most of the firms are well aware of rising market potential in developing countries. Hence every firm is trying to be the first one to grab a majority of the customer base by providing the best possible customer service/support.
If we consider India, the e-commerce giant Flipkart, which provides best customer support, has managed to totally revolutionize the e-commerce arena and is currently the sole leader in the niche with no competition to worry about.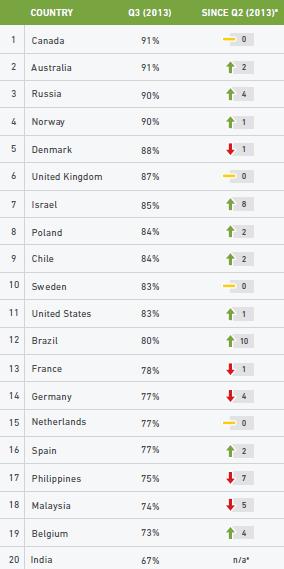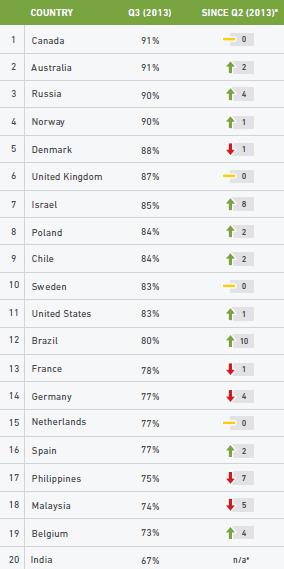 Companies in developing economies appear to be putting an increased emphasis on delivering better customer service in order to grab the top position. In future, we will see an increasing number of firms in developing countries that are likely to embrace quality customer service as their prime motto.
Source : Zendesk Benchmark Report- Q3, 2013.