Content marketing, recently added to the list of business objectives of B2B and B2C firms, is a fairly new subject and is yet to be embraced by a majority of the marketers. Marketers who are aware of various content marketing techniques and are well acquainted with their emerging importance, are investing heavily, both in terms of time and money in order to experiment with various platforms pertaining to content marketing to improvise on their previous results.
Content marketing techniques for B2B marketers vary when compared to those of marketers for B2C firms. According to a report by MarketingProfs and the Content Marketing Institute, nearly 93% of B2B marketers are now using content marketing. About 73% of marketers (of B2B firms) said that they are creating more content than they did last year, and about 42% of them feel that their content marketing technique are effective in driving results. With an increase in awareness about the need for designing an effective content marketing strategy, close to 58% of B2B marketers agreed to increase their content marketing budget for the upcoming year.
91% Of B2B Marketers Prefer LinkedIn!
Marketers are now quite familiar with various content marketing strategies. They are embracing more channels and investing in new content and tactics. Most successful content marketers on an average use 7 social media platforms with LinkedIn Corp (NYSE:LNKD) being the most preferred channel (by 91% of marketers) for content distribution with an emphatic 91%. Followed by Twitter Inc. (NYSE:TWTR) with 85% and Facebook Inc. (NASDAQ:FB) with 81%.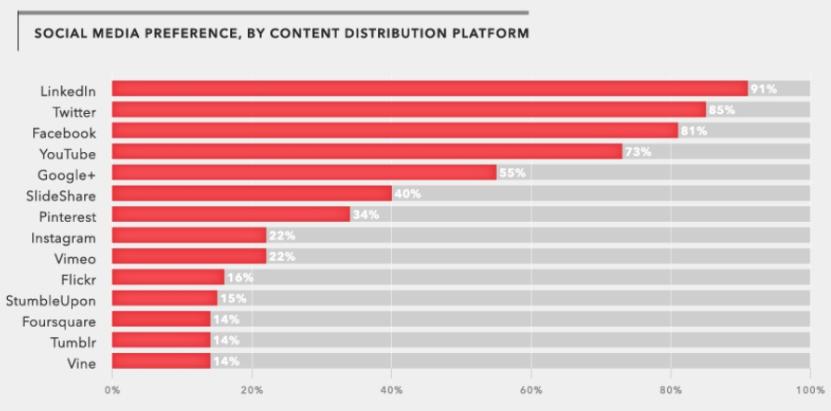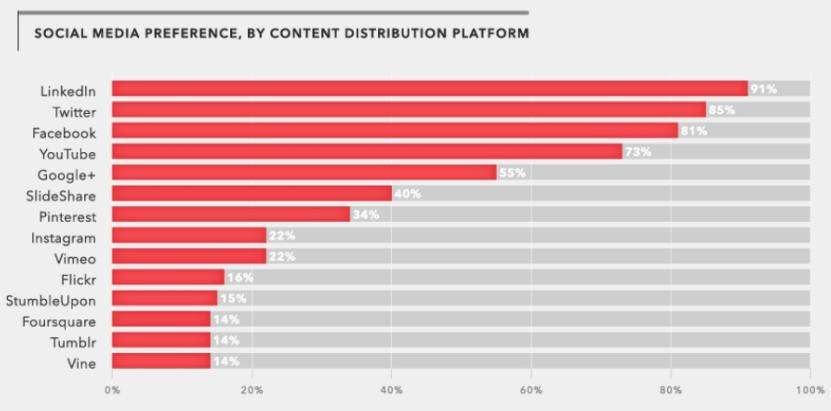 Due to its massive user base of over 1.19 Billion, a majority of firms (Both B2C and B2B put together) usually prefer Facebook for marketing and gaining followers. It also drives maximum referral traffic to a majority of online sites. But the stats seems to reverse when we focus specifically on B2B firms or corporate websites. LinkedIn is the undisputed king for B2B marketing, with more than 83% of B2B marketers agreeing upon the former fact. It also leads in promoting referral traffic for corporate websites with a whopping share of 64%. LinkedIn will continue to rule the B2B arena due to its like-minded user-base who seek knowledgeable information and network on the site for serious business purposes.
SlideShare recorded highest increase in terms of usage of channel for content marketing. it saw a surge from 23% to 40%. The largest PowerPoint presentations sharing community SlideShare has a PageRank of 8, 130 million page views, 60 million monthly visitors, with visitors from India, US, Brazil, Mexico, Spain, Indonesia, the UK, Colombia, Russia, Canada, Australia, France, Germany, Japan, South Africa and more. Also it is highly compatible, for easy viewing on iPads, iPhones and Android devices. Hence most of the marketers prefer using SlideShare to demonstrate required informative content on a topic by sharing presentations, videos, e-books, or graphics to their target audience.
Google Plus too recorded remarkable increase in its usage from 39% to 55%, as a content marketing channel. If an online firm builds an audience on Google Plus and answers questions and creates video content via hangouts there are likely chances of getting higher ranks on Social search bandwagons that Google is actively promoting. Although there wasn't a direct mention of the Google Plus presence effecting website ranking but the various initiatives like Authorship in Search, Related Hash tags and their appearance in Google Plus and in Google Search, along with Google Plus Communities, Hangouts on Air seem to be indirectly indicating that there is a need for firms to showcase their presence on Google Plus.
Usage Of Infographic Increased From 38% to 51%!
Marketers on an average prefer using 12 to 13 tactics for effective content marketing. Usage of Infographics saw a remarkable surge from 38% to 51% this year. B2B content marketers continue to rate in-person events as the most effective tactic.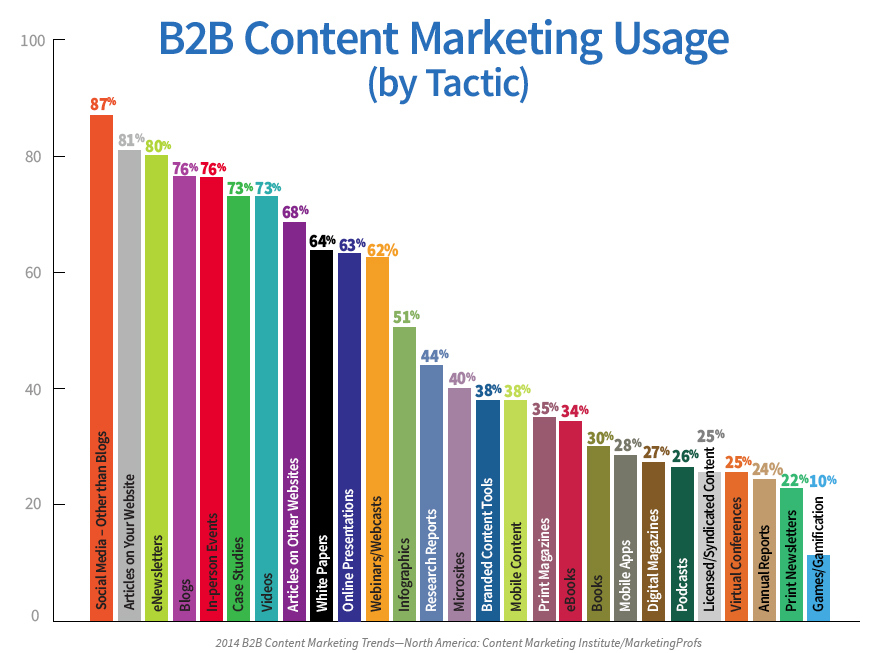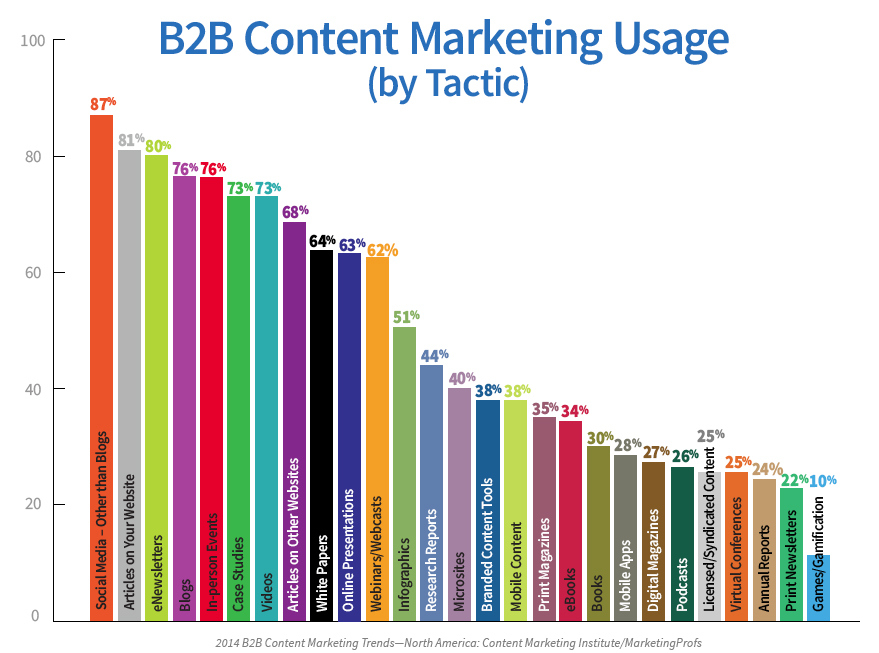 Image source : Content Marketing Institute
About 87% of B2B marketers agreed upon the usage of Social media (Other than blogs) as a major part of their content marketing strategy. 81% of them supported website articles, followed by eNewsletter with 80%. Blogs, In-person events, case studies, videos, and webinars were amongst the various other tactics preferred by most successful marketers. Podcasts, Gamification, print news letter, virtual conferences and annual reports were least preferred.
Producing high-quality content requires a wide range of skills, capabilities, and expertise. Content marketing teams must be ready to face challenges involved in conceptualizing, creating, crafting, executing, promoting, and measuring content. The most effective B2B content marketers spend about 39% of total marketing budget for content marketing compared to 16% spent by less effective content marketers.
Content marketing is bound to be the top priority for marketers in future and they should focus on allotting a sufficient amount from their budgets for content marketing. Nearly 61% of less effective marketers face challenge in producing engaging content compared to 35% of most effective marketers. Usage of scintillating titles and providing information about hot topics that grab viewer's attention must be embraced by marketers while designing engaging content. Rich media content like photos, videos and infographics must be used to make it worthy enough for readers to share. Content should be so engaging that a reader is compelled to take action in a positive sense (Share, Tweet or Like).
Source : LinkedIn Marketing solutions Blog