The smartphone market in US still is in absorption mode and the number of users is projected to rise by 20 million this year to 140 million from 121.4 million last year and might rise to 159.9 million by the end of 2014. Many analysts all over the globe believe the smartphone growth in US market has reached to a stability but according emarketer it's a way different story. An annual increase of 20 million by a year is a huge potential. Americans are the first to respond and adopt to any new technology. They are always in mood for something new and keep upgrading.
US Smartphone market, also known as safe heaven for Apple Inc. (NASDAQ:AAPL), is dominated by Android OS of Google Inc. (NASDAQ:GOOG). Though the gap between iOS and Android is not huge, the latter one is growing faster in 2013 and the trend is bound to continue till the end of 2014.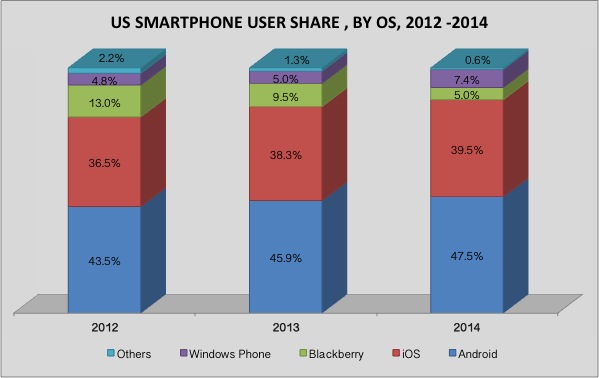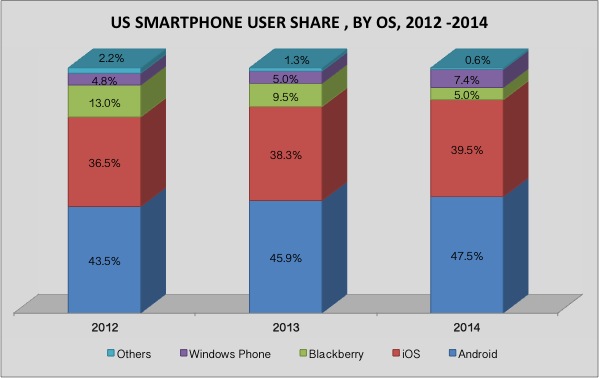 Although Android owns the majority of market share in the world, the difference between iOS and Android is not so huge in the US market. The share of Android was 43.5% in 2012 and iOS owned 36.5% of market in 2013. Where the numbers slightly increased for both Android and iOS in 2013 to 45.9% and 38.3% respectively by grabbing up users from Blackberry majorly and other OS users. According to the projections the numbers are set to go even higher in 2014 which can be seen in the graph. From 2011 Blackberry has significantly lost its market share each year gradually and set to lose even more in next year. Lack of innovation and inability to compete with fast evolving models of iOS and Android Black Berry is losing the race. We can see that iOS and Android are strengthening their positions year by year and the other players and less competent ones are simply vanishing. Windows Mobile is also on a growth track but limited takers of this particular software are limiting its potential. The new acquisition of Nokia mobiles by Microsoft might prove to a good deal to Windows Mobile.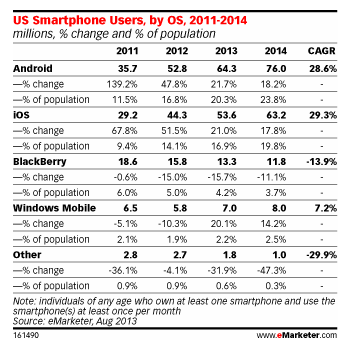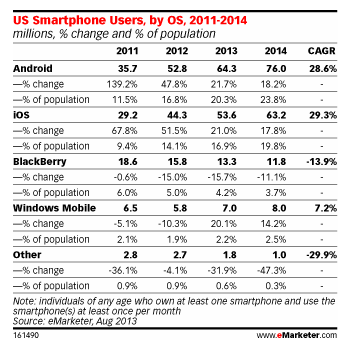 In the above graph we could the % of population using each kind of software. emarketer predicts that the growth rates of both the systems will be same, iOS varying slightly less than Android by a Point percentage. Now if we look at the (CAGR) compound annual growth rate for both the systems between 2011 and 2014 , It is going to be on a higher side for iOS than Android. In 2012 16.8% of the US population used  Android and 14.1% iOS , the numbers are tend to increase for both the systems but Android still holds a larger percentage. We should not forget the fact that Android is used by many mobile manufacturers and iOS is compatible only with apple manufactures products. If we compare on the basis of individual companies selling smart phones Apple will be the clear leader in the US smart phone market. As a technology enthusiast , it would be really great if the world had more options for their mobile OS to choose and moreover competition ensures innovation.
Source : emarketer.com