Popularity of apps on the Apple (NASDAQ:AAPL) App Store is based on rankings – which is key to an app's monetization ability and long-term success – combined with other factors including number of downloads, download velocity, ratings and the favourability of reviews, reported Appurify in a recent blog post.
The post attempted to understand the influence of an app's rating on its discoverability, reviewing and rating activity, and the ultimate rankings in the Apple App Store.
The top thousand ranked apps in the App Store were chosen for conducting this analysis. It was found that only 62 of these top apps were paid apps, while 590 of the free apps offered in-app purchases. A chart showing the distribution of apps by category clearly outlined that games were the most downloaded apps from the App Store, accounting for about a third of the apps.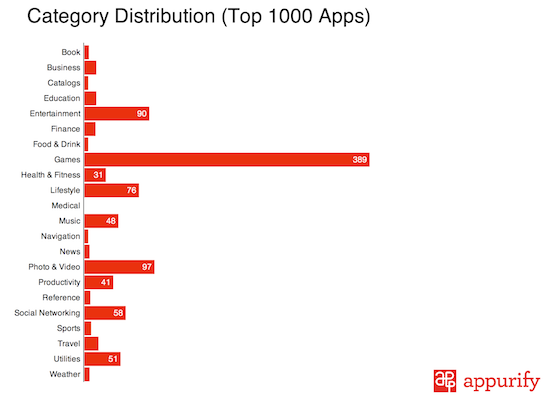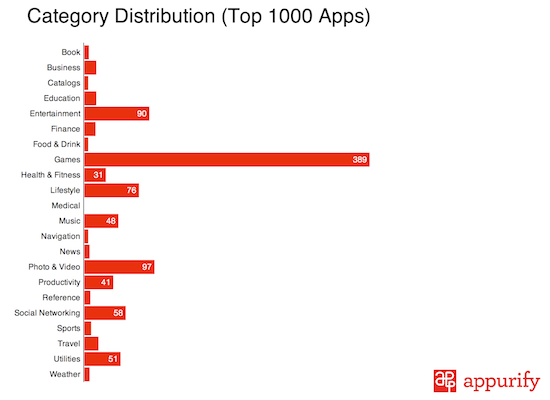 Rating Distribution Among The Top 1000 Apps
It was observed that more than 50% of the selected apps were ranked at least 4.5 stars, and majority (75%) of the apps were at least rated 4 stars. It was an interesting find which led us to understand the intense competition that rages among app developers.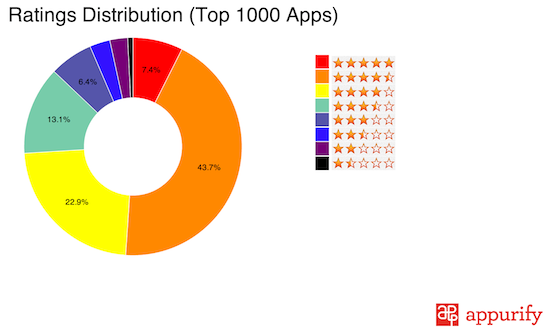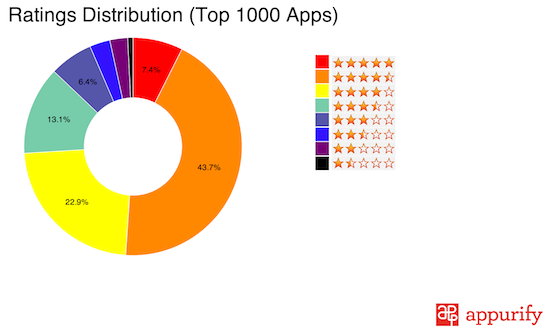 The Findings From The Analysis Were As Follows:
1.  App Performance:
Although, developing an app that is enjoyable and useful is important, but it's the performance that ultimately strengthens its foothold. It was found that performance issues such as functionality, stability issues, loading time, slow network performance and lagging client performance caused bad reviews and ended were poorly rated in the app store. Therefore, an app that is released without properly addressing it performance issues has a huge impact on an app's ultimate star ratings.
There's an opportunity here for developers who couldn't get it right the first time. As the 'current version' ratings are more prominently featured on search engine results and matters more to the average consumer than ratings for 'all verions', developers can start afresh on the ratings of their apps every update cycle and continually try to address performance issues. Releasing a new app that hasn't been stress tested enough can negatively affect the ratings of an otherwise great app.
Here are two instances:
Instagram: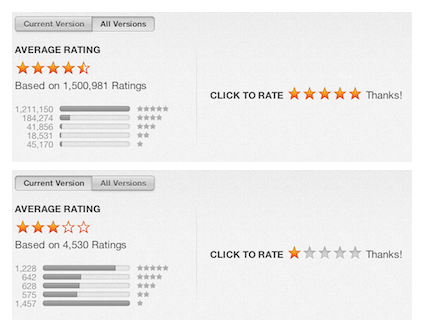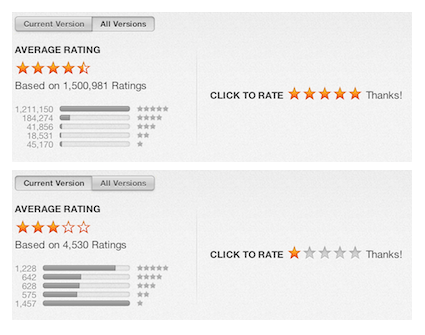 Since its most recent update on 16th August, Instagram's ratings fell by 1.5 stars mostly owing to concerns about bugs and performance issues mostly pertaining to the app crashing, freezing and taking too long to load. Many of these complaints revolved around Instagram's newly introduced video feature. If it were not for these 1-star ratings, Instagram's release would have achieved at least a 4-star status instead of 3 stars.
Hotel.com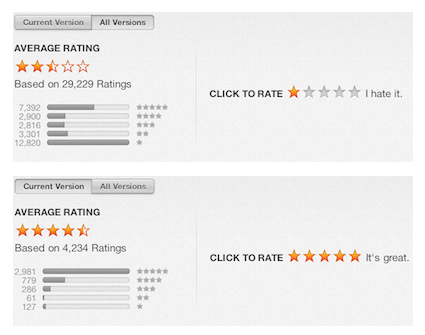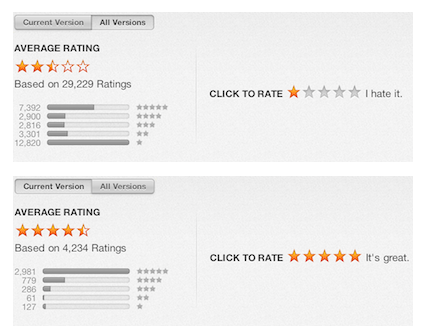 In direct contrast to Instagram is the travel app Hotel.com's latest update on June 16th. Prior to the update, its reviews had many complaints about crashes and poor performance. But since the recent update, there have been almost no mentions of the app crashing, or being slow.
Therefore, taking care of bugs, crashes and other performance issues prior to an app's release can have a huge impact on reviews and ratings.
2. App Discoverability Based on Ratings:
To understand the relationship between ratings and discoverability on app store, the number of reviews per day and the ratings per day were taken into observation. It was discovered that highly rated apps attracted more reviews and ratings each day when compare to poorly rated apps.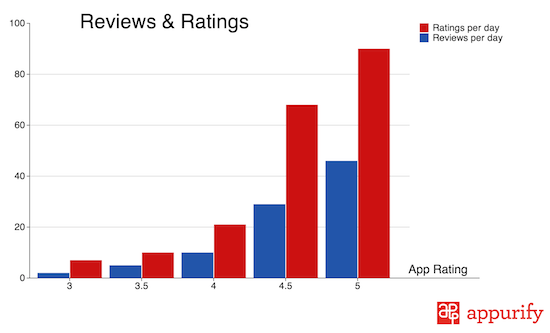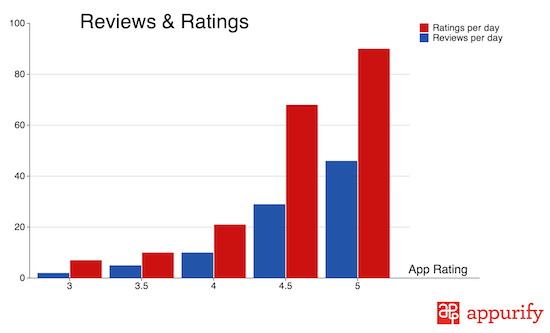 The effect was most prominent between 4-star rated apps and 4.5 rated apps, where reviews and ratings almost tripled.
It showed how much difference half-a-star can make and for an app developer, can potentially improve the rating activity of their app to a great extent.
3. Affect of Ratings on Rankings:
To try to best understand the effect ratings of an app has on its ranking, the selected 1000 apps were divided into three segments – Top 300, 300-600 and 600+. The objective of this experiment was to see how the number of ratings an app receives per day (since its most recent update) varies by the App Store's app ratings.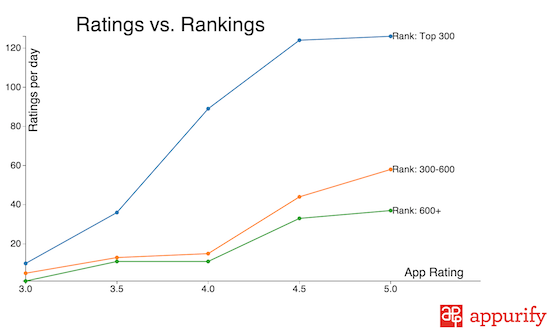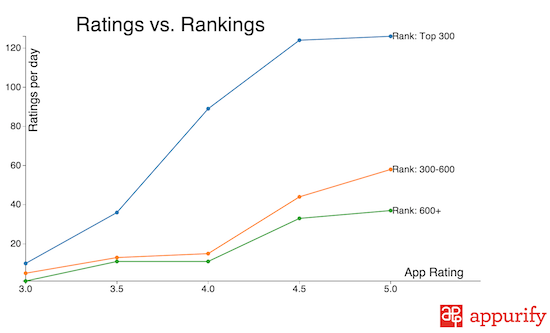 It was found that rating activity depends both on an app's rank and its rating by consumers. The top 300 category apps in this experiment were found to receive higher ratings per day than their counterparts in the other two categories and enjoyed better overall app rankings. It was evident that a higher rated will have more success.
Apple might have started integrating app ratings directly into their app ranking algorithms. In such a case, developers should focus on app quality and performance to be able to earn a place in the top 1000 apps or top 10 apps, for that matter. We couldn't agree more – an engaging, good quality app that performs well always gets attention.
Source: Appurify