Mcommerce hardly had any users due to various reasons, but the number of people shopping on mobile is increasing considerably. People often refrained from buying things online using a phone because of slow internet speeds, long loading screens due to heavy sites and security concerns over mobile payment. The online shopping gives the user with an advantage of huge variety, but small mobile screens and thousands of options resulted in high bounce back rates. For apps that are fluid and open easily customers choose products on mobile while travelling to office or waiting for someone and finally purchase it on a desktop.
Eventually, things are changing! E-retailer Apps are becoming effective, mobile phone screens are becoming bigger, internet is becoming cheaper and faster. According to data from IMRG and Capgemini the sales from Mcommerce rose from 11.6% in Q2 2012 to 23% in Q2 2013.
If we look at some complaints and expectations of customers, they are as follows:
1. Mobile performance and Customer expectations don't go hand in hand, the following graph can throw some light on that issue.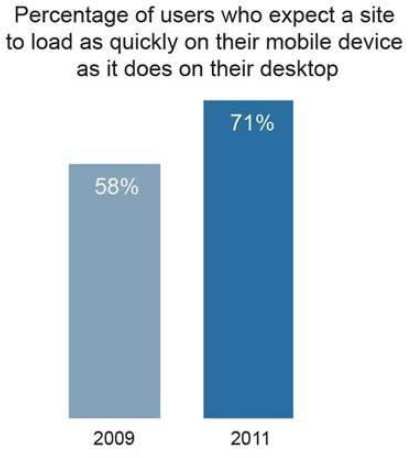 2. Average speed of Internet is still slow in majority of nations.
3. Page weight should be reduced with the help of latest technologies likes of CDN, Memory Cache and Dynamic DNS system.
4. Use a content distribution network to increase operational efficiency.
5. Avoid redirection.
A survey conducted on 728 people responded as follows when asked about the regular tasks they perform using a mobile.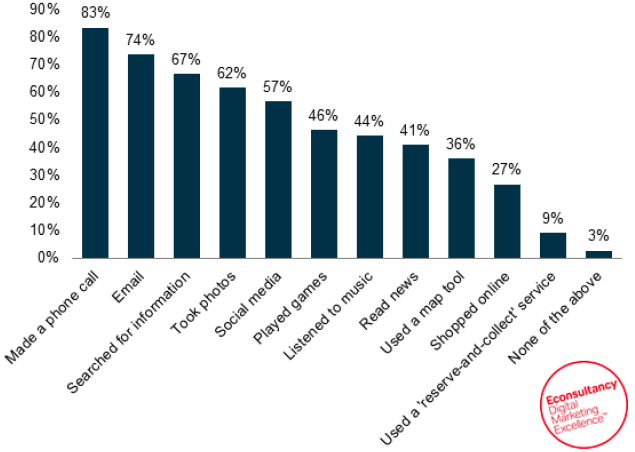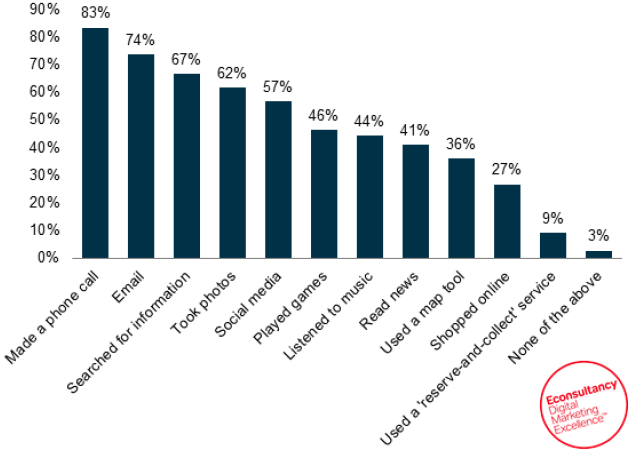 The "shopping online" and "reserve and collect" services are still low and account only 27% and 9% respectively. But a huge market potential lies ahead of it and retailers are implementing various ideas and schemes to grab as much as they can. One such idea is the "click and collect" concept.
"Click and Collect"
Currently we have delivery of products (except food products) purchased online through mail. This is working fine, but what if we have a more comfortable way. That's what is click and collect proving to be. Where you buy the product online and collect it from a nearest pick point while returning from office or dropping of your kid to school. Many small retail stores are acting as pick up points and they have a small cut out of it making their premise a delivery point. The customer waiting time is reduced from 5-7 days to few hours. This process even reduces your shipping charges because you simply pick up your product while you move out of home for some or the other work. The number of sales for this concept has risen from 12% last year to 33% this year. We can even pay at the counter or through card.
Coming to the market potential of Ecommerce, 51% of smart phones users never made any Transaction online though phone in UK and this data confirms the growth potential.
We can look at the frequency distribution vs. percentage of people understand the penetration of Ecommere into mobile users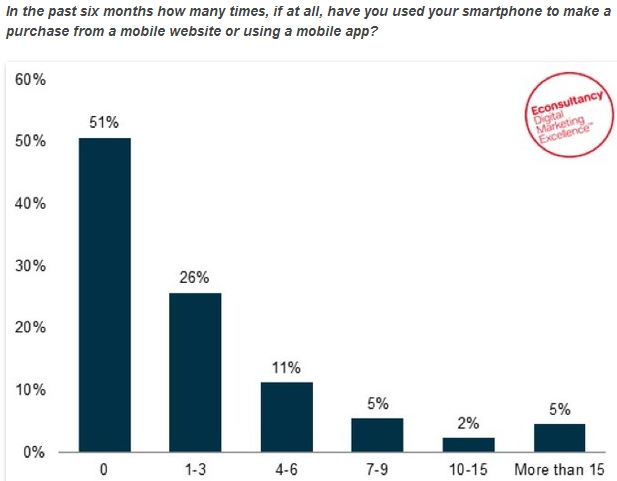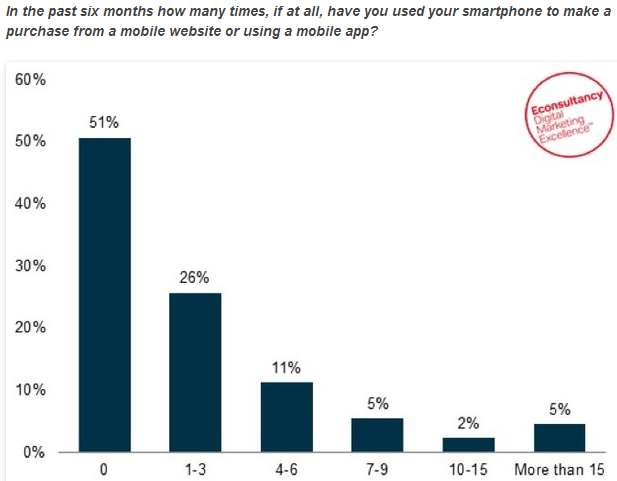 With the usage of mobiles, the bounce rates are also increasing considerably. It rose from 21.7% in 2010 to 23.7% in 2011 before reaching 27% in 2012. The current rate is 26% in 2013.
IMRG also states that even though the % of sales though mobile is only 23% the number of visits accounted to Sites is 34%, the companies need to focus more on improving the conversion rates to boost sales through mobiles. The companies look at overall sales and device used is not a matter of concern to them but if they can manage to provide a robust App, sales will also become mobile, i.e you can buy anything anytime from anywhere, whereas in case of a desktop there are limitations. The sales which happen in emergency can be capitalized by E-retailers.
Source: econsultancy.com