Mobile search advertising is going to surpass desktop/laptop search ads by 2017. And, this must excites Google, Apple and Microsoft, well yes blackberry too. Once Steve Jobs quoted  "mobile advertisements really sucks". I am sure he would have taken his words back now, with mobile ads forecasted to reach the high of $31bn by 2017. Now let's have a look at the market share of different OS as of now:
Android leads the way. Google has more than one reasons to smile. Not only the mobile phone market but also the advertisement market is going to torrent their bank balance. Samsung is the major contributor to Android and has been leading the way in mobile handset market share with 59% market share.
From a research conducted by Flurry, it is known that of all the respondents 88% uses android phones and 12% uses Android tablets (n=47,121 Android Devices). And when it comes to android powered Samsung devices, 91% are smartphone users compare to 9% that are using tablet. Moving forward the research tried to divide the users in Psycho-graphic segment, called 'personas' based on their app usage. The app usage data was recorded and the respondent was tied with one of the many personas accordingly. Samsung, being the market leader in Android market with 59% of market share, differentiates itself in promotion and marketing. The same was reflected in their user's app usage data. The personas tied up with Samsung users are more advert attractive and advertisers love to show those categories of ads. Below shown is the list of personas tied to Samsung phone and Tablet users: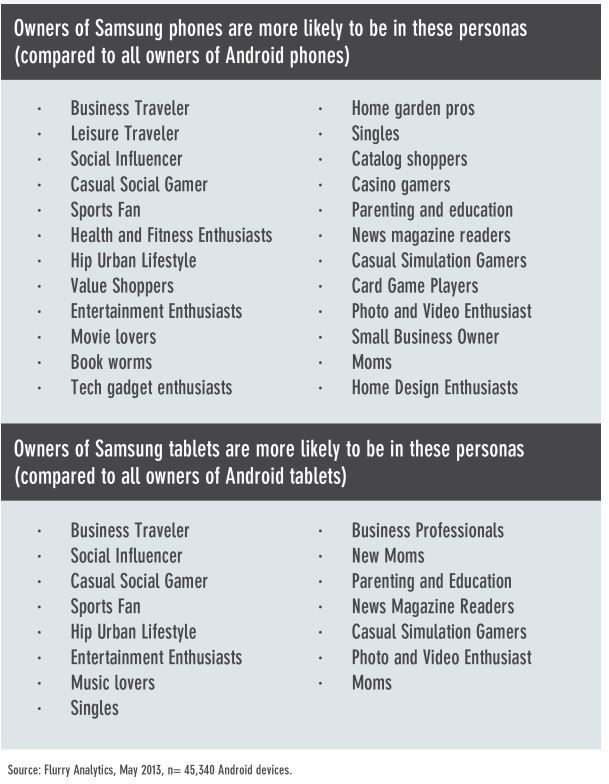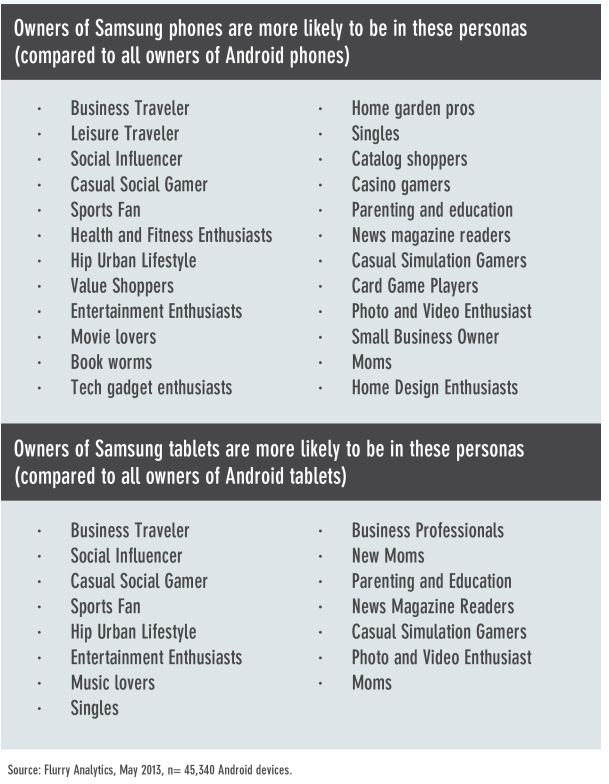 The top 10 categories for mobile ads according to BIA Kelsey are:
Entertainment
Telecommunications
Dating
Portals
Retail
Consumer packaged goods
Autos
Armed forces
Education
Travel
Now mapping the persona created by Flurry to this top 10 categories we can say that Samsung users are the biggest target market for companies. Now, this may ring a bell in Samsung ears. They may very well turn to revenue sharing model or they may even start their own advertisement line by adding one more dimension in revenues stream. Moving onto apps, the research says that Tablet owners spends more time on the apps then a phone user. Well, this makes sense as Tablet is all about Apps, Multimedia and Internet. Overall Samsung smartphone users spent 14% more time on Apps than other Android powered handset users and owners of Samsung tablets spent 10% more time using apps over other tablet users. Such states makes Samsung much adorable to corporates, specially ones that are in mobile advertisement business. The app categories where the usage for Samsung is high are News Magazines, Tools, Health and Fitness, Photography and Education. Being the market leader, and also user time spent in apps being the highest, Samsung users deserve all the attention of Mobile Advertisers.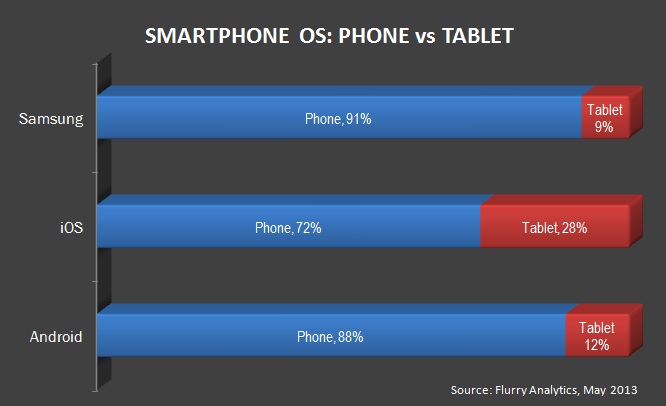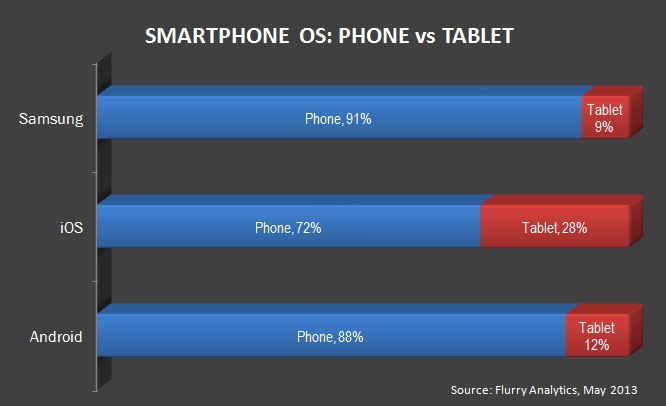 But the question remains, is Samsung playing it gently? With the division of android devices being 91% and 9% for mobile and tablets respectively, how Samsung is going to create a buzz in tablets similar to its phones. Tablets are preferred for longer duration apps like Gaming and Education with both the industry in top 10 mobile advertisement category. How Samsung is going to give advertisers hope and attract more consumers and revenue.
Let us know your thoughts by commenting below