Email still remains the key marketing element for online marketers to outreach Internet users in scores. While Email Campaigns have got its share from the marketing till product purchase, video integration has become a key element to ensure the higher CTR, resulting in 50% more CTR. So, what are the other tactics that work best for Email Marketers? Content relevancy and segmentation of your email database is the key, according to a new survey report from Ascend2 and Research Underwriters.
The survey, conducted over marketers focused on Business-to-Business (B2B) and Business-to-Consumer (B2C) campaigns worldwide in June 2013, showcases the mantras to ensure the success of your Email campaigns.
Best Practices For Email Marketing Success
Still, majority of marketers believe Content Relevancy is the key; more personalized and compelling context, the higher chances of campaign success. Here are few most useful takeaways to ensure that your Email Campaigns should achieve the goals:
Content is King: if recipients from B2C and B2B both could relate themselves more with Email content, it's becoming easier to achieve desired goals. 71% from B2B and 65% B2C Marketers adopt this strategy to achieve desired goals.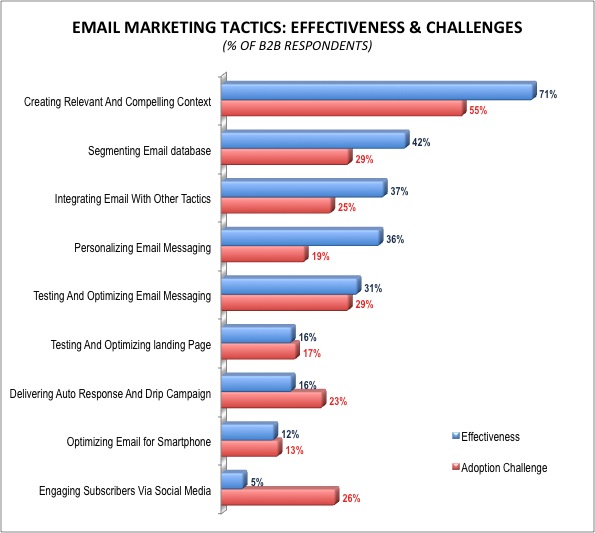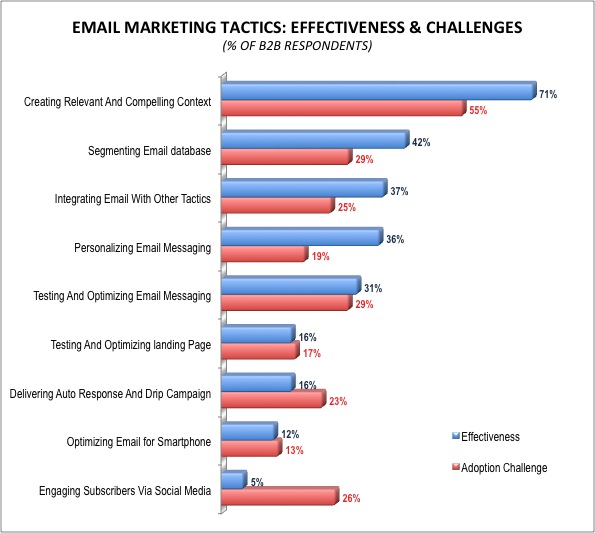 Targeted Approach: Majority of Email Marketers believe a single database to feed different flavors of Emails are not the best practice. You must categories your email recipients' database related to their interest and needs. This would be helpful to increase the level of relevancy. 42% marketers from B2B and 36% B2C deploy this practice to achieve the objectives.
Provide Personalized Experience: Always try to record full name, interest and, if possible, their cookies. Such information, added in Emails, will be helpful to provide more personalized experience. 36% B2B and 28% B2C marketers ensure this tactic to record more open rate and CTR.
Test and Optimization: The marketer is flooded with variety of Email clients and Email providers. While each one of them have got its own platform, its important to ensure the flawless view of the Email. Therefore marketers must test and optimize their email to a level where it could satisfy majority of them. However, this becomes more critical aspect in B2C marketing due to the fact that receipts are always overloaded with tens of email messages and have no time to pay attention to scrambled emails.
Most Difficult Practices To Execute
While survey findings carry useful tactics, like above, to achieve email objectives, its also segregate these tactics based upon easiness of adoption. Interestingly, the best practices of Email marketing are also the most difficult practices to adopt, according to the report.
Content Is King And The Biggest Challenge Too: Generating relevant content is the most effective mechanism though, it's equally difficult to create. 55% B2B and B2C marketers find this the biggest challenge to overcome.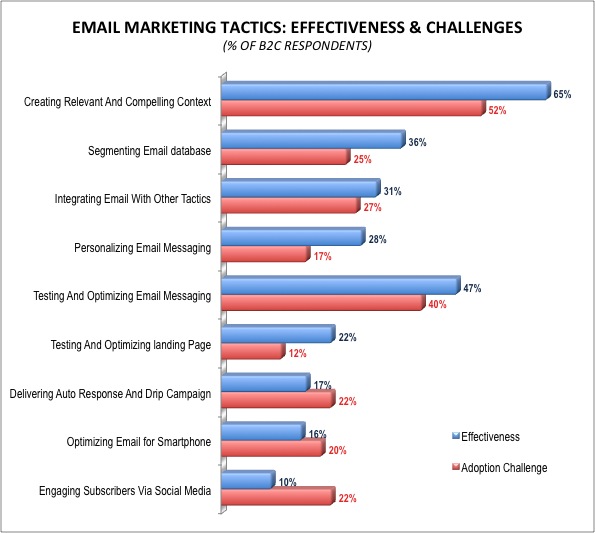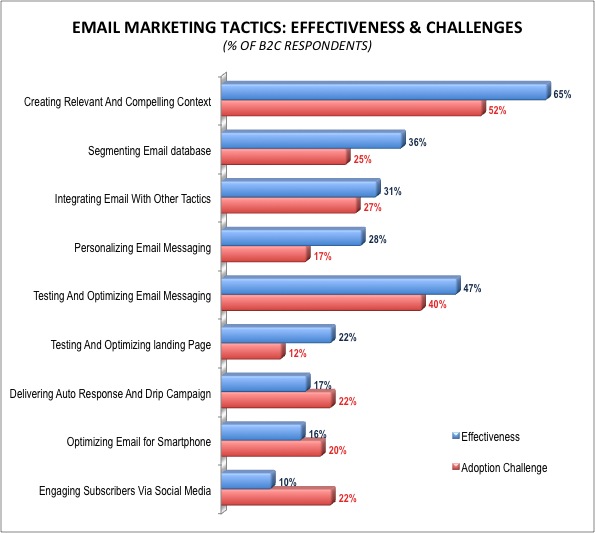 Optimization is Not a Cake-Walk: Due to multi-platform existence, it's always difficult to unify your email design that could satisfy every email client and provider. The optimize-try-change mechanism is not so obvious to adopt as 29% B2B and 40% B2C Email marketers are finding it the second most challenge to over come.
Segmentation Is A Challenge Too: While most of Email Marketing software are loaded with tons of features, majority of them still do not provide a functionality that could capture subscribers first name, interest and cookies. This results in difficult tactic to segregate your email-marketing database and 1 out of 4 email marketers find it difficult to do.
Social Media And Smartphone: Not A Priority
Two of the findings really surprised to most; In spite of explosive growth and adoption of Smartphone and Social media, Marketers are least focused on these aspects. Mere 12% B2B and 16% B2C Email Marketers are really bothering about these aspects. The adoption of these tactics only increases your woes while optimizing your Email for all email clients and providers, marketers say.