Huawei have unveiled a video conferencing system that might propel its sales in the enterprise product category – The TE30.
The TE30 was officially launched in India by Huawei at an event at the Lalit Ashok, Bangalore. The event featured Sonia Ahluwalia, head of Huawei enterprise business group and Jason (Pengyu) Liu, Solution head, Unified Communications and collaborations (UC&C), Huawei.
The TE30 is the world's first HD video conferencing system with voice dialing. This one of a kind product will be distributed in India by DDMS, a subsidiary of HCL Infosystems Ltd.
The event came to life when Jason took to the stage and demonstrated how the TE30 worked. He showed the distinguished gathering a live demonstration of the TE30's much touted 5 minute installation. The TE30 supports WiFi and thus is free from the many cables that other products in the category bring with them. It takes just one cable and 5 minutes from unpacking to joining a video conference.
Here are some of the salient features of the TE30:
Voice Dialing
As was demonstrated by Jason the TE30 recognizes multiple languages. You can call or join a conference by saying the name of the scheduled conference or the site name. The voice dialing is available in English and Chinese.
Built-in WiFi
Built in Wi-Fi enables TE30 to support wireless network, microphone.
Superior HD Experience at Lower Bandwidth
The TE30 supports Video Motion Enhancement (VME) and H.264 HP which saves 50% of bandwidth.
Network Adaptability And Security Mechanism
The TE30 supports Super Error Concealment (SEC) which ensures high quality video experience even with packet loss of 20%. It also supports H.264 SVC to adapt to different bandwidths, device capabilities and network requirements.
During the demo, Jason connected with a Huawei colleague in China to showcase the video quality of the TE30, and I must agree, it was impressive. The TE30 package contains HD codec, built in camera and omni-array microphone, cables and remote control all at a package weight of 3.3 kg, which certainly highlights the portability quotient that this product offers.
Here are some important specifications about this product:
Video standards and protocols supported : H.264, H.263+, H.264 BP, H.264 HP, H.264 SVC.
Audio standards and protocols supported : G.711, G.722, G.728, AAC-LD, HWA-LD.
Video specs : 1080 @ 30 fps from 512 Kbps(optional).
 Support for IPv6 and integration with Microsoft Lync 2010.
Jason touched upon the importance of a single, all-in-one video conferencing product and Sonia highlighted the fact that instead of going to different OEM's for different service support a SME can afford a high quality video conferencing tool like the TE30.
The only concern I have about this product is whether it is future proof. We know that hardware gets outdated every 6 months and technology advancements happen almost everyday. But when you are talking about a product, which is essentially an enterprise product and not a mass consumer product, the cycle has to be longer. A SME organization, which is essentially the target market for the TE30, can not afford to buy a product which is not future compatible.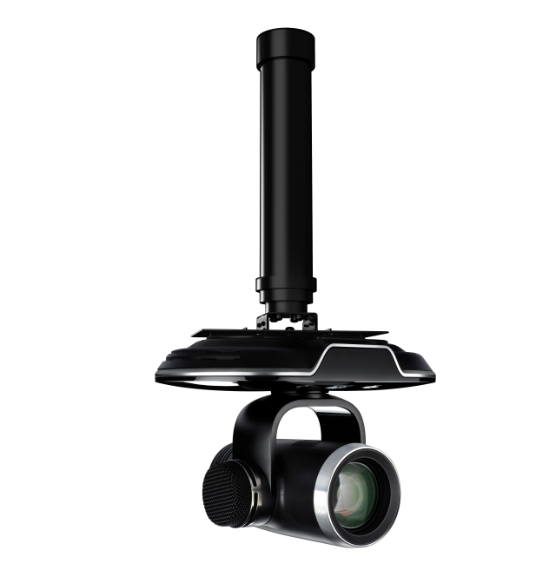 In my interaction with Jason Liu, I pointed out the TE30's lack of support for H.265. He assured me that the future versions of the product will be supporting higher video compression standards and protocols like the H.265 (HEVC), though he didn't confirm whether that would require a change in hardware or an upgrade in software for the TE30.
All said and done, one thing that stands out is Huawei's effort to enter this enterprise segment. There are very few, if any, video conferencing systems as high on quality and feature rich as the  TE30. Perhaps Huawei's efforts can usher in a new era of video conferencing systems, a market which is constantly on decline and desperately seeking a face lift.