As people better understand the possibilities that freelancing can bring to their lives, increasing numbers are turning in this direction to make their living. At the same time, the role of technology in our lives is growing at pace, too. This means there is a natural opportunity for freelancers to use technology to further their careers and make more money. How can freelancers make the most of this?
Online Work
Freelancing has been around in one guise or another for many years, but the internet provides a massive opportunity for freelancers to succeed. The growth of popular sites like Elance and Blur in recent years means that many freelancers don't have to go looking for work in the way they used to. Yes, they still have to pitch and market themselves, but technology has allowed for a concentrated marketplace that makes it easy to succeed, as long as you're offering quality products or services.
Social Media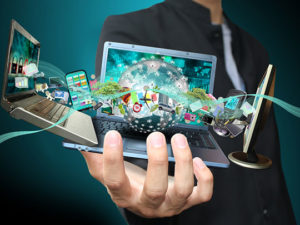 If you do go down the online route and offer online services, too, whether that's web design, SEO, copywriting, or something else, you have a great opportunity to show off what you're doing instantly.
The website you designed or article that you wrote can be shared with your followers as soon as it goes live. People see it, love it, and suddenly your freelance business is flying as people ask you to produce something similar for them.
You'll also be able to connect with more people who can either help you with their expertise or give you further opportunities to grow your business.
Apps for Project Management
The use of both desktop and mobile applications – often in conjunction with each other – means that freelancers can manage their own projects easier than ever before, while they also help to smoothen communication channels and ensure work can be completed more efficiently.
There are various examples of how apps can work.
Customer management and calendar integration apps are excellent for workload planning and knowing when you need to follow up with clients. These are especially helpful if you're new to freelancing and are struggling to balance an increasing workload.
Apps like Dropbox are great for sharing and uploading documents quickly and easily, as well as for receiving feedback from clients.
If you've outsourced any work, platforms such as Podio are brilliant for collaborating with your team and working towards project completion as a group.
Global Business Potential
In terms of seeking work, technology's biggest asset is the manner in which it makes the world a much smaller place. Even as recently as ten years ago, there was no chance of you sitting in your home office or kitchen in London, for example, and connecting with someone in Sydney who you could provide a service for.
If you're freelancing, especially online, you should look to cast your net as far and as wide as possible.
Technology is a Must
If you're not using technology as a freelancer, even if you do most of your work offline, then you're not going to succeed. Even offline freelancers will need to use the internet to market their services, while those working online will obviously use technology to an even greater extent.
The Author of this post Robert McKinley is a technology enthusiast who works with businesses and freelance entrepreneurs to help increase their success. Robert is currently using the enthuse.me social networking site to reach out to freelancers who would benefit from his experience and guidance.