When it comes to App Stores, Apple Inc (AAPL) had a head start, as it was launched earlier than the Android market, now called Google Play. Android vs. iOS, this fight is ongoing. But when it comes to App developers' satisfaction, it looks like iOS has won the round.
Google Inc (GOOG) shares the graph of Apportionment of Android every month; it looks like Apple is following the footsteps of Google.  Apple, may be for the first time has officially revealed the fragmentation data for iOS devices.
The Disclosed Apportionment Of iOS
As expected Apple's data is on devices connecting to Apple's App Store during a 14-day period i.e. (21st June to 3rd June), it is same as Google's criteria of sharing data. Apple website revealed that, only 1 percent of devices run on iOS 4 or earlier, iOS 5 is run on just 6 percent devices and the rest 93 percent of devices run on iOS 6, which is the latest version of Apple's operating system until the launch of iOS 7. The devices include all iOS devices i.e.iPhones, iPod touch and iPads.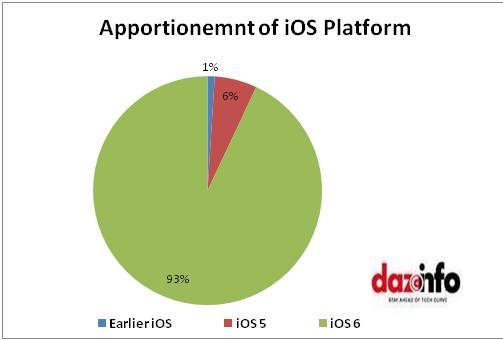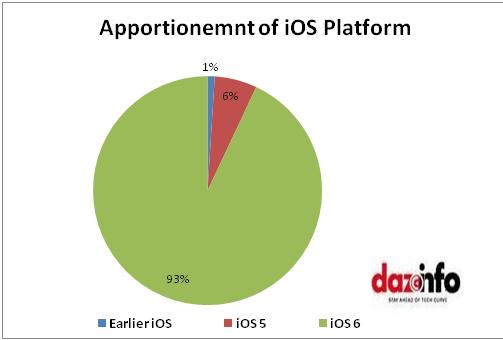 Apportionment Of Android
Jelly Bean is actuating the growth of Android, it is the greatest version of Android, it is a cold-blooded Apple Killer  and is gaining at the expense of the other Android versions, only 4 percent of Android devices run on the latest version i.e. Android 4.2. But when combined i.e. (Android 4.1 and Android 4.2) these versions run only on 33 percent devices when compared to iOS 6 (93 percent of devices), this is according to the data provided by Google for the last month.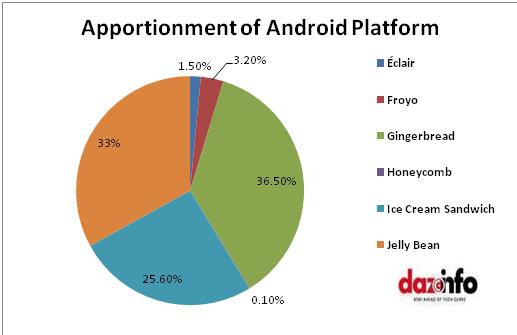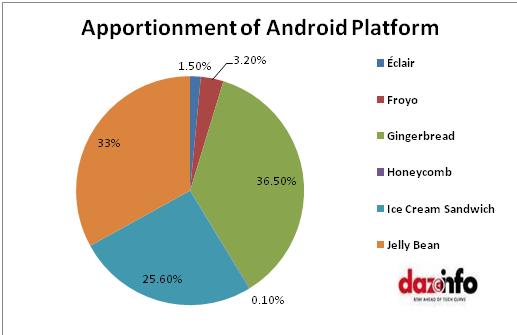 The Dilemma Of API
Android market is highly fragmented and uncontrollable; this makes it quite hard for developers to write code against APIs (Application Programming Interface) the latest versions of the OS, if Android developers want to target different versions of Android then they have to maintain various copies of the API code or else they have to continue to make use of outdated or older versions APIs to ensure their apps reach the users.
In contrast, Apple developers have an access nearly to the entire latest feature and can focus on the latest version and makes Apps related to that version. According to a survey report 85 percent of App developers are keen to develop Apps for iPhone and iPad users.
The Monetization Of Apps
Apple at WWDC, put it revealed its case to developers for the iOS platform, it makes a payment of more than $10 billion to developers, $5 billion in the last 12 months. In one of the recent survey most of the App developers claimed that, they did not make much profit from their Apps, the price for an Android App is $0.99 and for an iOS App it is $2.99, this shows that when it comes to revenue iOS App developers are doing much better than Android App developers.
Though iOS App developers are earning pretty well, because of their paid App model, the user base in Android is growing, the Android market is fragmented but, the App developers have more opportunities in Android compared to iOS App developers. iOS versions are quite stagnant, as Apple does not update their versions that frequently, the opportunities are quite limited, but this trend might change as iOS 7 promises lot of things for both users and App developers, but for now Android still rocks.