Much hyped Facebook HOME App for Android OS on Google Play Store is weakening. The Facebook Inc (FB) Home App is available for download at Google Inc (GOOG) Play store from 12th of this month, and has been increasingly scrutinized by reviewers. Reviewers have given Home an average rating of 2.2 out of 5 stars, where as half of all individual ratings for Home app have been 1 star with many and distinct complaints.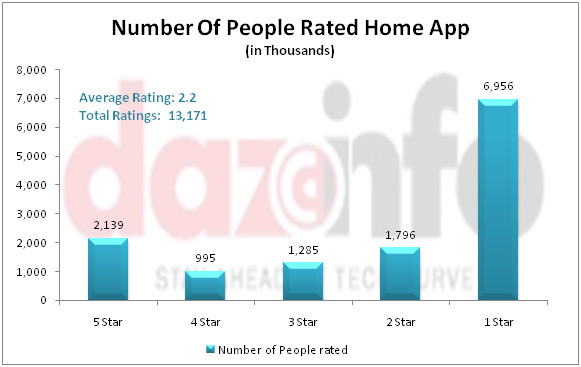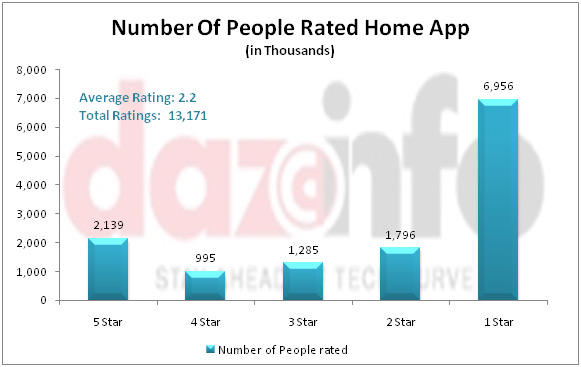 In the First week after the launch; Home App Rank was steadily increasing and reached to Top 50 Apps of Play Store. However, by the start of second week Facebook HOME started failing to keep up the rhythm and consequently App rank stared decreasing which is continued till date.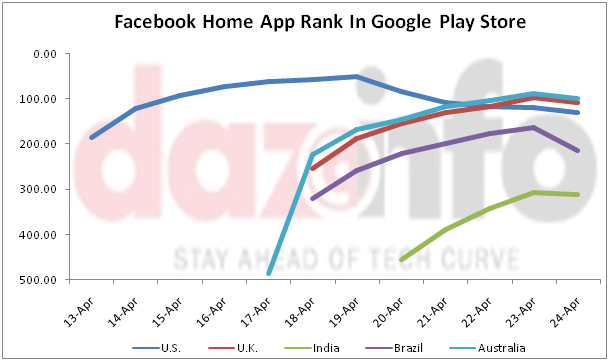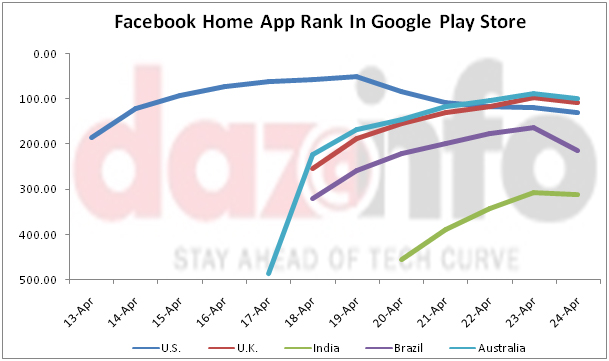 Since the launch, users' reviews have been quite varying for Facebook Home, and majority of the people have blamed the app for being complicated to use, while few complained about the battery life hogs-in by Facebook home. Even many Phablet users also have complained about the battery drainage despite of holding Godzilla size battery. The app has deeper integration with feeds and Ads which force smartphone to be in-sync mode always resulting in less battery backup. However few extensive Smartphone Facebook users are fascinated towards the app as it is allowing them to stay connected with loved ones better than before.
Facebook Home app has not been a success so far, especially when more than half-a billion users are already available on mobile. Decrease in demand and slothful downloads indicate limited interest in the concept, while the negative reviews suggest that many of early adopters are pissed off and have started distancing with it. In spite if sitting just above the kernel layer of Android, much hyped custom launcher Facebook Home does not appear to be the answer to Facebook's Smartphone strategies.
Could Facebook Home Influence The Sales Of HTC First?
The study based upon Google search terms, depicts considerable decline in interest of HTC First compared to Facebook Home. Unfortunately, the trend is staking shape at the time when HTC Corp (TPE:2498) smartphone market share is gradually declining; HTC recorded lowest profits earning just $2.8 million for the first quarter of 2013 with 98.3% Y-o-Y decline when compared to Q1'2012.
The disappointment of Facebook Home might affect the sale of HTC First. HTC has partnered with Facebook and launched the first phone to run on Facebook launcher "HTC FIRST" and expected to cover significant share of more than half-a billion Facebook mobile users across the world. Unfortunately, the failure of Home App might ruin HTC efforts.
However the low cost of HTC First ($99.99) with two-year contract from AT&T in the U.S., is grabbing attention of people but still the failure of Facebook Home could jeopardize the much-needed opportunity for HTC.