Today Smartphones and Tablets have become a man's best non living companions. As part of this new normal, the world of handheld internet has prospered into an expeditious universe of personal connectivity. Whether at home or on the go consumers use their phones to browse and research products, hunt for deals and make purchases. There's a cultural shift towards mobile-centric lifestyle.
According to eMarketer, U.S Retail M-commerce sales will reach $39 billion in 2013 made via smartphones and tablets, up by 56.5% over last year. The number of mobile shoppers in the US will swell by 24% in 2013 to 118 million consumers and represent 62% of digital shoppers. Over the next four years, the overlay between mobile and digital shoppers will unwaveringly increase as the number of mobile shoppers will pop up to 174 million in 2016.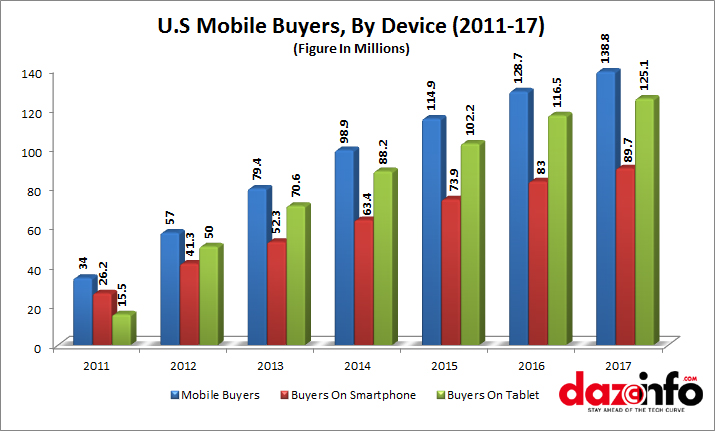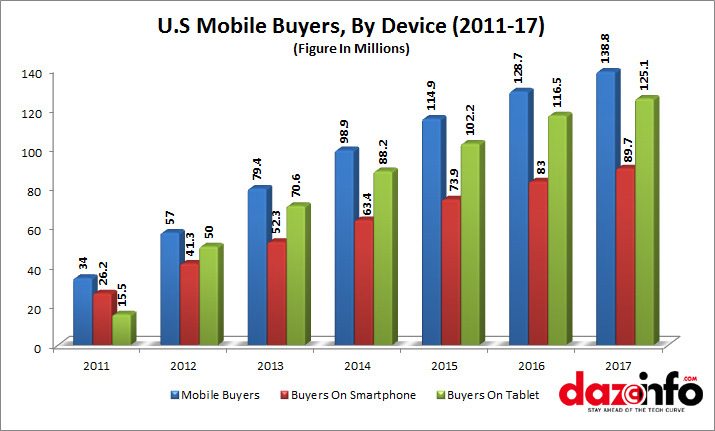 There is also an estimate that shows 15% of online retail sales to be made on mobile devices in 2013 by ascending of $39 billion by the end of 2013. This year's $39 billion in retail M-commerce sales is triple the amount scored in 2011.
The majority of the M-commerce sales are predicted to be done via Tablets compared to 35% of sales expected to be made on Smartphone devices. By 2017, Tablet's share will surge to 71.5% against 27% for smartphones in the U.S retail M-commerce sales. It is also predicted that by the very year, 78% of U.S consumers will make purchases via Tablets, besides that 69.6% of digital buyers in the U.S will be tablet buyers, while 49.9% will be Smartphone buyers.
U.S Mobile Buyers, By Device (2011-17)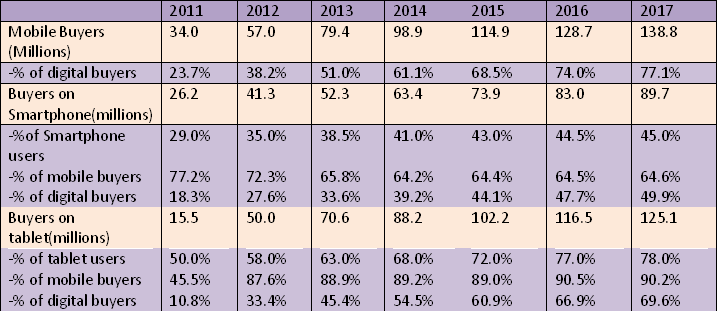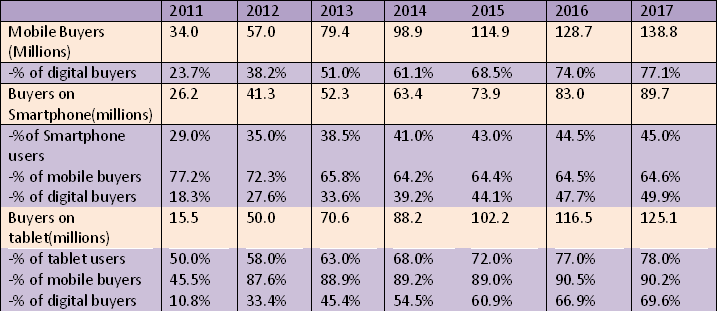 Today Mobile is driving e-commerce sales, as the number of Smartphone and tablet users are surging, so does the number of buyers. The growth of the Mobile buyer community will be bolstered abundantly by the expanding number of tablet users who are willing to buy. Still, the number of consumers making purchases on Smartphone is expected to surge by double-digit levels and so will the number and scope of the different mobile payment solutions presently available or preparing for launch in the next coming months will have an adverse effect on the market.
Smartphone and tablets fuels Ecommerce by stretching out the shopping day for the customers and fulfilling their inner desires to splurge on desirable products without any delay or dilemma.