People are adopting social media in the pace which is not matchable to any other internet trend. A recent survey by Brandwatch says. Its noticed that Twitter users are accepting this site even when they are watching TV. The survey observes how Twitter is grabbing TV viewers and many key points about 'dual screen' behaviors were brought to light. The study examined Twitter conversation during 50 of U.K  and the U.S. TV shows.
The study showcased that the viewers were 12x more likely to tweet regarding a TV show and 22x more likely to use the show's official hashtag when the show was broadcasted, compared to the days it did not air.
Shows which are regularly broadcasted (one like, daily soaps) saw 2x more tweets and 7x more probable to use the hashtag on the day show gets broadcasted, compared to days when it doesn't broadcasts. On the other side, shows which are telecasted once a week (one such as, BBC question time) see 30x more tweets and average of about 48x more tweets using the official hashtag compared to days it is not telecasted.
It's observed that TV shows are struggling to get users to use official hashtags when tweeting about their shows, as only 25% of the tweets consists of the show's official hashtag.
Despite the fact that, programmes of factual/current genre have about 83% of tweets containing official hashtag. And, 35% goes to reality TV shows, 33% and 32% is grabbed by talent shows and daily soaps, entertainment/game shows consist of 23% official hashtag tweets, 16% for sport shows and only 12% for sitcoms.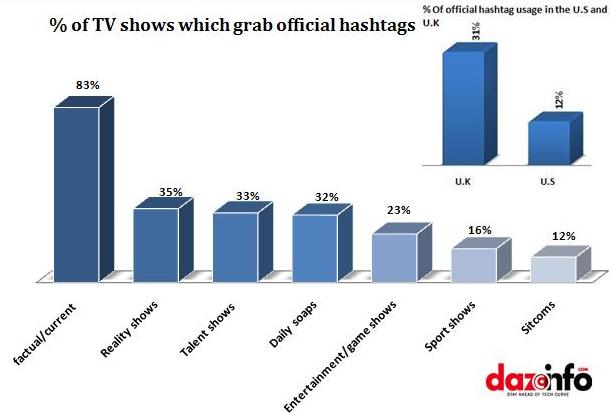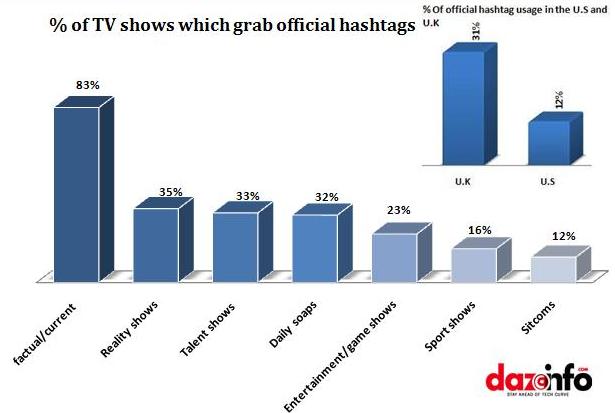 It's also noticed that the U.S. audiences are most probable to tweet, about average of 1.5 times to tweet about shows when compared to the U.K. audiences. Nevertheless, 31% of the U.K. audiences are more probable to use official hashtag in their tweets compared to 12% of the U.S. audiences. In addition, two third percent (63%) increase was observed in tweets about the show including the official hashtag at the beginning of the show.
It's also mentioned that 64% of viewers used the dual screens on bed while, 27% of them used it on sofa and 6% at their work places.
When analyzed few sample of tweets about random selection of shows to understand what users tweet about a show, interesting findings were drawn; 57% of the user's tweets was prompted by actions/personalities of a specific character and guests. While, 8% of tweets were anticipated of watching a show in the near future and 7% prompted by plot twists and rest of 7% was driven by people directly quoting from the show itself.
Interestingly, on the onset of the show, 8% increase in the proportion of the negative tweets regarding a show was noticed but, it turned out to the positive conversation tweets after an hour the show ends. On the contrary, 12% of total tweets about the show were filled with emotive/emotions tweets and it hikes to 19% on the days of show's broadcast. But, positive conversation crawls up to an average of 3% compared to emotive/sentiment during broadcast time.