In last quarter, a big shift was seen in tablet segment; Android tablet shipments surpassed Apple's iPads during the quarter. Apple shipped 22.9 million tablets during Q4 last year, while in comparison, 29.6 million Android tablet were shipped during the same period. However, none of Android vendors could ship even one-third of tablets what Apple sold during the quarter.
Android Tablets have succeeded to the draw attention of significant number of users across the world–thanks to increasing demand of Amazon's Kindle Fire and Samsung's Galaxy Tab. In smartphone segment, Samsung is unilaterally dominating over other Android partners. But in the tablet segment, it's facing stiff competition from Amazon's Kindle Fire.
The U.S. Accounts For 89% of Kindle Fire Sales
However, during the last quarter, Amazon shipped 6 million units of Kindle Fire tablets. In comparison, Samsung shipped 7.9 million tablets–Android and Windows combined. According to a new research report from app analytic company "Localytics", in the prevalence of Android tablets, the U.S. and Amazon's Kindle Fire tablets are plying significant role. The firm has reported that 59% of Android tablet usages are being driven by the U.S. As we have already discussed that 33% of Android tablets shipped in the country (the U.S.) were Amazon's Kindle Fire.
Undoubtedly, Amazon's kindle Fire is now among the world's most popular Android tablets. Over the last couple of years, the demand of Android tablets has tremendously surged in emerging markets. Amazon's first and biggest market is the U.S.; 89% of Kindle Fire tablets exist in America only. Towards the end of 2012, the company started selling out the devices in other markets (outside the U.S.) such as the U.K., around a year after launching its tablet in the U.S.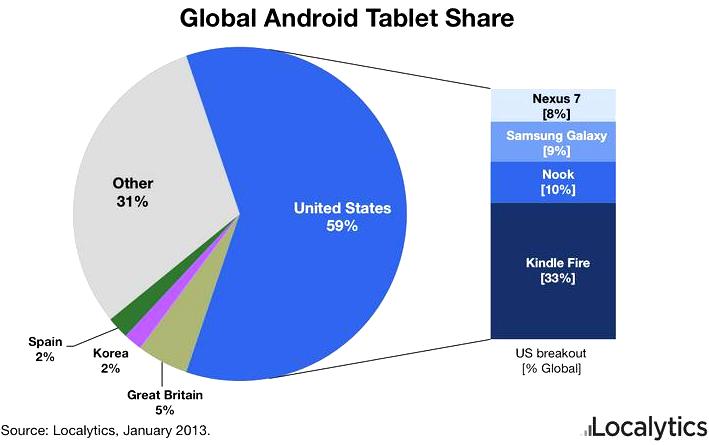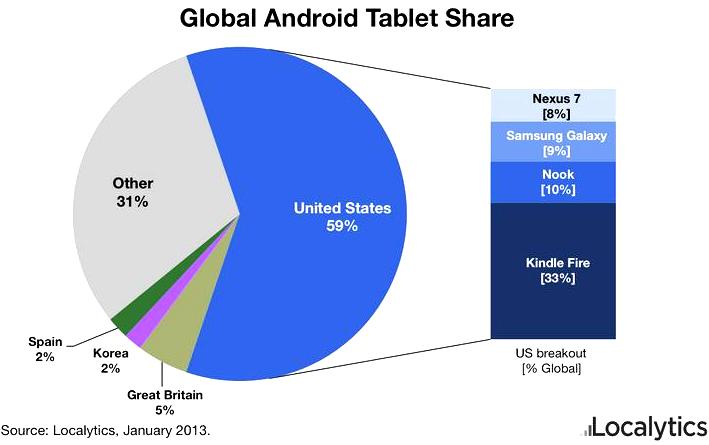 Outside the U.S., Samsung Galaxy tablet lineups accounting for 76% of all Android tablet usages, followed by Google Nexus 7 with 15% and Kindle Fire global share with just 9% of usages. At present, Amazon has meager presence outside the U.S., but it's currently working on its international distribution. Considering other Android tablet vendors in the U.S. like Barnes & Noble, whose Nook tablet has only 10% market tablet market share, which is even less than Amazon's global tablet market share.
One of the important points, Amazon isn't offering 'Google Play' on its Kindle Fire. Despite, it has succeeded to track users' attention with its own integrated services. In the contrary, other vendors are leveraging on Google's strong mobile ecosystem to make stronghold in the market. Amazon is trying to keep more control over its own advertising and services. As the demand of Kindle Fire is rampant, it's encouraging more number of developers to create apps the Amazon's tablet.
Overall, Samsung is selling its tablet in a significant number of countries, while Amazon is selling to limited markets. It's clear that Amazon is ahead of Samsung in the U.S., which is one of the matured markets. Of course, if Amazon goes more number of countries for selling of Android tablets, it could be a lesson for Samsung.