Apple introduced iPad in 2010, and that time, 10-11 inch screens were considered quite suitable for the users. But the myths changed before the end of 2011, when Amazon launched 7-inch Kindle Fire. Now, the market is flooded with low-priced 7-inch tablets. According to a recent report, the global tablet shipments are expected to hit 170-180 million units this year, up from around 130 million units in 2012. Interestingly, 7-inch tablets are going to see higher growth momentum this year, compare to 9-11 inch tablets.
However, Apple is still dominating in overall tablet shipments, but due to the advent of many hardware vendors in the segment, its tablet market share has continuously been declining since the last year. Despite, the company is expected to hold majority of tablet market share among 9-11 inch categories this year. On the other side, Android-based 7-8 inch tablets are expected to gain larger market share in 2013. In addition, Apple's new baby 'iPad Mini' is also likely to see substantial growth this year.
Last year, 9-inch tablets showed off 35% Y/Y growth in terms of shipments–73.4 million tablets were shipped in 2012, accounting for 59% entire global tablet shipments. Meanwhile, sales of 7-inch tablets nearly doubled to 41.1 million units, accounting for 32% of entire tablet share.
Furthermore, IDC has also predicted that sales of tablets ranging 7-8 inch would account for over 60% of total shipments in 2013, compared to 33% in 2012. The growth of small tablets (smaller than 8-inch) would be fueled by their low-priced availability. In addition, both Google and Amazon's 7-inch tablets are likely to surpass 10 million units figure, or even higher, in 2013.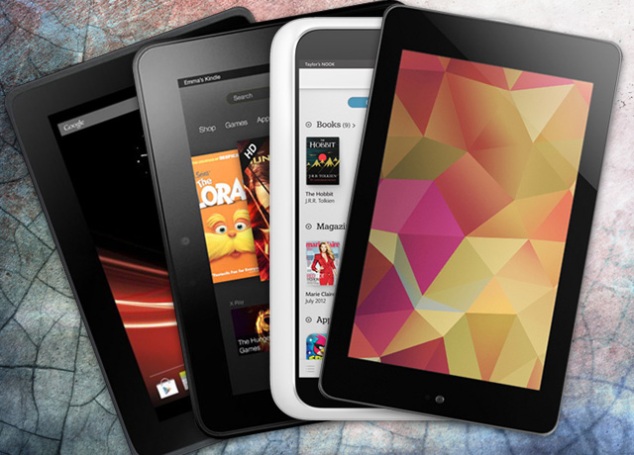 However, there're numbers of rumors related to Apple's iPad. As the company has sliced components' (iPads' panels) order, it's said that demand of the iPads would drop in current quarter. On the other side, a china-based market research firm—TrendForce—has reported that display panel shipments for iPads grew 25.6% to 19 million units in December last year.
Apple's iPad Mini is still selling well, and it's expected to cannibalize the sales of larger size iPads. On the other side, Samsung has also aimed to double its tablet shipments this year; the company has  planned to ship 30 million tablets this year. Just a day before, Samsung's top executive confirmed that the company will launch an 8-inch Galaxy Note Tablet later this year.