Last month, we discussed about the consequences when Apple would dump Intel processor from its Mac lineups. Indeed, it astonished everyone, whether Apple really became self-sufficient to develop processor for its Mac personal computers. It was speculated that the company was trying to improvise its own chips (running on iPhone and iPads) that could run its Mac computers. But in early December, a rumor suggested that the iPhone and iPad might soon run on chips that would be developed by Intel.
Interestingly, Intel is currently struggling to make its presence in the mobile market; about 1% of mobile devices in the market are being powered by Intel chips. This time, Intel really needs to work hard for its mobile chip business. Furthermore, it has been noticed that Intel chip-based Smartphones (running on X86 processors) are reasonably well with the world's leading Smartphone platform (Android).
It was said that Intel had agreed to build ARM chips for Apple's iPhone and iPad lineups. Of course, as sales of PCs are gradually declining day-over-day, Intel is looking to extend its business on mobile platform. Intel chips (running on iPad and iPhone) would bring chunk of revenue for the company. But, why Apple is trying to make such drastic moves? As Apple-Samsung relationship is gradually worsening, Apple feels that it's time to make a strong relationship with some other chip company for future prospects.
It's clear that Apple wants to continue its relationship with Intel for the processors, powering its Mac PCs. Besides, the Cupertino-based company has tied up with Nvidia as well. But a new job posting suggests that Apple wants to do something different. The company is currently seeking for electrical engineers to work for its Mac desktops system engineering team. The company has posted on its job site that it's looking for employees those having experience with Intel chipsets as well as AMD and/or Nvidia GPUs. See the image (below) what Apple is actually looking for: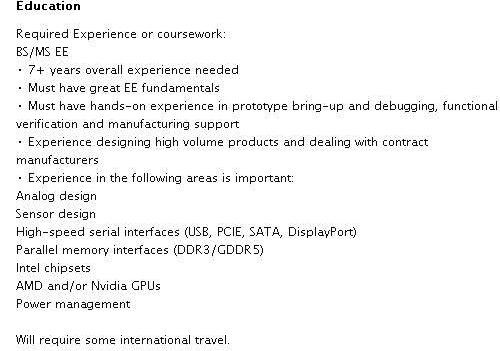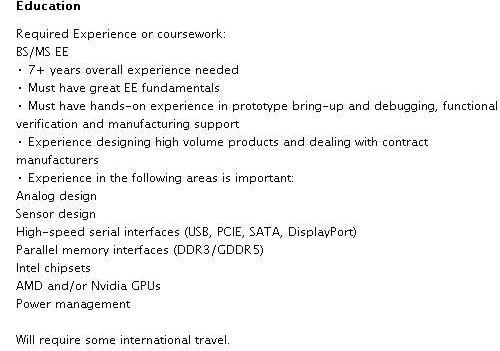 The latest Mac Minis currently use integrated Intel Graphics, while Mac Pro lineups use AMD Radeon graphic cards. On the other side, Apple's brand new iMac offers either NVIDIA GeForce GT 650M or GeForce GTX 680MX graphic inside. Apple has teamed up with NVIDIA, which is currently providing graphics for both the iMac and new MacBook laptops. If Apple takes any drastic move this time, definitely it will affect its relationship with NVIDIA.
Just a few weeks before, Apple promised to manufacture a portion of Mac lineup on the U.S. soil. As per Apple's recent job post (require engineers with AMD GPU experiences), should we consider that it wants to abandon NVIDIA?
In October, Apple introduced number of posts on its job blog, seeking for a SoC (system on chip) modeling architect/lead. Apparently, the company is now endeavoring to design improved power consumption and better performance SoC for its Mac PCs. Anyway, this time, it's really tough for anyone to predict what Apple wants to do. Number of different rumors related to Apple (working on SoC) has been blown up over the past couple of months. But one thing is clear, something is definitely cooking inside the company.