Last Friday, Apple's shares fell 3.8% in early trading, and its market capitalization reached to $479.56 billion. We couldn't claim but some earlier predictions were responsible for the company's market share to decline on Friday. A UBS analyst predicted that sales of iPhones and iPads would drop in Q4 this year. The analyst estimated that the company could ship just 25 million units of iPhones for the quarter ending March (in the fiscal year 2013). In addition to this, iPad Mini was expected to cannibalize the larger iPad, and it would not be easy for the company to ship 20 million iPads in Q4 2012.
It's estimated that iPad Mini and iPad 4 will account for half of all iPads' sales in 2013. But it would not be a good hearsay for the company as lower-cost and lower profit-margin items are cannibalizing the sales of the higher cost and higher profit-margin items. It's well known that Apple's stock market reached to peak on September 19, and then it had seen 20% drops from October to November this year.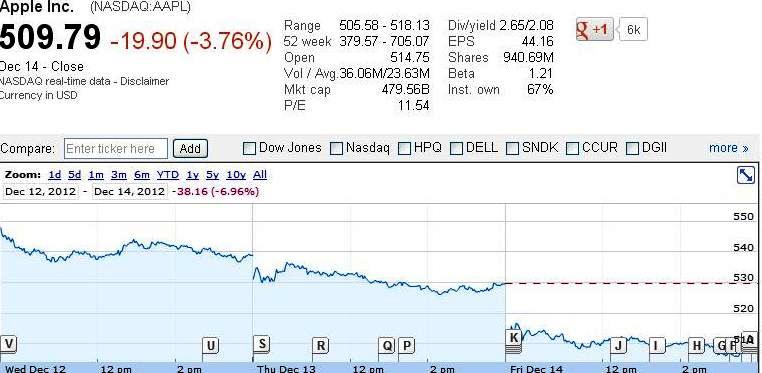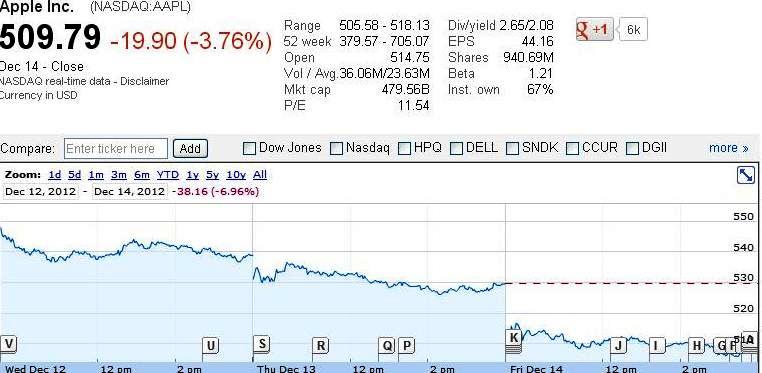 Today, Apple announced that it sold more than 2 million units of the iPhone 5 in China over the weekend, since its debut in the country on December 14. At the time, iPhone 5 is enjoying much  stronger demand compare to its predecessors (iPhone 4S). After 2.5 months since the launch, iPhone 5 has shown 30-40% rise in the demand index over the iPhone 4S during the same period since its launch.
Interestingly, citing to supply chain, Digitimes said that shipments of key components (require to build the iPhone 5) would be increased to 13-14 million units in November, and it would reach 16-18 million units in December. Besides, 40 million iPhones are expected to be shipped by the end of Q4 this year.
However, customer response to iPhone 5 in China has been incredible till date, which is going to set a new record. More importantly, the product (iPhone 5) has set a record as the fastest selling iPhone ever in China in a week span. Moreover, Apple could not succeed to make its presence among the list of top five Smartphone vendor in the country in Q3 this year. But, it could make its presence by the end of this quarter due to robust demand of fifth generation iPhone in the country.
Anyway, we have already explained that stock market can't decide the future of any company. It's Apple, which has created its market value due to innovations over years of endeavors. And this is the reason why it's the world's leading company in terms of market capitalization. Furthermore, iPhone 5 will be available in more than 100 countries by the end of this year–which will make the fastest iPhone roll out ever. Of course, we could see strong demand of iPhone 5 and iPad Mini in Q4 of this year (especially in this holiday season).