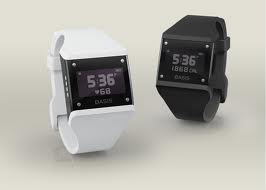 Doesn't it sounds good when a trendy fitness gadget monitors the food going down your epiglottis and then tweaks you when your saturated with your calorie limits? What if it motivates you to take that extra step when you're almost done? After all it keeps an eye on your every move and it can be your most trusted Fitness-Guru, with one time investment. Yes many such gadgets are available in the market now, and the top most gadgets listed below,
This wristwatch health tracker, hordes a lot of expertise. It is accomplished with  accelerometer to track your steps and galvanic skin sensor to detect your sweat. Also, has an optical blood-flow sensor to track your heartbeat. It has a skin temperature sensor and an ambient room temperature sensor, to track the temperature of the body is due to the work outs or because of the room temperature.
Fitbit tracks your steps, distance traveled, calories burned, stairs climbed and your sleep. It easily clips to any outfit we wear. It syncs with smartphone through Bluetooth, also syncs by USB or Wi-Fi on your computer. It assists in monitering the time and also wakes you up in the morning. The Fitbit Zip for tracking kids is also available. The battery lasts for 10 days and comes with the water-resistant module. Most interesting thing about this is it just reminds you to move, when inactive for long time.
Larklife also tracks steps and distance moved. Also, it tracks the type of exercise and time spent doing it, with track of calories burned. If you have been inactive for a while, it tweaks you to get moving. It tracks your sleep and offers tips about it. The best thing is, it tries to reduce the dullness of manually entering the meals you eat. It insists the best time for you to eat and how much to eat too.
The new Nike+ FuelBand gadget is a wristband, which captures data on a various activities we do, may it be throwing a ball or skipping. It notes information on exercise time, calories burned and overall movement. One can set a daily NikeFuel goal and track your progress. It can tell you the time, your goal, distance covered  and other text-based information. One can also share the information on the goals achieved to Facebook and Twitter as well.
This gadget is like a watch-like band around your upper arm. The device is smaller than previous armbands created by BodyMedia. It claims to calculate the accurate calories burned. Sensors track your move, your sweat level, the rate at which heat exists the body, your galvanic skin interaction, and skin temperature. It also calculates the calories you burn throughout a day. It keeps an eye on the time spent in sleep and also the time taken to fall asleep. BodyMedia gives you the information about steps taken, calories burned and your sleep patterns.
This one is exclusively for professional athletes. The heart-rate monitor and wristwatch provided are the first performance-level strapless monitor that can measure heart rate accurately at up to 12 miles per hour. It uses optical blood flow technology to observe the volume of blood under the skin. This measures the heart rate and calculates other data such as speed, distance, pace, and location. This can be connected it via Bluetooth to Smartphone (The device is not available yet, but the company says it is launching soon).
This is a "compression shirt", sensors for tracking an athlete's bio-metrics. It captures heart rate, breathing rate, lung capacity, acceleration, body positioning and motion. The device has an accelerometer, microprocessor, and built-in storage, and it connects wirelessly to any Smartphone, Tablet or even a computer. Under Armour targets the college and sports teams (It isn't available just yet).
This is a great tool for runners who wish to take their training to the next edge. This is designed to fit a pair of compatible adidas trainers or clips on to pair of standard running shoes. Once it's activated, it records up to eight hours' of data relating to running speed, acceleration, distance traveled and pace. The data can be downloaded to a PC or Mac computer, allowing you to track your performance. One can also share results and compete with other miCoach users, is a great advantage and a unique feature.
This tracks moves, including steps taken, distance travelled, calories burned, workout pace, intensity level. It also monitors your sleeping patterns, gives you a daily sleep assessment and even works as a gentle alarm. In connection with the free app, you can also keep track of your meals and set fitness challenges to work towards success (Although it's currently unavailable in Australia, it can be purchased online).
This gadget is for  cyclists, its convenient and safe way to hold your iPhone or iPod during your ride. Its water and shock-resistant case attaches to your bike, giving you clear access to the iDash (dashboard) that records speed, time, distance, temperature and maps the trip. The free iBike app supports multiple rider profiles so you can compete and share results with other cyclists. With an optional Bluetooth headset, you can also receive calls.
It's a heart rate monitor (HRM) that works in conjunction with the Smartphone app, offering real-time heart measurement based on your workout performance. To check the HRM unit, attach it to your body with the strap given, Once the app is installed on your phone. It gives, average and maximum heart rates, a heart rate chart and distance traveled. The data, can be uploaded to the Sports Tracker website to share with other athletes. The battery operates for up to 40 hours and the HRM is water resistant (Available online).
This can be wrapped around your arm and connects directly to a Smartphone device to measure blood pressure. The built-in monitor will test, track, graph and shares blood pressure readings directly and provides instant blood pressure and pulse measurements. So you can share the data with your doctor, all information is contained within the app and it also backs up automatically.
Well, we are on the verge of explosive production of sensors that are able to capture many kinds of data from our body. I think, that this is a very promising direction. This is mostly like a one-time investment personal assistant who will be able to monitor and analyze the state of our health, will be in no less demand than Smartphones and Tablets.