It's beyond the shadow of doubts that Nokia has been going through rough patches over the past couple of years. Its no big wonder to believe on any rumor which states that the company wants to sell out its Finnish headquarter. But it's true, just two months before, it was rumored that the company was agreed to sell its head quarter to a Finnish commercial real estate company, Exilion, for €200-300 million ($258-386 million U.S.).
For 14 years, Nokia was the leading Smartphone vendors in the world, but it lost its throne to Samsung in the first half of this year. Now, Nokia is not even among the top five Smartphone vendors around the world. Nevertheless, it hopes to regain its market share with the sales of Windows Phone-powered Lumia models.
Nokia has recently unveiled its latest Windows Phone 8 device–Nokia Lumia 620. The phone is smaller (and cheaper) than the company's other existing Windows Phone 8 powered Smartphones such as Lumia 920 and Lumia 820. The device (Lumia 620) features 3.8-inch screen, 1 GHz dual-core snapdragon S4 processor, ClearBlack display (to improve the viewing experiences outdoors in bright sunlight), and it will be launched in some new casing colors including lime green and orange.
Besides, Lumia 620 will include NFC, five MP auto-focus LED Flash camera and Nokia specific Windows Phone 8 apps/features such as smartshoot, Cinemagraph, Music Drive, Transport, City Lens and Maps. The phone is the cheapest Windows Phone 8 device so far (cost $249 before taxes), and it's expected to ship first in Asia-Pacific, Middle East and Africa in January this year, soon thereafter, it will be launched in Europe and Canada. However, it's pretty much clear that the company has targeted to emerging markets with Lumia 620.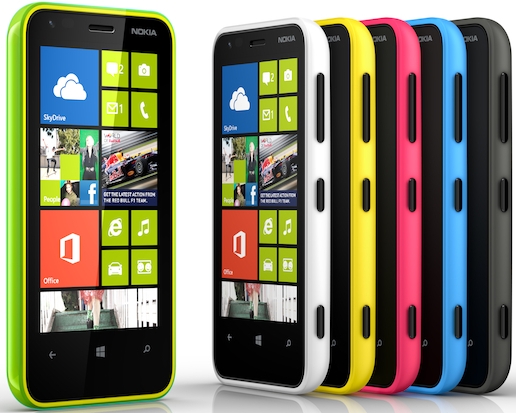 More importantly, Nokia Lumia 920 is currently running short of supply in several regions in the U.S.. According to a recent report, iPhone 5 was the top selling Smartphone in the country in the last month, followed by Samsung Galaxy SIII and Nokia Lumia 920. On the other side, HTC 2498 Windows Phone 8X topped the Lumia 820 at T-Mobile, and Lumia 822 at Verizon Wireless (VZ). Anyway, it would be a great hearsay for Nokia that its Lumia 920 was among the top three Smartphones in the last month.
Apparently, Nokia's Lumia 920 sales are expected to continue in the coming months as well. Furthermore, Nokia has planned to foray emerging markets with 620 model.