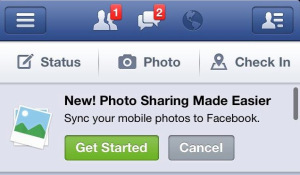 It happened to me few weeks back only and left me wondering what, how and who did it? I blamed myself for mishandling my Galaxy Note but today I finally found the culprit none other than Facebook who completely jeopardized my private life and left me to face some embarrassment among my social contacts. After few weeks of limited and private roll out of 'Photo Sync" feature for mobile app users, Facebook has started public roll out of the very feature today. The new feature – specially designed for mobile app users – automatically syncs all your clicked photographs in background with Facebook.  Though, the app feature uploads all your photos automatically to a private folder on your Facebook account, the debate has already been triggered over the possible damages users could face.
Everyday more than 300 million photos are being uploaded over Facebook and the rate is bound to grow up in future. Facebook has reportedly 543 million mobile users and most of them are accessing the social giant via mobile app. Camera in Smartphones is no more an option these days and with growing social photo communities like Pinterest and Instagram, most of the users are actively mixing their camera experience with social networks.
However, users are still considering and handling their social life as a parallel existence and don't expose most of the activities socially. Clicking and keeping many such memories of their nearest and dearest ones are such an act where users are still sensitive and prefer to make manual selection before exposing to the world – be it digital or social.
Facebook's 'Photo Auto Sync' feature will, apparently, evade the comfort factor among users as they will always stay resistive towards the mobile click due to the hidden processing nature of this feature. Indeed, the feature could be the last things one will look for users don't look very positive and comfortable with this new feature. Facebook could always bounce back stating that the feature is an optional one and users could easily deactivate on their mobile app, if ever they don't wish to enjoy it. Also, company can also add that all photos which would be synced automatically will reside in a 'private folder' and it will be users who will finally decide what to expose and what not. Unfortunately, keeping the Facebook's privacy record, I am not ready to buy this. As far as mobile option is concern, there could be (and would be) instances when you share your smartphone will your family or friends –especially to play games on the go. And, one can't screen the settings of each and every app installed on smartphone every time your kids or friends surrender it back to you.
But, this doesn't mean that the feature holds only the negative impact. The positive side of the feature allows mobile users to recover all their rare clicks any time at the time of crash or accidental deletion of complete image gallery. Facebook 'Auto Sync Photo' feature will become very handy in such situation by acting as your instant auto backup of your lively clicks.
But, at the end, it's you who need to well-calculate the scenario and decide what is more crucial for him – staying precautions or stay ready for those bad days. You decide ! Btw, if ever you have updated your Facebook mobile app recently, don't forget to check the "Photo Sync" setting; you may be exposing your hidden part of your life to Facebook atleast !