Rediff.com – India's premier internet property – has reported the net loss of $2.34 Million in the 2nd quarter ended September 30, 2012 (Q2, FY 2013). The company is constantly struggling with losses quarter over quarter for last few years. In Q1 ended 30 June (Q1 FY 2013), company recorded loss of $2.62 million.
Despite of year-over-year losses company CEO Mr. Bala Krishnan is still quite optimistic to turn the table around in next few quarters. His consolation is backed by 7% Q-o-Q increase in advertising revenue that company has recorded in Q2. The growth is primarily driven by service industry positive attitude towards online and digital marketing initiatives. Advertisers from IT, Education, Real estate, Online Shopping and Insurance sector industries have backed the ad revenue growth. However, the growth was compromised by dull response from clients in Online Jobs, Online Matrimony, Travel, Auto and Telecom sectors.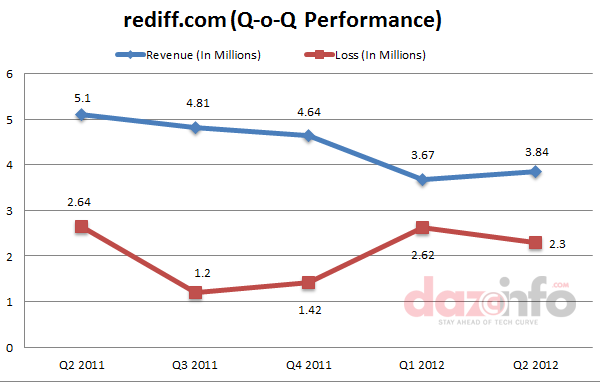 The above chart clearly showcases how rediff.com revenue is constantly declining Q-o-Q while loses mounting up. It's only last quarter that shows a negligible sign of recovery, compare to previous quarters.
Almost 78% of total Rediff revenue came from India Online resulting in 28% decline compare to same quarter of last fiscal year. While Rediff managed to record $1.99 million from online advertising, fee based services, like deal offerings, Mobile VAS etc, contributed $97 million in revenue recorded from India Online.
Despite of being the 3rd largest country over Internet (in terms of users), India is still lagging much behind in consumers' confidence over internet compare to other countries. The Digital Advertising industry in India is expected to stay worth $900 Million in FY 2012 – 2013 backed by Travel and auto industries with highest contribution.
However, despite of another disappointing quarter, Rediff management is optimistic about the revenue growth from Online Advertising in next few quarters. Indeed, market is open and there is quite a room of opportunity for rediff to grab – $900 Million digital advertising industry is lucrative enough.