It's already a known fact that Facebook changed the email address of its users (without their permission) to *****@facebook.com and now, Facebook is trying to roll out a feature that would mostly resemble like the working of an email.
Facebook announced that it is going to redesign its message feature. After the new message redesign, users can now see the most recent messages on the left side of the page and the detailed message on the right. It's almost similar to that of Outlook. The cons of this redesign would be users no more would have to go back and forth from the message page.
Now users can also send and receive many photos and emoticons, in order to make the messaging experience complete. Also users can search for the messages by sender's name or keywords from the main message view. For easier navigation there are many keyboard shortcut key, for which you need to type Alt + Q (on a personal computer) or Ctrl + Q (on a Mac).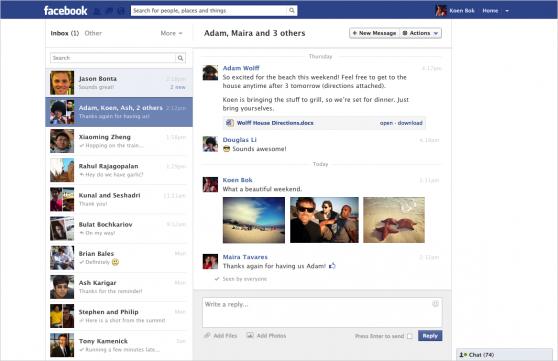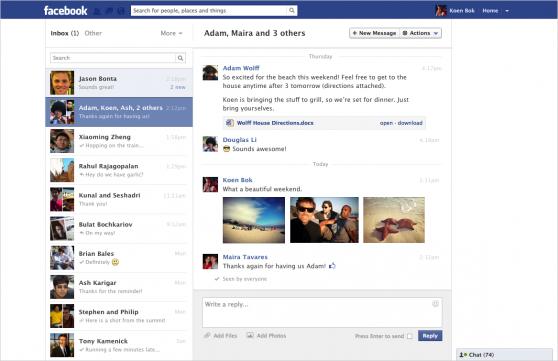 This update is done mainly in an attempt to convert or trigger the traditional messaging service into more like an email service in the near future.
Top email client services used around the world like Gmail, Hotmail (Now known as Outlook in new Avatar) and Yahoo together have over 1 billion users and some of these users are Facebook users too. So if Facebook successfully rolls out the email like feature, some the users using other email clients can get engaged in Facebook as well, improving the overall Facebook engagement ration. But most of them most probably wouldn't dare to send personal or professional type mails in Facebook as other email clients like Gmail services are far more secure and has many update features.
Also Facebook might launch its own Job search board in the coming months. The job search board will include job posting from various third-party job providing companies. And this feature (message redesign) could be the initial spark to help job-seekers communicate more easily with the officials.
All these changes might happen within this year or may be it could take slightly more time, until that we need to wait and see.