While Email is one of the the strongest online activities in the world, Mobile Internet usage is drastically appreciating too. A significant increase in the exchange rate of emails is seen in mobile users when compared to web-mail and Desktop emails. Marketers rely on mails for their promotions and email marketing is increasingly becoming vital for the marketers worldwide to successfully promote their products to their customers keeping the mobile internet penetration in mind.
According to the emarketer, email continues to be effective marketing media for marketers and over 1/3rd of emails worldwide are opened on mobile. The email open rate is sequentially increasing in the recent previous years though the click-through rate is slightly decreasing. The open rate was 26.2% in the 1st quarter of this year and a non-bounce of emails with 96.5% was recorded in North America.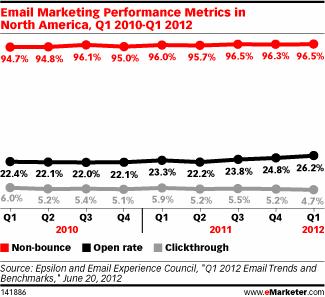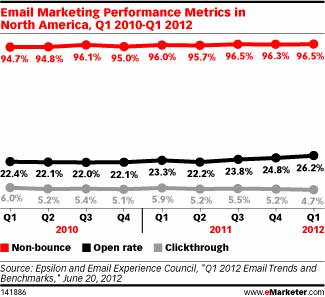 Though email continues to be a vital tool for the marketers, especially via mobiles, yet a majority of firms(about 51 %) are still not willing to integrate mobile into marketing. As the number of mobile users are growing at a rapid rate worldwide, it is an important platform for email marketing. But mobile optimization for emails to interact with customers is only 29%, which is low.
However, emails are still widely applicable to the purchaser in the U.S, as more than 9 in 10 adult users online will send an email at least once every month of this year, as per the estimation of 'eMarketer'. 43% of respondents from various parts of the world said yes or supported the integration of email and mobile for marketing, as on April 2012. 32% of the respondents say about the use of mobile optimized landing pages/website (see the image below). 25% say about capturing mobile numbers at the time of email sign-up, 22% say about the use of mobile-optimized templates and 21% with cross-channel email/SMS campaigns.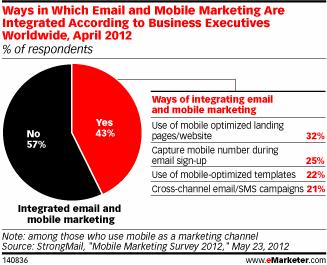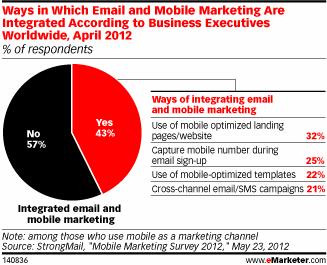 Marketers need to definitely emphasize their view over building a strong mobile optimization strategy for emails, in order to target more consumers (especially consumers using mobile devices most of the time). Marketers need to optimize the functionality of email integration that would fit with different screen sizes and different mobiles.