Mobile devices are significantly increasing day-over-day and indeed, it's the need of the time to optimize the websites  for mobile platform. Despite of this, just 49% of companies are considering to integrate mobile into their wider marketing activities, whereas for 35%, the integration is just basic, reported by Econsultancy.
Does Organizations Have Really A Strategy To Integrate Mobile Into Broader Marketing?
Just 49% of companies (responded during survey) are interested to integrate mobile into their broader marketing campaign. Among these, 35% believes that mobile integration is very basic, while just 14% are more serious about integrating mobile into their marketing campaign. On the contrary, 51% companies (respondents) are not willing to adopt the mobile platform for their marketing campaign.
How Companies Are Using Mobile Channels For Brand Interaction? 
How companies are really interacting to their clients for brand promotions, is interesting.  50% of companies encourage their customers to interact with their brand using QR codes; on the other hand, 35% have created their mobile apps for the clients.
Optimization of emails for mobile is also an important part of the strategy to interact with clients on mobile platform, but the involvement of marketers is quite low, just 29%. However, there are also some other ways to interact with client on this platform such as location based marketing, SMS, MMS  and even near-field communication (NFC).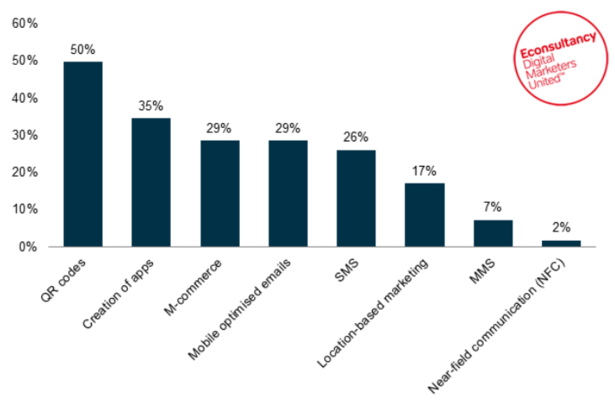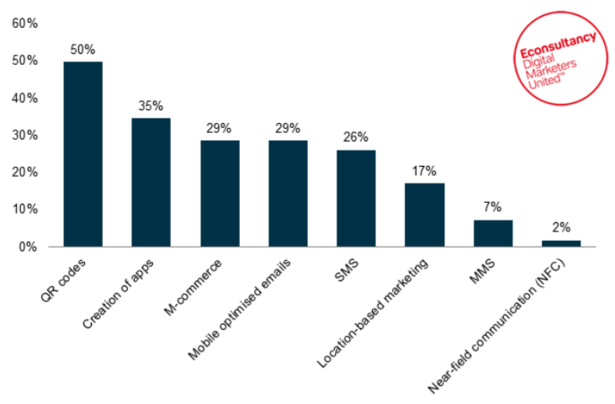 How Marketers Are Engaged With Different Types Of Mobile Marketing?  
It's epochal to know how companies are likely to take part in different types of mobile marketing for promoting their business. 35% of companies are engaged with mobile search marketing, followed by push notification, mobile display advertising (banners) and advertising on apps with 27%, 25% and 22% respectively. Just 12% of companies (those integrated mobile for marketing campaign) use mobile display advertising (video) for their campaign.
It's pretty clear how mobile integration is important for marketing campaigns. Ironically, over half of the companies around the world are ignoring to accept such platform for the promotion of their business. However, some companies are held back due to some organizational issues, but some are trying different stunts for the their marketing campaigns such as optimizing emails for mobile platform and mobile apps rather than of using QR codes.