Google is taking its next step to burn down the URLs on its way, involved in infringement as per the vast requests from various Copyright Owners since July 2011. Google is going to remove all the targeted URL's from its Search Schema. If Google is successful in doing the same in the future, it will indirectly be beneficiary to the Copyright Owners in terms of Revenue.
Copyright Complaints:
Various Copyright Owners want Google to remove many URLs or Domains  from its search results and Microsoft Corporation is top in the list. "Marketly IIC" is the top reporting organization for the piracy by various URLs in the previous month. A maximum of 334172 URLs were requested to be removed in March 2012. Google might come up with some strategy in the future where they can directly notify or warn "the Copyright pirates" before getting involved in infringement.
Microsoft complains that most of the websites are found providing fake Windows OS and other softwares illegally. It's Google's decision to spot out the genuine requests from the long list of Copyright breaching URLs  and target only those Websites or URLs responsible for trespassing privacy laws. Most of the porn, music, file sharing, entertainment websites are listed in the targeted websites.
Following is the statistics of Google's  Transparency Report for the URLs to be taken down as per the requests from the top reporting organizations and Copyright Owners from the past month.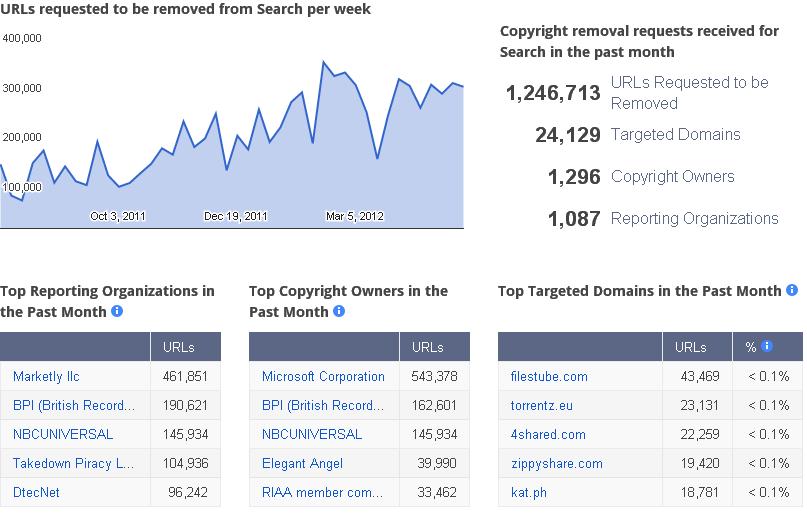 Sites like evilangel,extratorrent.com, Lynda.com, torrentz.eu, pornpros, intporn etc are the top targeted URLs. About 250000 requests are made per week and about 1.2 million requests were made in the previous month alone to Google.
Google announced in its official blog:
"We don't want our search results to direct people to materials that violate copyright laws. So we've always responded to copyright removal requests that meet the standards set out in the Digital Millennium Copyright Act (DMCA). At the same time, we want to be transparent about the process so that users and researchers alike understand what kinds of materials have been removed from our search results and why."