Who largely enjoys the biggest pie of Android market share? Generally, the answer would be either Samsung or HTC. But you would be surprised to know that it's Amazon who has secured the biggest size Android market share by controlling more than half of the market through its Kindle Fire.
There's a fierce competition between Tablet manufactures across the world. However, the Tablet space is globally dominated by Apple's iPad. Apple brought its new iPad in the market in March of this year, and sold over 3 million units within three-days of its launch. In the third-quarter of fiscal 2011, the market share of iPad was 61.5%, but it declined to 54.7% in Q4 of the same year. The reason is quite obvious, Android-powered Kindle Fire swiped iPad's market share in Q4 (calender) of the last year after its (Kindle Fire) advent in November same year.
According to a recent report On Android market share from ComScore, Kindle fire has alone dominated more than half of the Android market in February of this year. The report has also revealed that the Kindle Fire had 54.4% of the market share in February of this year, up from 29.4 %  in December last year. On the contrary, Android market share of some other big player such as Samsung, Motorola, Acer, Sony and Dell have been continuously declining since December last year.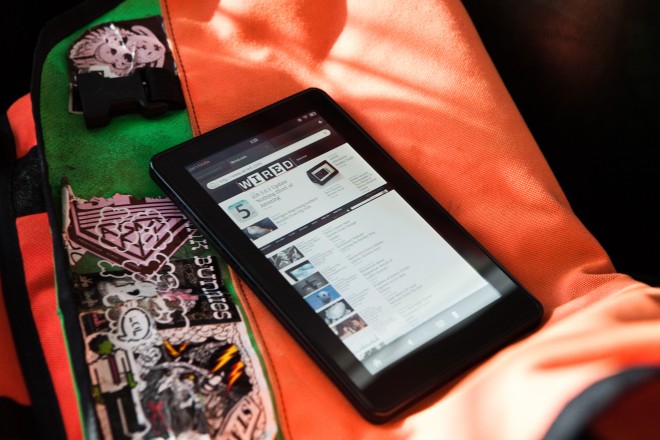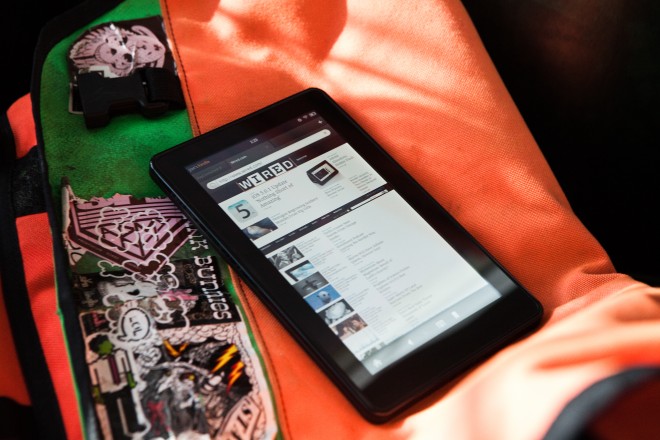 Now, there is a big question; why Android OS is far behind compare to Apple's iOS in the Tablet space? I have described numbers of reasons earlier, however, Kindle Fire is only Android-powered device which gave a little competition to iPad in Q4 of the last year. Undoubtedly, Kindle Fire had proven itself as a phenomenal Tablet in the market till the end of the last year.
The Android market share of Samsung Galaxy Tab, Motorola Xoom, Acer Picasso, Dell Streak and Sony Tablet S were 23.8%, 11.8%, 6%, 2.2% and 0.9% in December 2011, down to 15.4%, 7.0%, 4.3%, 1.3% and 0.7% in February of this year respectively.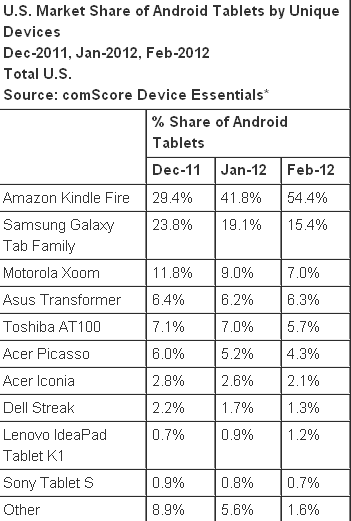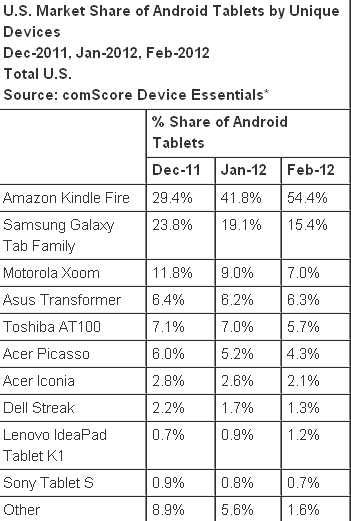 Although Apple is currently working on its "iPad Mini" project,  but, the penetration of 10-inch tablet is still high in the market. The report states that 10-inch tablet has 39% and 58% higher consumption rate than 7-inch and 5-inch Tablets respectively.
However, numbers of factors such as demographics, connections speed, ease of portability and content availability are also somewhat making its influence on the consumption levels of Tablets. Presently, marketers are more emphasizing on smaller-sized Tablets. But, advertisers and marketers should understand that these small-sized devices might limit the opportunity for advertising compared to the larger-screen counterparts.
Here, you might little bit startled with the information that one side the increasing demand of 7-inch Amazon's Kindle Fire has compelled Apple to work on a 7-inch device, while another side market penetration of 10-inch Tablet is still higher than 7-inch Tablets. Indeed, Apple's iPad had 61.5%  market share in Q3 last year, declined to 54.7% in Q4 in the same year, but sold 15.4 units, which were quite higher than Amazon's Kindle Fire, reportedly sold 6 million in the same quarter. Apple also sold, 11.8 million Tablets in Q2 of its fiscal 2012, and we might expect even more in its next quarter.
Anyway, thanks to Amazon's Kindle Fire, which has somewhat endeavored to maintain the dignity of Android OS in the Tablet era worldwide. If we think as per marketers and advertisers perspectives then undoubtedly 10-inch tablet is quite suitable for them. If the growth of Amazon Kindle Fire continues in the same fashion, it would be difficult for Google to have significant control over Android market share which would surely lead to a complex situation in mobile OS market in future.