From earlier report, the adoption rate of iOS and Android devices are two-folds than internet adoption and four-folds than PC adoption in US. Despite of this, the mobile platform is still lacking to make dollars from ads. However, a recent IAB report revealed that 63% of the top brand marketers increased their mobile advertisement last year and 72% are still planning to spend in next two years. Recently, a research analysis firm Flurry compared ad spending and consumers time spent by different media such as TV, Print, web, Radio, and Mobile in US.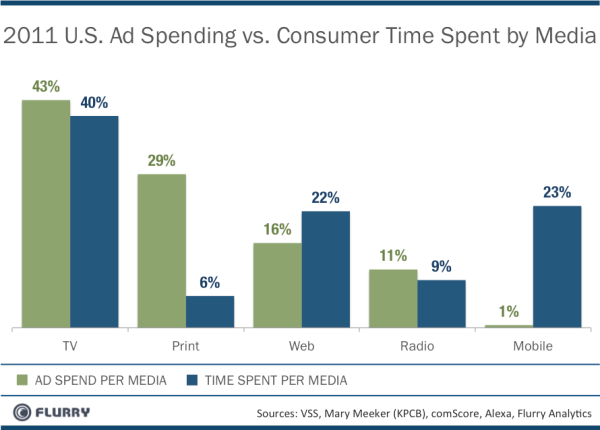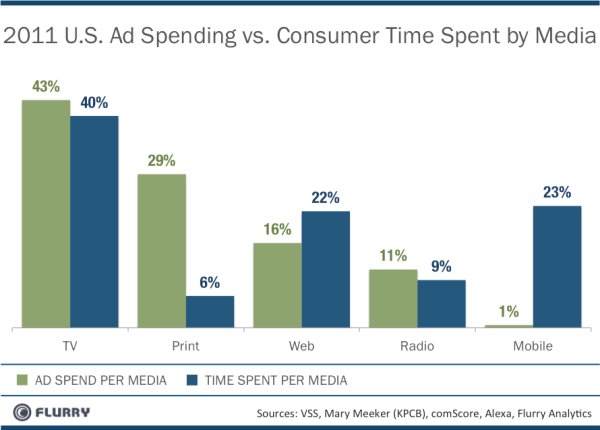 The ads spending (43%)  were most on TV followed by Print with 29% of spending, whereas, Mobile contributed just 1%. Despite of having highest adoption worldwide, it contributes minimum among all media. In time spent aspect, TV dominated over all followed by mobile. In this segment, print media contributed just 6%, while, web and Radio channels succeeded to grab media spending of 16% and 11% respectively. It's pretty clear print advertising was over-spending, while, mobile advertising was under-spending.
The mobile ads spending platform is quite nascent, and the platform needs some time to reach at the rational level of spending compare to other media. Ironically, large publisher like Facebook hasn't yet monetize their mobile apps, for providing best experience of app to users on mobile. A recent survey reportedly stated 79% of largest advertiser had lost millions of customers last year due to unfriendly mobile site. The mobile apps are facing severe challenges and need to reinvigorate user friendly apps along with ads tags.
The firm selected 60,000 daily active iOS users among the available 6 million demographic data. Thereafter, firm calculated effective cost per mille (thousand)or ePCM earned by publishers. The display of eCPM is on the basis of age, gender, household income, and educational level attained.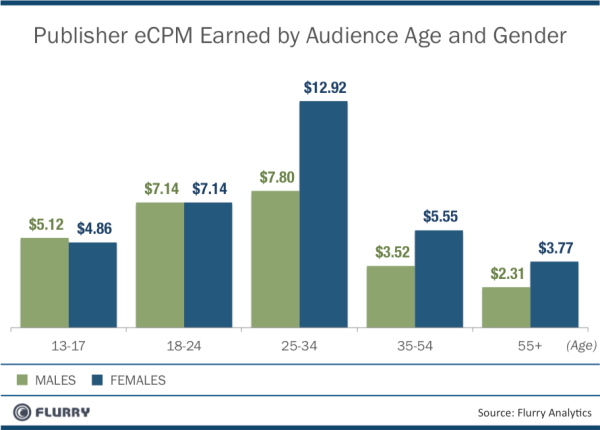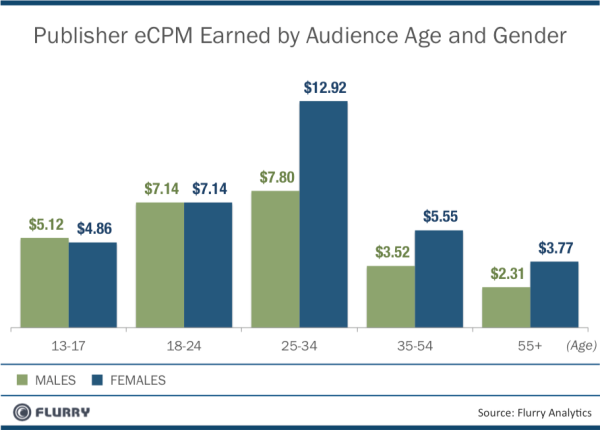 The chart clearly depicts 25-34 years old female succeeded to obtain the highest eCPMs $12.92. It's pretty clear, female impressively accounted more ePCMs than male contrast to different age range except between 13-17 age groups. Female tied man between 18-24 age group, and dominated male 25 and older in ePCMs.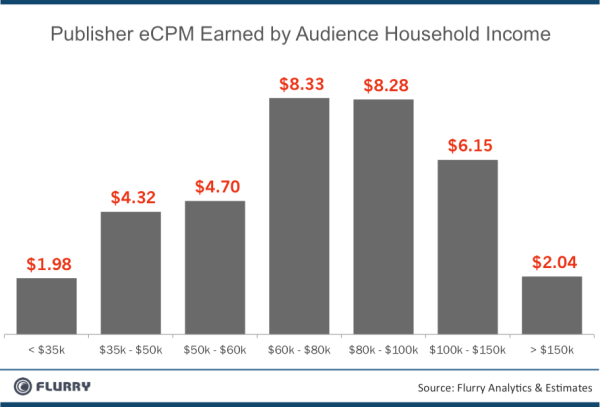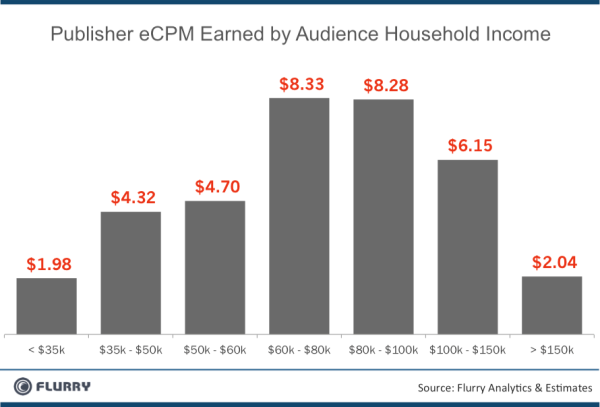 Publishers' eCPM earning were most for those who had household income range from $60,000 to $100,000. The chart demonstrates how affluent householders were  proportional to eCPMs.
This graph correlates the education level to eCPM generation—higher the education level higher the eCPM generation. Bachelors degree holders obtained highest eCPM (nearly $8) followed by master degree holder ($6.5).
Overall, the study reveals the higher degree holders and higher level of household income users are potentially more interact with mobile ads. The females—especially between 25-34 age groups—are more specific and interactive towards the mobile ads. The mobile ads address to more quality and quantity users. Mobile advertisement is substantially augmenting; however, it needs scalable and data-driven solution in order to fulfill the destiny of advertisers and publishers.
Source: Flurry