Yesterday we had mentioned Facebook's possible achievement of 1 Billion user mark by the year-end. Undoubtedly, India has significant contribution in company's mammoth success and now stands tall at fifth place in the list of "Top countries on Facebook". Out of 668 million Facebook users, 23.85 million users are from India alone.
Interestingly, while analyzing Facebook's India traffic, we have encountered many astounding facts. Financial capital of India – Mumbai leads the way for driving most of the traffic to Facebook. 15% of Indian Facebook users, which stands as 3.6 million, belongs to Mumbai. However, on global scale Mumbai is positioned at number 18 in the list of Top cities on Facebook.
It's Delhi and Bangalore which stand at number two and three place in the list of top Indian cities on Facebook. Though, both the cities contribute almost similar number of users to Facebook but Delhi leads marginally. With 1.56 million users Delhi pushes Bangalore to third spot which holds 1.52 million Facebook users. Again, on global scale, both the cities are positioned at 36 and 38th spot .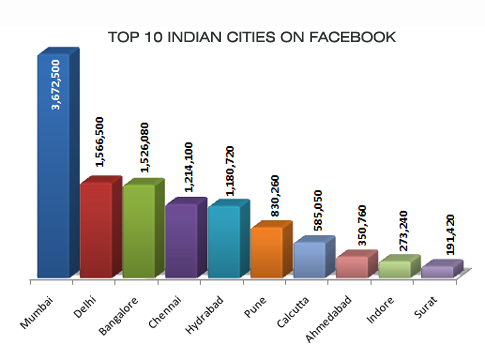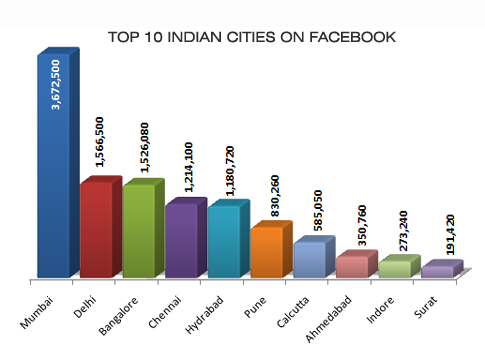 Chennai and Hyderabad secure number fourth and fifth place with 1.2 and 1.81 million users . While on global scale both the cities can be found on 49th and 50th position.
The other Indian cities which have secured a place in the list are Pune, Calcutta, Ahmedabad, Indore and Surat. Though all these cities have less than million users' contribution each but with an impressive penetration rate all such cities are bound to improve their place on global ranking.
Jakarta tops the list of Top Cities on Facebook (Globally) with 17.48 million users contribution, followed by  Istanbul and Maxico city which have 9.6 and 9.3 million Facebook users. There are many other interesting facts and figures about Facebook which can be learned from here.
Figures Source: SocialBakers