It seems that LG is in no mood to give any breathing space to other mobile manufacturers as company has spilled further information about its much ambitious mobile handset – Star. Today, in a press conference, company has revealed more information about much hyped dual-core Android-powered smartphone, codenamed – LG Star. Company has informed that upcoming handset will be known as "Optimus 2X SU660" – at least in Korea.
Much anticipated Optimus 2X claims to hold the fastest processor compare to any other smartphone till date. Loaded with Dual Core – Nvidia Tegra 2 processor– and just released Gingerbread OS (Android 2.3), Optimus 2X is one of the most exciting handsets for the company which is expected to see the launch by first half of next year. With four inch HD screen, 8 megapixel camera, HDMI-out and full HD video capture facility upcoming smartphone of Optimus family is expected to redraw the picture of market share for LG mobile.
Company is already overwhelmed with the success of Android 2.2 (Froyo) based 600 Mhz entry level Optimus One. Recently, company has managed cross over the milestone of 2 Million of handsets sales in just 70 days. While the first 1 Million handsets took 40 days to pickup the market, rest 1 Million were sold in just 30 days to replicate the same sales figures globally.
Today, LG has also announced another Optimus Range smartphone – LG Optimus Mach with 1 GHz processor. Loaded with Android 2.2 ( Froyo), 3.8 inch display, 5 megapixel camera and HDMI-out facility, Mach is expected to compete with higher level android handsets like Samsung GalaxyS, SE Xperia X10 and Motoroal Droid. After much exposed controversy over the upgrade possibilities of 600 Mhz processor based LG Optimus One, company has not made any delay to announce an upgraded model of Android smartphone.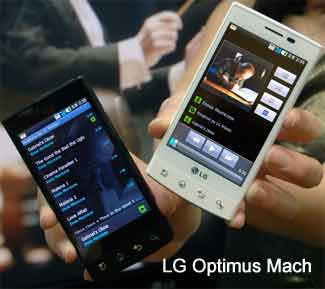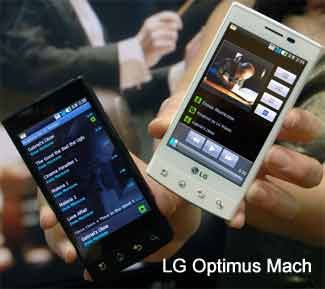 Anyhow, while further digging on dual-core LG Optimus 2X, we have found some interesting videos which showcase the inital Quadrant benchmarks and comparison with Samsung GalaxyS & iPhone. And the results are really shocking & impressive. Have a look on such videos below and enjoy.
httpv://www.youtube.com/watch?v=o30SNgE-Uqs&feature=player_embedded
httpv://www.youtube.com/watch?v=i96mGX0dpeg&feature=related
httpv://www.youtube.com/watch?v=jupCAy1rRYs&feature=related