It has been said that every good thing comes to an end one day and that exactly was happening with me when I decided to ditch my Nokia E71, one of the most loyal handset of my life, after two and a half year of great experience. Surprisingly, being fascinated by mobile handsets, it never happened to me before that I hooked up with any single handset for such a long period. Surely Nokia E71 made me loyal due to its performance and features. Even after two and half years, I have no solid excuse to ditch.
However, mobile industry has grown exponentially in last 2 years. People are expecting much more from their handset. Mobile is no more juts a communication device. Its your internet and computer mate which allows you to execute many computerized task like office, Internet etc.
After the phenomenal growth of social media, mobile handsets have become more as social media communicator than a voice or SMS communicators. The bug of social media is spreading just like 'Swine Flu'. You come across with another social media gimmick and you get that form him. From last 2 months I have been bitten by the same bug and that's finally making me to look for better handset which can provide me a better mobile platform for social media.
So, I was out for hunt – A Mobile Handset hunt. One of my close friend was also helping me out to find the 'best'. Oh my God – How many handsets in market, HTC, Nokia, Samsung, Sony, LG, Lava, Macromax and many that I forgot the names itself. Finally after screening the features and usability of many handsets, I reached to ground zero where I found two handsets for my current needs – Samsung Galaxy S and Sony Ericsson Xperia X 10. I know what you guys are thinking – Am I here to talk about Samsung or Sony or Nokia N8. Wait…Still I have not swiped for card So still room for analysis is open.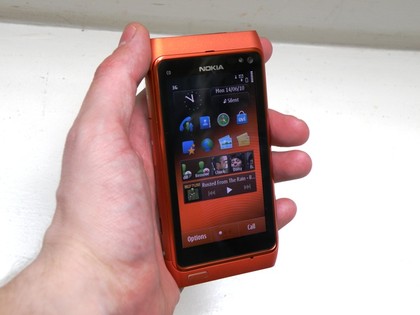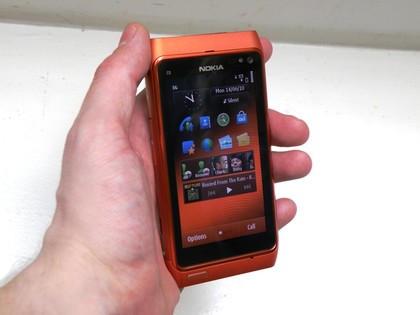 Suddenly I see a guy outside a Nokia Priority Dealer who was outing a rollup of "Pre Launch Booking Open – Nokia N 8". Wow, God wants me to give something better, I thought. I dropped out of showroom and headed towards Nokia showroom where I want to have more details on Nokia N8 launch in India.
All Started From Here
A blue T-Shirt guy ( Nokia's corporate logo color ) came to me and checked what's there in my mind. I ask him more details about Nokia N8 launch. He says , if you book now, I can get that handset on 15 October. That's great…So can I see the features? why features, I will show real handset itself, guy said. That's amazing, I thought. In just 2 minutes, he comes to me with Nokia N8 handset. First time ever, despite of reading and viewing many reviews on N8, I was experiencing Nokia N8. My expectations were crossing the boundaries. So, what's the platform – its Symbian 3. I took N8 in my hand and started juggling with the features. In between the sales guy updated me the cost of Nokia N8 – INR 25,500/-, which is indeed lower than Samsung Galaxy S and Sony Ericsson Xperia X10.
With 16 GB Built-in memory and 12 Mega-pixel camera with Carl Zeiss lens, surely Nokia is launching a tough competitor for GalaxyS and Xperia X10. AMOLED screen was another advantage which was making the phone better than Xperia X10. N8 was beating my expectation as well as Xperia and GalaxyS in my opinion. Galaxy S was lagging behind to N8 for Camera. Compare to 5 mega- pixel camera with no flash, Nokia N8 was equipped with 12 Mega-pixel camera with Carl Zeiss lens and dual flash which was promising that my clicks will be superb. On the other hand, Nokia N8 was surpassing Xperia X10 in terms of storage, camera & screen. Compare to Full HD screen, 8.1 mega-pixel camera and just 8 GB free storage card with Xperia, N8 was riding high with AMOLED screen, 12 mega-pixel camera and 16 GB built-in memory. Indeed cost of N8 was also better than other two.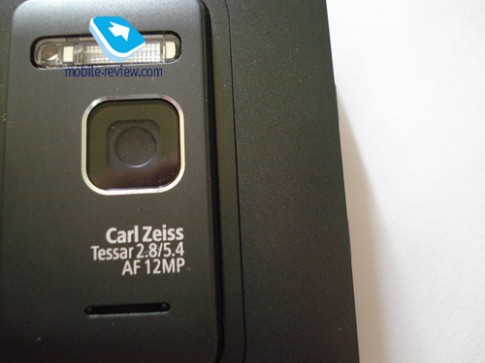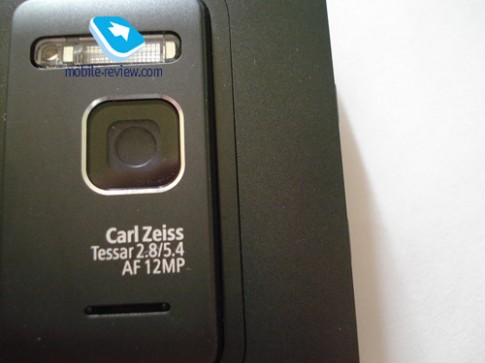 So, Is that mean Nokia is a clear champ among all…Shall I freeze the deal and wait for 15 October to have N8 on my hand. I decided to dig it further more. This time it's on platform and heart ( Hardware ). Sales guy started explain me to about the new Symbian 3 platform on which N8 is running, not Android or MeeGo. So what's so special with Symbian 3……Results were really shocking…I didn't find much change or anything new in UI or features. Almost same UI and navigation like Nokia E71 or E72. It was looking the same old wine in new bottle for me. Guy picked up my mind and started explaining about new Symbian 3 as he is presenting Windows 8, which is yet to release. Better performance, Faster startup time and faster applications, he said.
Better performance compare to whom ? With their own baby Symbian 2. Faster startup : How many times I restart my mobile in a week ? Faster Application : Only Nokia OVI store supported !!!  Moment when he had left nothing to support the same old UI of Nokia N8, then I thought to give another chance to Nokia N8. Processor. Suddenly he got excited and told me Sir it's faster than Android. Did I ever mention Android to him ? No. Anyways, He played a video and started showing faster forwarding it. Sir, see the process speed. No time delay. Instant forward. I asked "processor speed " ? "680 Mhz", he replied. Then how N8 can be claimed better than Samsung and Xperia who hold 1 Ghz processors, I tought. Anyways, he shows me the HDMI jacks, using which I can connect the N8 directly with TV and play high definition videos form my mobile on TV. That anew feature, but how many Business Users who will buy N8, actually for whom it has been made of, will try using all this with TV and that's also in India where getting HD movies are again not that easy ?
Suddenly he turns around and says, "Sir, its battery backup is much better than others". How many days, I asked. Minimum 3 days, he replied. Oh finally something truly great. But platform & apps consumes battery and in absence of any great platform and app, surely battery has nothing to exhaust.
So, all in all, I see no great deal with Nokia N8 while comparing it with Galaxy S and Xperia on Real Time usage scenarios. It offers few better features to people who don't belong to such usage category. I think Nokia has placed the bet in hurry and under pressure to launch something new.
Anyhow, I found no good reason to invest in another Nokia phone with all similar functionality, which I am experiencing from last two and half years, at such high cost. I simply walked away from Nokia showroom with disappointment and after half an hour I was a happy & satisfied customer of Sony Ericsson who was playing with Xperia X 10. Did I make a right choice…..a debatable topic which can go on and on and on.
Updates: Nokia has just revealed the pre booking price of Nokia N8 in India : Rs. 26259/-
What will be your choice. Do let us know in comment section below.
Image Credit: Mobile Review