The e-commerce sector in India is experiencing unprecedented growth, driven by the widespread use of smartphones and high-speed internet. An increasing number of individuals are embracing digital platforms such as Amazon, Flipkart, Myntra, Nykaa, and others for their online shopping needs. However, the market growth which has been largely driven by online shoppers from Tier 1, is witnessing a shift that has the potential to change market dynamics.
A recent study conducted by CyberMedia Research (CMR) revealed that Tier II cities and Tier III are fast catching up with Tier I in terms of time spent on online shopping. Consumers from Tier II cities and beyond dedicate an average of 2 hours and 25 minutes per week to online shopping, representing around 16% of their income.
The study 'CMR Consumer Aspirations and eCommerce in Bharat' was conducted in May 2023. This included a sample size of 3006 consumers across various cities, including Delhi, Mumbai, Bangalore, Bhubaneswar, Nagpur, Coimbatore, Lucknow, and Guwahati.
Online Shopping Takes Center Stage in India's Emerging Markets
Tier II cities are at the forefront of the eCommerce revolution in India. Cities like Guwahati, Coimbatore, and Lucknow are leading in terms of time spent shopping on eCommerce.
On the other hand, amongst Tier-I cities, Bengaluru leads with a maximum of 4 hours and 2 minutes weekly on online shopping.
When it comes to the average spend on online purchases in the last six months, both Tier II and Tier I buyers are almost on par, with an average spend of INR 20,100 and INR 21,700, respectively.
Mumbai claims the top spot in terms of average spending on online shopping, with consumers from the city spending an average of INR 24,200. Nagpur and Coimbatore closely follow with similar growth trends, registering an average spend of INR 21,600.
Delving deeper into specific cities, the study reveals even more interesting trends regarding online shopping preferences.
In Nagpur, most consumers (81%) prefer to purchase electronics and electronic gadgets online. Coimbatore and Bhubaneswar also exhibit similar patterns, with 62% of consumers in these cities opting for online shopping in the electronics category. This indicates a growing acceptance and reliance on e-commerce platforms for tech-related purchases.
The primary drivers that motivate consumers to engage in online shopping are competitive prices, with 57% of respondents considering them attractive. Additionally, 57% of consumers find the convenience of return and exchange processes to be a significant factor, while 49% are enticed by irresistible offers.
The expansive selection, convenience, and ease offered by eCommerce have enabled the rising generation of consumers in Aspirational India, comprising Tier II, Tier III cities, and beyond, to engage in more online shopping and fulfil their aspirations.
Amazon Continues to Be the Most Preferred
The e-commerce landscape in India is fiercely competitive, with major players like Amazon, Flipkart, Meesho, and conglomerates such as Tata and Reliance striving to establish dominance. According to research conducted by CMR, Amazon has emerged as the preferred choice among Indian consumers, commanding an impressive 63% satisfaction rate. Its widespread presence and longstanding reputation have earned the trust of customers nationwide. Following closely behind, Flipkart captures 52% of user satisfaction, while Reliance Digital, JioMart, and TataCliQ secure satisfaction rates of 46%, 45%, and 44%, respectively.
In the past six months, Amazon and Flipkart have been the go-to online shopping destinations for a majority of consumers, with 73% selecting Amazon as their preferred platform and 70% choosing Flipkart.
Several factors contribute to Amazon's preference among online shoppers. The survey reveals that 54% of users favour Amazon for its attractive and competitive prices. Additionally, 52% appreciate the platform's easy return and exchange process, ensuring a hassle-free shopping experience. The brand's trustworthiness holds significant weight, with 40% of users relying on Amazon's reputation for quality and reliability. Furthermore, 38% of respondents value the convenience provided by Amazon's widespread coverage, allowing them to shop across various pin-codes in India.
The popularity of Amazon is evident by the substantial number of purchases made on the platform, with 73% of consumers from both Tier II and Tier I cities having made purchases in the past six months.
Meesho, a niche market player, has gained popularity among 30% of respondents. It focuses on social commerce, enabling individuals to become resellers and sell products through social media platforms.
JioMart, backed by the conglomerate Reliance Industries, is the choice for 20% of consumers, offering a platform for groceries and daily essentials.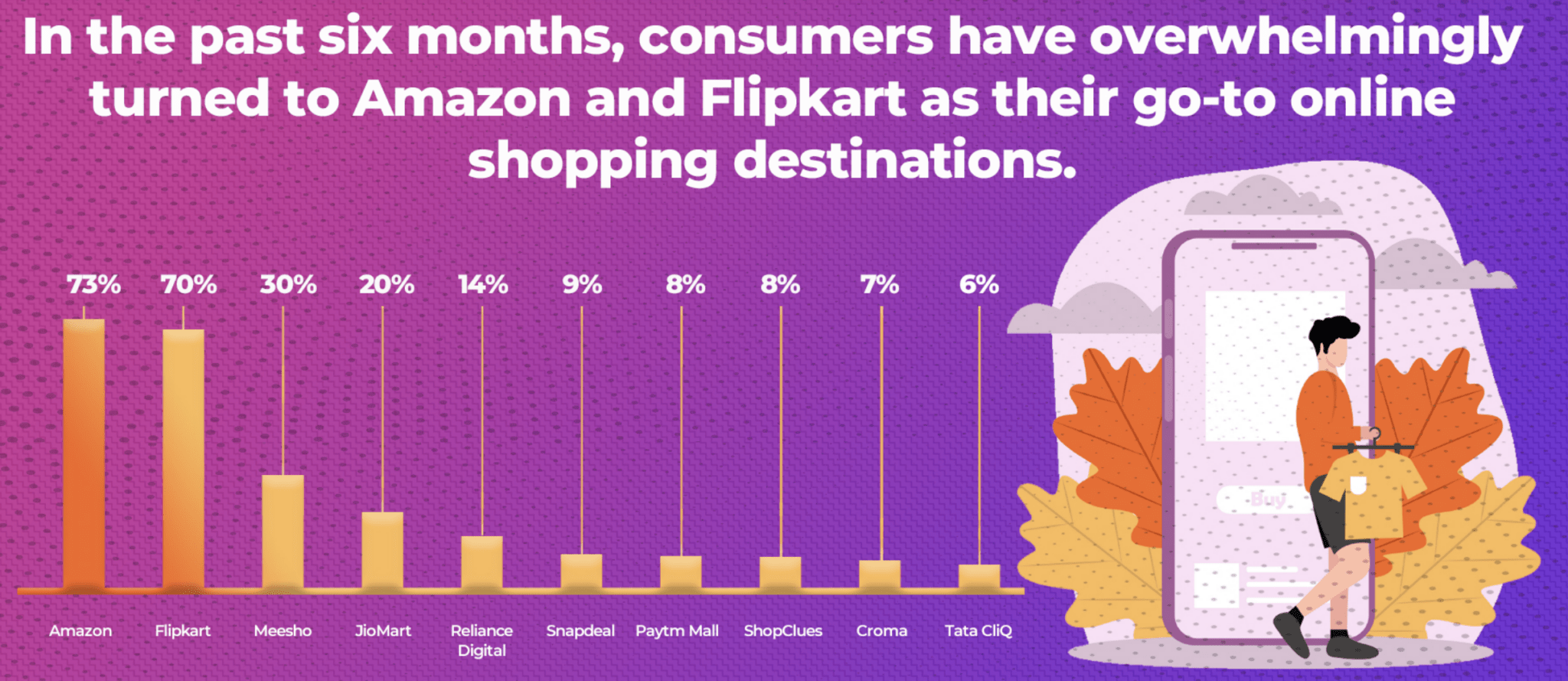 "In a large, diverse market such as India, both online and offline retail will continue to co-exist. As consumers continue to gain digital fluency, the eCommerce boom will also significantly benefit small business owners as well. This will contribute to the rise of India's trillion-dollar internet economy," added Sugandha Srivastava, Senior Manager, Industry Consulting Group (ICG), CMR.
Other Main Highlights
Two out of three consumers have spent up to INR 20,000 on online shopping in the past six months.
Women entrepreneurs and others spend an impressive 149 hours annually on eCommerce.
29% of women entrepreneurs have purchased value-for-money smartphones (INR 15,000 to 20,000) online.
Generation Z (51%) shops more frequently online compared to Millennials (47%).
86% of consumers rely on influencers' or publishers' reviews when making purchase decisions.
Males (90%) rely more on influencers' reviews than females (80%).
Approximately two-thirds of online users (70%) prefer to search for specific items rather than browse when purchasing accessories. This indicates that they have a clear idea of what they are looking for.
Growing Popularity of Online Shopping for Electronic Gadgets
The CMR survey sheds light on the preferences of Indian consumers when it comes to online shopping categories. A whopping 62% of consumers prefer purchasing clothing and accessories through e-commerce platforms. This strong demand for e-commerce platforms in the fashion segment highlights the convenience and variety that online shopping offers for clothing and accessory purchases.
Following closely behind, the electronics and electronic gadgets category emerges as the second most preferred category, with 54% of Indian consumers favouring online purchases in this segment. This trend showcases the increasing popularity of e-commerce platforms for tech-related products, as consumers seek the ease and accessibility of online shopping to explore and buy the latest gadgets and electronics.
The top three electronic gadgets commonly purchased online by Indian consumers are smartphones (37%), headphones/earphones (23%), and smartbands/smartwatches (21%). These products play a significant role in consumers' daily lives, offering communication, entertainment, and fitness tracking capabilities.
With the increasing buying power of Indians over the past decade, there has been a rise in smartphone premiumization. A considerable 24% of consumers now choose to buy premium smartphones online, which are priced above INR 20,000. This indicates a growing preference for high-end devices that offer advanced features and superior performance.
In contrast, the demand for affordable smartphones priced below INR 7,000 is relatively lower, with only 2% of respondents opting for budget-friendly options. This suggests that the majority of consumers are willing to invest in more expensive smartphones to meet their evolving needs and expectations.
One notable trend in India's smartphone market is the growing importance of 5G compatibility. A significant 57% of smartphone users consider 5G compatibility highly important for their next smartphone purchase. This highlights the increasing awareness and desire among consumers to access faster network speeds and take advantage of the enhanced connectivity offered by 5G technology.
Overall, the combination of smartphone premiumization, the rising demand for 5G compatibility, and the willingness of consumers to invest in higher-priced devices reflect the evolving preferences and aspirations of Indian smartphone users.
Considering the surge in demand for online fashion shopping and the growing popularity of purchasing electronics online, how do you think the e-commerce industry will continue to evolve to meet the changing needs and expectations of Indian consumers?