All major global tech companies, including Apple, Samsung, Xiaomi, and others, have established smartphone manufacturing facilities in India. These companies are not just aiming to capture a sizeable share of the second-largest smartphone market in the world but also widening their profit margins by leveraging on the incentive schemes offered by the Indian government to local manufacturers.
The strategy has resulted in a drop in smartphone prices as well as a rise in demand for high-end smartphone models, especially iPhone 14 and Samsung Galaxy S22. According to Counterpoint Research, the value of the Made-in-India smartphones shipped during 2022 increased an impressive 34% YoY.
The rise in the value of made-in-India smartphone shipments is mostly driven by a local upward trend in premiumization, along with an increase in premium smartphone exports, particularly from Apple.
India has experienced a sharp rise in the demand for premium smartphones in recent years. Thanks to festive sales by Amazon and Flipkart at least twice a year, which provide jaw-dropping discounts and coupons, No-cost EMIs, and other exciting offers on all electronic devices.
Apple, Inc. (NASDAQ: AAPL) has been dominating the premium smartphone segment in India for the last few years. Interestingly, the shipments of made-in-India iPhones grew a strong 65% YoY by volume and 162% YoY by value. As a result, in value terms, Apple's contribution to India-made smartphone shipments more than doubled, from 12% in 2021 to 25% in 2022.
NOTE: Made-in-India is not actually manufactured in India, but assembled in India.
Decline in shipments of 'Made-in-India' smartphone
The overall Made-in-India smartphone shipments declined 3% YoY in 2022 in terms of volume. The fall in consumer demand is primarily the result of macroeconomic headwinds, particularly in the second half of the year.
India recorded a significant 8% YoY decline in the shipments of domestically assembled smartphones in Q3 2022, following 16% YoY growth in Q2 2022.
Surprisingly, the fourth quarter of the year, which is typically the most promising for smartphone OEMs, ended up being the worst quarter in 2022. As a result, India-made smartphone shipments noticeably fell 19% YoY in Q4 2022. The decline was largely caused by the disappointing sales of particularly the entry-tier and mid-tier segments.
Made in India smartphone shipments 2022: Other main highlights
The contribution of exports of 'Made in India' smartphones achieved a new peak in 2022, in terms of volume (20%) and value (30%).
Oppo, which manufactures smartphones for OPPO, realme and OnePlus, dominated the made-in-India smartphone market with 21.8% in 2022.
However, in Q4 2022, Samsung dethroned Oppo to become the largest manufacturer of the made in India smartphones, with a 21.7% share.
Samsung's made-in-India smartphone shipments fell only 7% YoY in Q4 2022, while Oppo recorded a notable 31% YoY decline in shipments. This was primarily due to inventory issues in the entry-tier segment.
If we see the bigger picture, in 2022, Samsung secured second place with a 21.3% market share.
Bharat FIH, which manufactures smartphones for Xiaomi, captured a 9% shipment share in made in India market in 2022, down from 12.9% in 2021.
Foxconn Hon Hai and Wistron, two of Apple's EMS (electronics manufacturing services) partners, emerged as the fastest-growing India-made iPhone manufacturers in Q4 2022.
In the feature phone segment, Lava led the Made in India shipments with almost 29% share.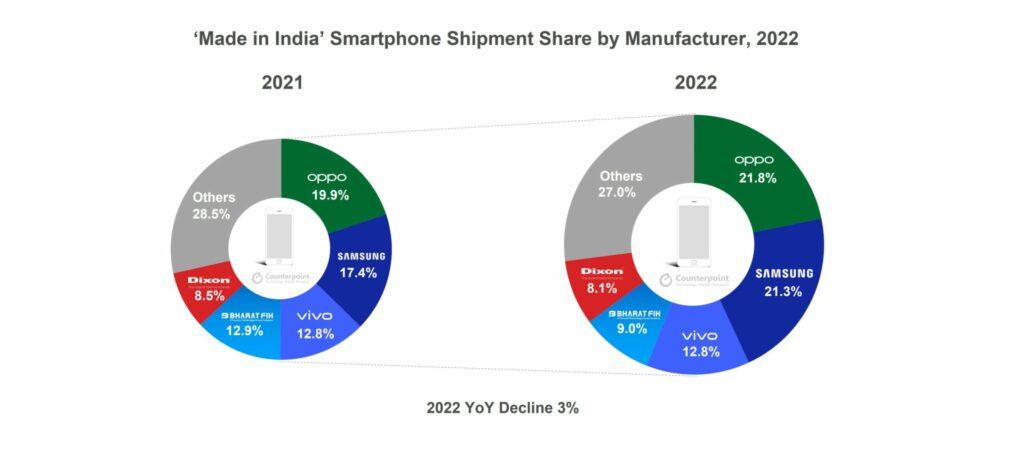 In a Nutshell
Since 2015, India has been attracting major global companies like Apple, Samsung, Xiaomi, Facebook, Google, and others. This is largely because of the country's growing population, which created millions of job opportunities and a huge market for electronic devices like smartphones, laptops, TVs, smartwatches, and other devices.
The Indian government is leaving no stone unturned to make the most of this opportunity by offering benefits to companies such as PLI schemes, improving overall infrastructure, and creating jobs, among other initiatives.
Due to their exorbitant cost, which includes export customs and other taxes, premium smartphones were formerly out of the reach of most Indians. However, now that many major global firms have established their own manufacturing facilities, people are no longer hesitant to purchase pricey gadgets. Moreover, e-commerce behemoths like Amazon and Flipkart are making them more affordable by offering additional discounts and coupons.