If you are among the ones finding the price of iPhone XS in your country really exaggerating and exhausting, pay attention!
After months of rumours and Speculation Apple had finally launched its new generation flagship iPhone XS, iPhone XS Max, and iPhone XR back in September last year. Apple has price tagged 64GB variant of iPhone XS with a whopping $999 in the US. The device sports a 5.8-inch (14.7-cm) screen, 4GB RAM, and Dual 12MP wide angle Camera. Apple has introduced three variants of iPhone XS: 64 GB, 256 GB, and 512 GB in space grey, silver, and a new gold finish.
The sales strategy of Apple triggered a debate on the price of iPhone XS. There are a set of consumers who find iPhone exaggeratively overpriced, while there are people who find iPhone XS worth every penny. Indeed, people with different demographics in different countries justify the price of iPhone XS differently.
This leads to a thought that how much smartphone consumers from different countries are actually paying to buy an iPhone XS, 256GB variant?
Deschutes bank has conducted a survey on the price of iPhone XS and the findings are surprising enough. Those who live in other regions around the globe are paying much more for iPhone XS than the US – Apple's home market. Nigeria emerged as the only country where you can get iPhone XS 256GB variant for just $1178, lesser than $1251 – the price of iPhone XS in the US. On the other hand, Brazil is the country where people have to pay the most in the world to buy an iPhone XS 256GB variant – $2050.
Simply put, the price of iPhone XS in Nigeria is the lowest while the device is most expensive in Brazil – almost 64% higher than the US.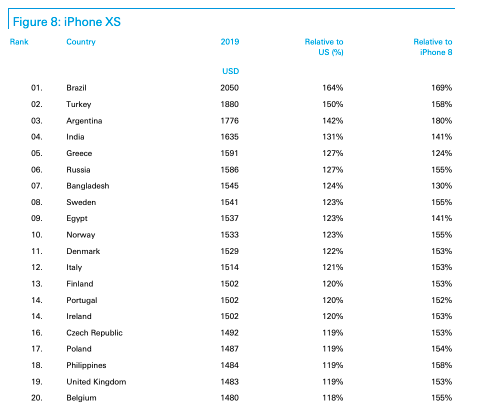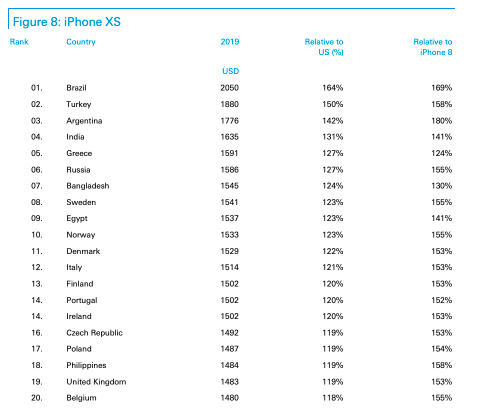 Currency valuations play a big role in the pricing, as do import fees. Besides, many countries include taxes in the upfront price, unlike in the US. In many countries, an extra 5% to 10% sales tax is tacked on in the states depending on where you reside. All these elements make the price of iPhone XS go up as compared to the US.
It's worth mentioning the fact that a US resident pays just $1,099, inclusive of all taxes, for a base model of iPhone XS.
Price of iPhone XS in India: Higher Than Neighbouring Countries
The price of iPhone in India makes the country ranked fourth in the list of top countries by the highest price. Smartphone buyers in India need to pay around $1635 for iPhone XS 256GB variant, which translates into around Rs.1,14,890 in local currency. It makes the iPhone XS 31% costlier than the price of iPhone XS in the US.
In the neighbouring country China, however, iPhone XS is cheaper when compared to India. Smartphone buyers in China can buy iPhone XS for $1423 though, it is 14% expensive than what a buyer needs to pay for iPhone XS in the US.
While in Countries like Australia, Japan, and Hong Kong the price of iPhone XS is $1317, $1262 and $1256, respectively, which are more or less the same as the US. On the other hand, similar to Brazil and India, iPhone XS in Turkey and Argentina are quite expensive as the value of their currency plays a vital role here.
The price of iPhone XS in Singapore is just 11% higher than what you need to pay in the US. While in the UAE you can buy an iPhone XS by paying just 6% more than its home market.
By now you might have understood that if you want to buy an iPhone and stay in India there are plenty of options to buy iPhone XS at a much cheaper price from neighbouring countries. We, however, suggest that it's always better to buy an iPhone XS in your own country considering the local warranty and guarantee essential to safeguard your significant investment on iPhone XS.
Sales Of iPhone XS not Exciting Enough
Apple is in a difficult time as the sales of its flagship phones XS AND iPhone XS Max have been much below than expectations till now. It is quite evident from the declining sales of iPhones in Q1 2018 worldwide.
The biggest disappointment, however, is the declining sales of iPhones in China for Apple. It's important to note that China is the biggest market for Apple outside the US. Local retailers in China are offering discounts on iPhone XS to boost sales. However, the aftermath of the ban on Huawei has apparently made the situation more difficult for them.
It is clear that there is no country in the world where the price of iPhone XS for 256GB variant, is less than $1150 – which is, undoubtedly, a concerning investment for smartphone buyers. In the markets like India, known for its price sensitivity, the strategy to price tag iPhone with over $1500 is only backfiring.